The market appears surprised that Freeport-McMoRan (NYSE:FCX) easily smashed Q4 EPS estimates. The stock is surging 9% today though only two weeks ago my prediction was that capitulation occurred when the stock plunged below $4.
The global copper miner beat analyst EPS estimates by $0.11 though the company still reported a small loss. For those expecting a dire situation, the ability of Freeport-McMoRan to report nearly breakeven earnings was probably surprising. After all, the company lost $0.15 during Q3 so the expectations were for worst numbers due to an irrational focus on oil prices.
For those paying attention, the price of copper is the more important commodity. Even though copper has taken a big hit, the price still trades above the crucial $2/lb that Freeport-McMoRan uses for an ability to be cash flow neutral in 2016 and cash flow positive in 2017.
As of today, copper sits at around $2.05/lb.
The best part of the quarterly update is that Freeport-McMoRan remains significantly cash flow positive on the mining operation going forward. For 2015, EBITDA only covered capex. For 2016, EBITDA will easily crush the capex requirements, especially if copper prices obtain a bump from these levels. At only $2.25/lb of copper, Freeport-McMoRan would generate mining EBITDA of $5.5 billion, or $3.6 billion in excess of capex spending.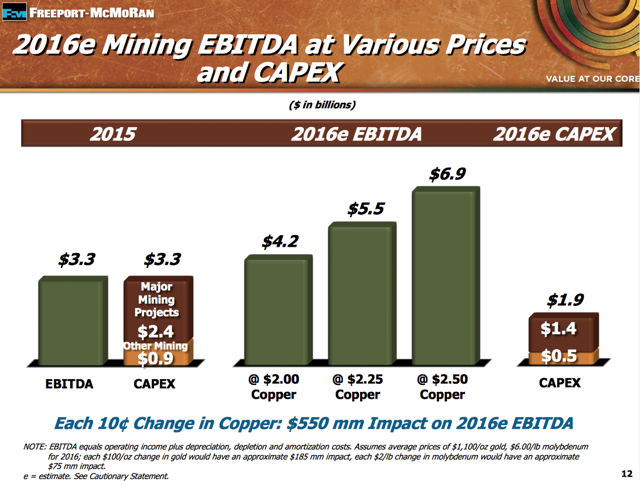 Source: Freeport-McMoRan Q4'15 presentation
Naturally, the oil and gas segment is the problem. Even that segment has the potential of generating higher EBITDA numbers than capex by 2017 with oil prices only slightly above the current levels.
Ultimately, the company is valued based on the combined operations. Right now, Freeport-McMoRan will generate cash flows to cover the capex for the year. Higher copper prices will quickly solve any liquidity problems. Each $0.10/lb increase in the price of copper will drive a $440 million increase in cash flows.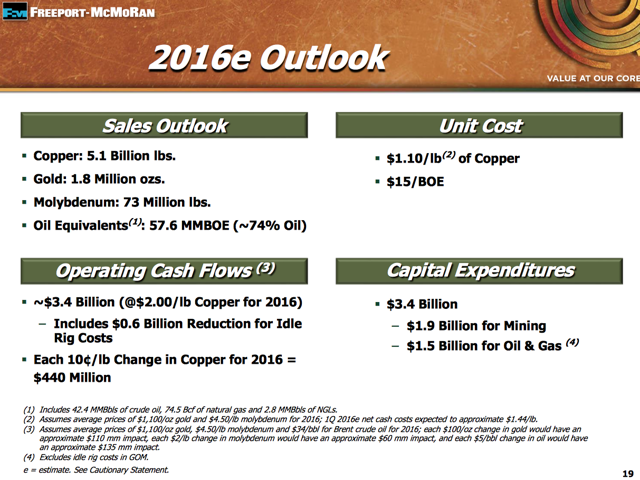 Source: Freeport-McMoRan Q4'15 presentation
The key takeaway is that Freeport-McMoRan is better situated than the $4 stock price would suggest. Due to decent copper prices and solid cash flows from the mining sector, the company has a path to cash flow neutral and even free cash flow positive.
At the current commodity prices, Freeport-McMoRan forecasts 2017 operating cash flows exceeding capex by a substantial $1.2 billion. This number even includes $400 million for idle rig costs that will disappear going forward.
The global miner has a bad balance sheet, but any transaction to monetize assets along with a rebound in copper and oil prices would quickly make Freeport-McMoRan a huge bargain at $4. The risk remains with further commodity pressures and especially if copper were to start significantly breaking below $2/lb. Unless that happens, Freeport-McMoRan offers a solid risk/reward play for aggressive investors willing to accept the risk.
Disclosure: I/we have no positions in any stocks mentioned, but may initiate a long position in FCX over the next 72 hours.
I wrote this article myself, and it expresses my own opinions. I am not receiving compensation for it (other than from Seeking Alpha). I have no business relationship with any company whose stock is mentioned in this article.
Additional disclosure: The information contained herein is for informational purposes only. Nothing in this article should be taken as a solicitation to purchase or sell securities. Before buying or selling any stock you should do your own research and reach your own conclusion or consult a financial advisor. Investing includes risks, including loss of principal.