This is the second article in a two-part series. The first part can be accessed here.
In the first part, I outlined why I think the U.S. likely will have a mild recession in 2016. My reasons are based on a global credit contraction that I think has been underway for many months and that has some time to run before reversing. The oil price bust was, I suggested, a major cause of the credit contraction, and the opportunities that I forecast in this second installment also derive from the low price of oil.
Oil price as a catalyst for specific parts of the economy to flourish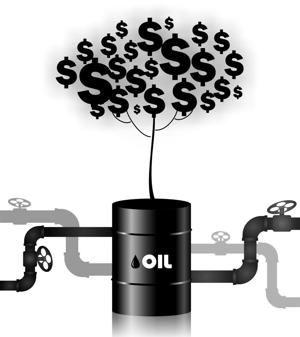 I have focused so much on the price of oil because, unexpectedly, it seems to have been the catalyst for what looks like becoming an almost global recession, though mild in many places. And if there is a global recession in 2016, how deep it will be also may depend on the impact of oil prices on global economic activity.
Therefore, let's evaluate the many positives for the global economy that low oil prices will bring. These are pretty well known, but since many have not yet kicked in, as far as one can tell, it may be useful to mention them.
More disposable income for consumers (as if they got a tax cut) because gasoline, home heating oil and electricity will cost less,
more travel that will result from lower fuel prices for cars, airplanes, etc.,
lower costs to transport heavy items, be it on trucks, trains or planes, thereby reducing prices to consumers,
lower manufacturing costs for industry, benefiting both consumers and manufacturers.
What businesses will benefit most from these cost reductions? I will not try to do a complete analysis. The following suggestions are illustrative of the process that an investor might go through.
Travel looks like a big beneficiary-everything from airlines to hotels to RV manufacturers to travel booking services. We may not be seeing all that yet, but if oil prices stay down (meaning under, say, $50 a barrel) for a couple of years, all these sectors should benefit. Therefore as investors we should investigate companies like
Travel is only one area that may benefit. Many manufacturers could benefit and the housing industry, though not directly participating in the benefits, could gain greatly from consumers having a little more jingle in their jeans.
There is no rush about this investment evaluation process, as I see it. The market may well go up during this year, but I do not think we are about to have a huge "relief rally" that leaves you in the dust if you don't act fast.
By the same token, continued low oil prices will continue to erode the fortunes of those who service oil exploration and production, as well as those who work in the industry. I am not yet of the view that bottom fishing in the oil industry is warranted, except for unlevered participants with long time horizons. Oil will not stay at $30 a barrel forever.
I have, however, taken a plunge and bought a small amount of Powershares oil futures ETF recently (NYSEARCA:DBO). If oil declines further, I will buy more. I think such a direct oil play is easier to keep track of than companies.
Turnaround
I look for a fairly quick turnaround from a brief U.S. statistical recession because demographics in the U.S. are healthy, there is pent-up demand for household formation, and even a statistical recession is likely to reduce the strength of the dollar, which will help American industry. (I am not ignoring Bill McBride's housing forecasts.)
Many recessions have been accompanied by only minor corrections in the price of equities. Here is an excellent illustration in graphic form (originally by "Bespoke") from an excellent piece on s.a. by "Fear and Greed Trader", advising readers to "stay the course", advice with which I agree, despite my thought that a statistical recession is in the offing.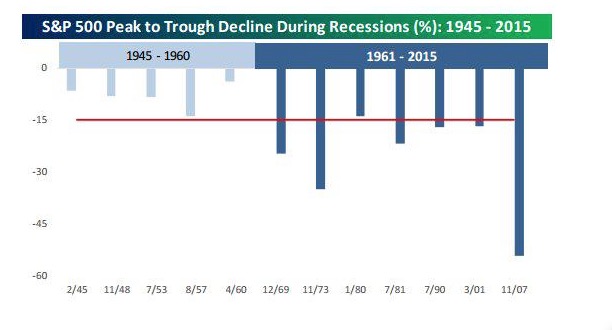 As you can see, a market decline in the neighborhood of 15% is pretty normal. (We are well on the way there already.) That is not something that should frighten long-term investors. It especially should not frighten an investor who retains some cash to invest in a down market.
A mild recession also might change some of the climate for policy-making for the better.
Recessions concentrate the mind
Perhaps a recession might even induce policy makers to embrace a reduction in corporate income tax rates, which may be the only immediate stimulus that I think would be effective but that, if coupled with changes in dividend and capital gains taxation, could be revenue neutral.
In the longer run, what the U.S. economy needs, of course, is better jobs for more people. Merely growing the number of jobs is a palliative. Better jobs, jobs that offer the prospect of advancement and income growth over a career, are what people need.
My friends on the left do not get this imperative. They think that unskilled people need jobs that will pay them a living wage. That is a pipe dream. Entry level jobs, except in a very few industries and circumstances, have never provided good earnings that could support a family comfortably. (Who wants to support a family uncomfortably in the 21st century?). To be successful, a person needs a career that builds. If we look at educated Americans, they understand that and they are going about the task of building very seriously. They build a budding career first, then they marry and have children. The less educated put themselves behind the eight ball by having children early, usually without marriage, then have to accept fairly menial jobs to try to support themselves and their children. That simply is not going to succeed in creating a lifestyle that Americans want.
Maybe another recession, however mild, will get leaders to embrace the real need for cultural change among the less educated.
On the other hand, my friends on the right want everything to be done by so-called "free" markets and want to shrink government as a matter of principle, not only when it makes sense-to them it always "makes sense". There are, however, things that markets do not provide well and that government should provide so that all people have access to good education, good health care, food, and decent housing. How to provide those things without dampening incentives to be productive is a challenge-the challenge for serious policy makers.
When does the bottom come?
For we investors, the onset of recognition that we are in a statistical recession is likely to mark something close to the bottom for the U.S. stock market. No one can pick a bottom with any confidence. Certainly I cannot. Although I did it once in February 2009, picking the bottom has to be more serendipitous than analytical.
Nevertheless, we all know that a bottom will come and that investing at any time in reasonable proximity to it will be beneficial in the long term. If nothing else, if you have cash to invest, just wait a little and buy an S&P fund with low fees, like SPDR S&P 500 Fund (NYSEARCA:SPY). Do it gradually in tranches from today each month for the next 6 months. You are unlikely to catch the bottom for much of it, but if you have more than a five-year time horizon, you are unlikely to regret your buy.
For the first time in at least three years, I think there are many good opportunities for investment, and I do not think the window is going to close very soon. Probably there is at least one more leg down. But that is not knowable.
Disclosure: I am/we are long TRIP, DBO, WGO, PCLN.
I wrote this article myself, and it expresses my own opinions. I am not receiving compensation for it (other than from Seeking Alpha). I have no business relationship with any company whose stock is mentioned in this article.