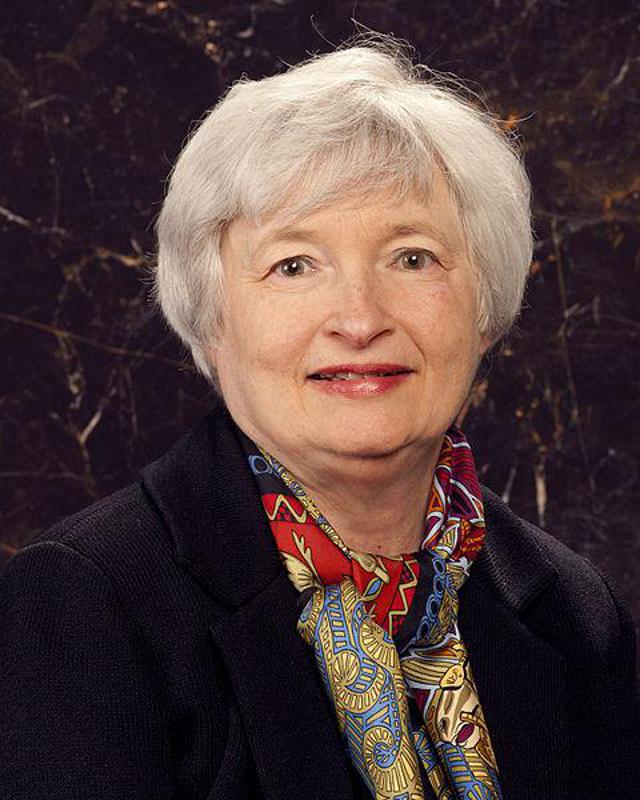 In December 2015, Janet Yellen took a bold decision to hike interest rates ending the Fed's accommodative monetary policy that lasted for seven years. Markets across the globe cheered at the Fed's decision as it pointed towards a stronger U.S economy in the years ahead.
The year 2016 started with a big bang. China sneezed and financial markets across the globe coughed. The S&P 500 and the Dow Jones Industrial Average indices corrected over 8% since the beginning of the year. Markets recovered after rally in crude oil prices but this rally was short lived. There are several factors which the Fed will look carefully before taking any decision.
China
The number one factor is the slowing Chinese economy, which has been projected to grow by 6.3% in 2016 and by 6% in 2017. Recently, the PBOC announced injection of 315 billion Yuan ($68 billion) into its banking system ahead of the Chinese New Year. It could also cut interest rates further to stimulate growth.
Defending the Yuan is an expensive option. In the first twelve days of 2016, the PBOC spent $100 billion to defend the Yuan in the onshore and offshore markets. Exports account for 22.6% of the Chinese GDP and depreciating the Yuan further could help in increasing exports and stimulate growth. A repeat of August devaluation could send further jittery across financial markets. However there are 3 implications in this decision.
It will affect Chinese borrowers, who hold foreign -currency debt worth $1.5 trillion.
Capital outflows from China will increase in the next few years. Outflows have already touched $1 trillion in 2015, which is seven times compared to 2014.
The Yuan loses its credibility as a global reserve currency.
European Union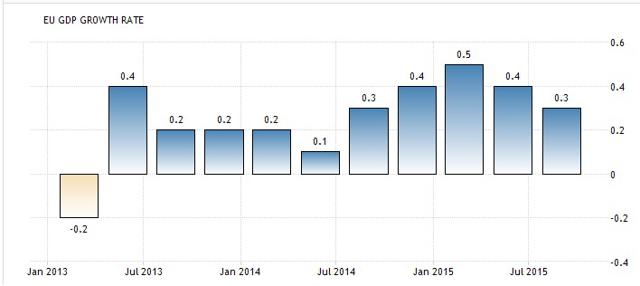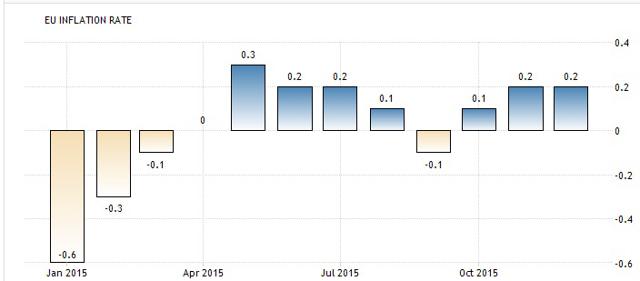 Source: Trading Economics
Despite dovish monetary policy, the European Union growth rate and inflation have not picked up. The European Union faces deflation risk as crude oil prices have fallen below $30 a barrel and low prices are here to stay lower for long. Recently, the ECB President Mario Draghi hinted at further stimulus as weak crude oil prices would lead to lower inflation rate in the coming months.
Junk bond market
The junk bond market has risen from $700 billion in 2007 to over $1.3 trillion in 2015. Nearly $117 billion of the securities maturing in 10 years or more could be cut to junk by the end of 2017. Recently, Moody's placed 120 energy companies and 55 mining companies for downgrade review.
The commodity slump has affected emerging markets including Russia, and Brazil. The biggest worry is the corporate debt in the emerging markets, which has more than quadrupled in the decade to 2014. The Fed tightening will lead to capital outflows, weaker growth, and more corporate defaults in emerging markets.
U.S. economy
In Q1 2016, APPLE (NASDAQ:AAPL) suffered currency headwinds exceeding $5 billion. More companies are likely to report currency headwinds in their quarterly results ahead. Interest rate hikes will also make the U.S. dollar stronger and lead to currency headwinds for U.S. companies. As global growth weakens, the revenues of U.S multinationals will also decline.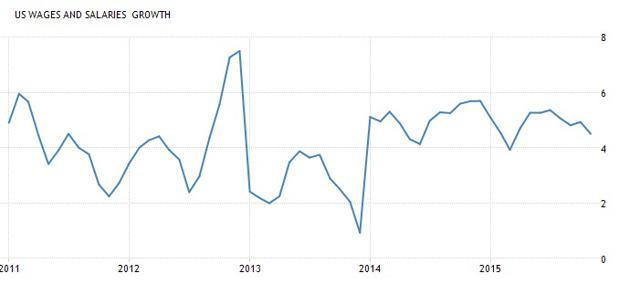 Source: Trading Economics
The U.S. economy added over 2.65 million jobs in 2015. The pace of job additions may slowdown this year due to job cuts announced by U.S. retailers, banks, steel, and oil & gas companies. As interest rates go higher, few companies will go for expansion and hiring. More and more services sector jobs will be outsourced to countries with cheap labor. This is likely to impact wage growth and consumer spending in the U.S.
The December inflation rate is 0.7% and is still below the Fed's target of 2%. Lower crude oil prices increase deflation risk this year. This may prevent the Fed from hiking interest rates.
Final Thoughts
The Fed will release the minutes of the policy meeting today. Central banks are going for stimulus and monetary easing due to weak global growth and commodity slump. I see lesser probability of any Fed rate hikes this year.
Disclosure: I/we have no positions in any stocks mentioned, and no plans to initiate any positions within the next 72 hours.
I wrote this article myself, and it expresses my own opinions. I am not receiving compensation for it (other than from Seeking Alpha). I have no business relationship with any company whose stock is mentioned in this article.