The outlook for the U.S. coal industry continues to grow more pessimistic with every passing quarter. The U.S. coal industry has experienced a seemingly unrelenting barrage of bad news over the past decade, which has caused an unprecedented number of coal plants to shut down. To gain some perspective on the state of the U.S. coal industry, the largest public coal producers in the U.S. have lost approximately 99% of their total values on average during the past half-decade alone.
U.S. coal standouts like Alliance Resource Partners (NASDAQ:ARLP), Peabody Energy (NYSE:BTU) and Foresight Energy (NYSE:FELP) have continued to experience plummeting valuations over the past few years, which is a trend that will likely gain steam moving forward. With market, political, and societal pressures starting to ramp up significantly against coal, the U.S. coal industry is facing insurmountable headwinds. The historic outcome of the recent UN climate talks will only put more strain on U.S. coal companies.
Ambitious Climate Deal Is a Sign of the Times
The world appears to be making a massive transition to cleaner forms of energy. The extremely ambitious climate deal that was agreed upon during the UN climate talks epitomizes the world's changing stance on the issue of fossil fuels. After years of ineffective UN climate meetings, the recent Paris Climate Summit was a huge win for environmentalists. Unfortunately for U.S. coal companies like Alliance Resource Partners, this will only put more pressure on these companies' already dim future prospects.
International countries' reluctance to act on the climate front has traditionally been a huge roadblock for increased environmental regulations in the U.S. As major polluting countries like China and India are starting to become far more cooperative on the climate front (largely as a result of their own domestic pollution issues), the U.S. government will likely have a far easier time implementing stricter environmental standards at home. The argument that strict environmental standards in the U.S. places an unfair burden on the country relative to others is rapidly losing its relevance.
While anti-coal efforts like the Clean Power Plan in the U.S. have already started gaining traction, global cooperation on the climate front should only accelerate these efforts. In fact, there already appears to be an acceleration of such efforts at the state level. For instance, New York Governor Andrew Cuomo recently announced that he is planning to shutter all of New York's coal plants by 2020. These anti-coal efforts are becoming much more common across the U.S., which will almost certainly help further drive down the value of coal companies like Peabody Energy.
Coal plants are being shut down in record numbers across the U.S.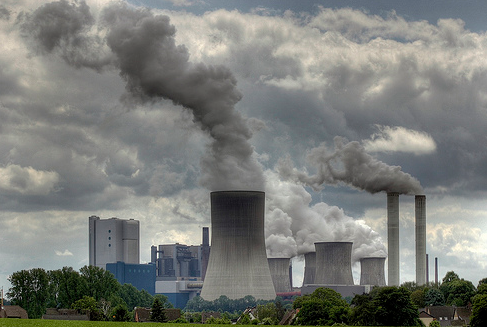 Energywisepa
The Renewable Threat
Despite the enormous political headwinds facing the U.S. coal industry, the larger threat comes from renewable technologies. Photovoltaic technologies pose a particularly large threat to U.S. coal companies given the exponential nature of such technologies. While solar only accounts for a tiny fraction of energy generation in the U.S., it is rapidly reaching grid parity across the states. What is most telling about solar's potential is the fact that solar accounted for approximately 40% of new energy generation in the first half of 2015. With solar costs continuing to plummet, existing coal plants will find it harder and harder to compete against solar plants.
Solar companies like First Solar (NASDAQ:FSLR), SunPower (NASDAQ:SPWR), and SunEdison (NYSE:SUNE) will likely continue to pressure coal on the utility-scale side. Residential solar companies like SolarCity (NASDAQ:SCTY) and Vivint Solar (NYSE:VSLR) represent an entirely new threat given their distributed nature. With so much pressure coming from solar companies alone, it is clear that coal companies like Alliance Resource Partners are at an increasing disadvantage. The recent 30% solar investment tax credit extension in the U.S. cannot have come at a worse time for U.S. coal companies as it will only amplify the solar threat.
The current war on coal will likely only intensify in the coming years, making it extremely unlikely that companies like Alliance Resource Partners or Peabody Energy will experience a turnaround. With renewable technologies like solar and wind gaining momentum on the cost-effectiveness front, the U.S. government will only be more incentivized to change the direction of the energy landscape. Even other fossil fuels like natural gas are increasingly at odds with coal, especially considering that virtually all other forms of fossil fuels are cleaner than coal. This means that cleaner fossil fuels like natural gas will be less affected by the increasingly strict greenhouse gas (GHG) emission limits.
Conclusion
With troubles in the form of divestment campaigns, growing regulatory pressures, and rapidly advancing renewable technologies, the coal industry has virtually no way out of its current downward trend. Given the coal industry's relatively poor record on the innovation front, there is little hope that coal companies will come out with any groundbreaking new coal technologies. Even breakthroughs in innovative technologies like clean coal will matter very little at this point given the momentum of far more promising renewable technologies like solar.
As coal companies like Alliance Resource Partners continue to lose market share to cleaner, cheaper forms of energy, they will also naturally lose political support. This means that increasingly strict GHG regulatory measures will likely be implemented, causing them to lose even more market share. This sort of death spiral will likely only accelerate with increasingly cost-effective renewables in the equation, making coal companies terrible investments. Investors will be much better off selling their coal holdings and investing in renewable energy stocks like First Solar or SunPower.
Disclosure: I am/we are long SCTY, SPWR.
I wrote this article myself, and it expresses my own opinions. I am not receiving compensation for it (other than from Seeking Alpha). I have no business relationship with any company whose stock is mentioned in this article.
Editor's Note: This article covers one or more stocks trading at less than $1 per share and/or with less than a $100 million market cap. Please be aware of the risks associated with these stocks.