Codexis Inc. (NASDAQ:CDXS) is a developer of biocatalysts used in the pharmaceutical, food and chemical industries in order to help to accelerate the research and manufacturing processes of its customers. Biocatalysts are naturally occurring chemical reactions; Codexis simply helps to replicate these reactions on a commercial scale. Their CodeEvolver platform helps to match the biocatalysts required by its customers to meet their requirements on an appropriate scale.
Codexis is working to monetize this technology in three main segments: as a supplier, a licenser and as a novel drug developer. Each are at different stages of commercialization but give Codexis a diversified revenue base from its core CodeEvolver technology.
Combined with improvements in technology and automation, CodeEvolver has helped to substantially reduce the time and cost of development in the pharmaceutical industry: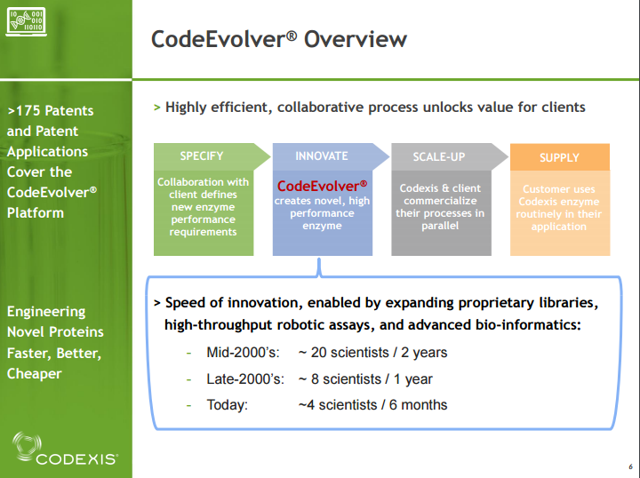 Source: Company Presentation
This has been a key pain point for pharma as shareholders have become significantly less forgiving for large capital expenditures and long lead times on drug development that may have dubious efficacy; by speeding up development, the costs associated will be significantly reduced by CodeEvolver, both in manpower and in materials.
Codexis's shares have stood up well with the recent downtrend in biotechnology, here approximated by the IBB ETF: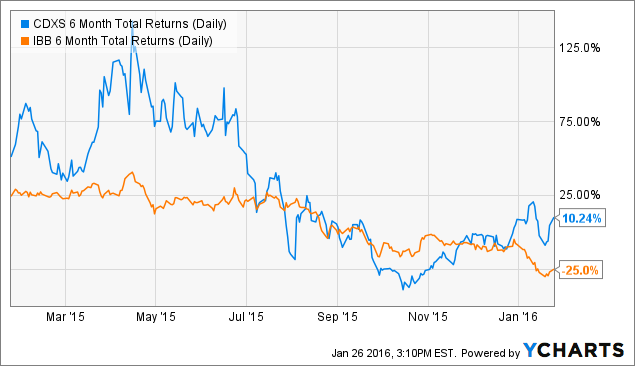 CDXS 6 Month Total Returns (Daily) data by YCharts
However, Codexis's diversified approach to monetizing its technology has gone largely unrewarded, especially considering some of the recent steps it has taken in each of its main revenue segments.
Codexis the Supplier
Codexis' longest running business has been as a supplier to big pharma, counting 15 of the top 20 pharmaceuticals as customers. Revenues for the last 9 months were down 17% in this segment to $6.9m; however, its contribution margins increased substantially to $2.9m from $2.2 the prior year, rising from 24% to 40%. Both the revenue and margin effects were largely driven by product mix; some of the revenue drop was due to deferrals in to Q4. However, with this much penetration for their products, their technology has clearly been accepted by the industry, with the potential to expand this going forward.
Codexis has also expanded out horizontally to both the food and chemical industries, including a revenue sharing agreement with Exela. They had a past relationship with Royal Dutch Shell; Shell had a large (>10% share) in the company until this last year when they exited the position to a venture fund. Although it didn't pan out with Shell, there is a wide range of possibilities for its technology.
The food and chemical segments could be much greater in scale simply due to the volumes associated with it; think the treatment of milk, for example. They do have two projects underway with two different food customers but these are still early stage with nominal revenues.
Codexis as Licenser
In July of 2014, Codexis initiated a novel approach of licensing its CodeEvolver technology to a major pharmaceutical partner, GlaxoSmithKline (NYSE:GSK). This involved the technological transfer of the platform in-house; for this GSK has paid $17.5m in milestone payments so far with another $7.5m due in 2016. GSK can now more quickly develop its biocatalysts in-house rather than outsourcing the process to Codexis as needed, speeding up the development time even faster.
Just a year later, in August of 2015, Codexis signed a second agreement with Merck to a similar type arrangement, with $11m in milestone payments received in 2015 and a further $8m due in 2016. A good sign for Codexis' relationship with Merck is a multi-year commitment they signed in December for Codexis to continue to supply biocatalysts for its Januvia and Janumet products that pre-dated the master licensing agreement. Merck is clearly a believer in the technology platform.
Getting agreements with two Big Pharma customers is a real game changer for Codexis. The upfront payments have given Codexis some strong financial support in the short-term, extending through 2016 with the upcoming milestone payments. They will also be entitled to royalties and preferred supplier status for any developments that come out of their CodeEvolver technology, giving them back-end revenues as well.
It also puts pressure on the other Big Pharma to improve their processes which should potentially lead to future agreements. Management's goal is to sign a new one about every 2 years which would place the next agreement sometime in 2017. However, it may also spur someone to try to take out Codexis to turn this technology into a competitive advantage for them. Both agreements have termination clauses so it would be likely that either GSK or Merck would be the most likely suitor at this point. Pharma has not been shy about M&A activity recently.
Codexis as a Drug Developer
Codexis has also begun to lever its CodeEvolver technology to develop its own drugs, both as a joint venturer and on its own.
In August 2015, Codexis announced a joint venture with a leading biopharma company to develop a novel enzyme. After a 6 month proof of concept, they will potentially move to a second stage to develop the enzyme, estimated to take between 6 and 12 months. Codexis received $1m upfront to enter this agreement.
Regardless of whether this particular JV succeeds, I believe Codexis will continue going down this road as it will be able to help companies test out ideas quickly with nominal milestone payments and some back end royalties owing to Codexis. Utilizing CodeEvolver in this way helps to also market its products to companies that could end up adopting its master license program; it is also less riskier than going it alone.
That said, Codexis has also embarked on an in-house drug development program as well, focusing on phenylketonuria (PKU), an inherited disease resulting in an excessive build up of an enzyme that can cause neurological damage, among other risks: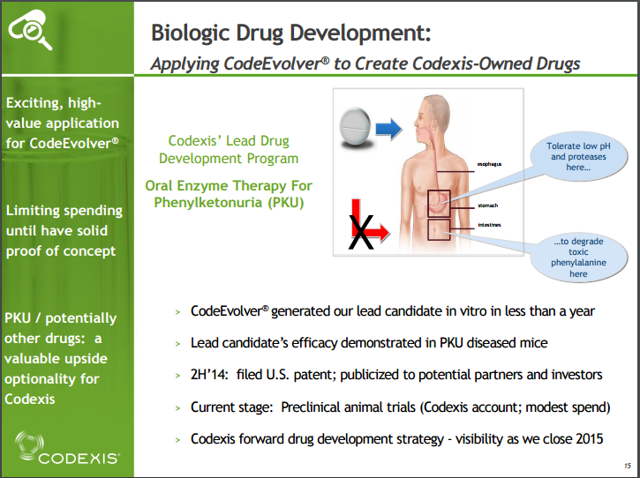 Source: Company Presentation
Codexis has gone down this path on its own, with a minimal spend so far; however, this is by far the most risky of its revenue streams but it also has a lot of potential upside. Assuming that the cash burn remains manageable, this PKU drug could offer some upside just in the fact that all profits would remain with Codexis rather than split via the JV business model. However, they are still looking for proof of concept on this so it is just a potential option at this point.
Insiders
Management has a 10.2% stake in Codexis; additionally, four venture type funds have a further 39% stake in the company. As a result, you have some very invested management and stakeholders which should add comfort to where Codexis is going. One group recently upped its stake.
They have also put together a very strong Board of Directors as well. Among their directors is an ex-Senator, an ex-Merck executive, a biotech CEO and an ex-Roche, ex-Genentech executive. Having this much experience and connections on the Board will go along way to supporting management as Codexis moves forward
What Can Go Right
Codexis has been able to take its core asset, CodeEvolver, and leverage it into revenue in several ways. As a result, rather than a "scatter shot" business model with several different and distinct business areas, they are able to leverage their core competence.
New master licensing agreements. Management has guided that they expect to sign one about every two years, which would be in 2017, after the final milestone payments on its GSK & Merck deals are received. Getting more of Big Pharma on board will prove a big upside; my best guess would be leveraging their connections to Roche but this is speculation only.
Takeover. Recent premiums from 35 to 50% have been seen in the industry. As I noted earlier, I would expect it to be one of its current master licenses, GSK or Merck, to engage in this. This would minimize any penalty clause to terminate the agreement (if they did; the licenses are non-exclusive) in the event of a takeover as it would be twice as costly if a third party took over Codexis. This would be a real insourcing transaction for any acquirer as they would be able to cut their develop costs and remove their future royalties owing to Codexis down the road while simultaneously putting their competitors at a disadvantage.
Drug Development. Any good news surrounding drug developments may also serve as an upside catalyst for Codexis shares; however, both are very early stage so their is not likely to be any real excitement on this front until they are well past the proof of concept stage.
Margin of Safety
Codexis is cashed up with $19.5m in working capital and $19m in cash as at September 30, 2015, giving it some margin of safety. As well, its cash burn from operations looks to be relatively secure through 2016 as well. Its current full year guidance is for revenues of $41 to $44m (up between 16 to 25% from 2014) with margins of between 80-85% (up from 72% in 2014). With an annual SGA & R&D burn rate of about $42m, Codexis is very close to break-even cash at this point. This rate has remained in place for most of 2015, giving me some confidence that it is under control.
With $15.5m in milestone payments on its master licenses schedule for 2016, as well as some potential increases on its actual biocatalyst product busines, their cash flow looks secure in to 2017.
This essentially gives Codexis breathing room to give time for one or more of its potential revenue opportunities to come to fruition. Of course, there is the potential that a competitive technology supersedes CodeEvolver; however, within Codexis' agreements are clauses ensuring they continue to develop and improve the platform to ensure it remains on the leading edge.
Although Codexis's shares have held up over recent months, it is still trading in roughly the same range as it was prior to announcing the Merck deal, the JV drug development deal as well as its record Q3 earnings. With its cash secure through to 2017, Codexis gives a pretty compelling setup with a lot of chances for things to go right.
For continued discussion, please don't hesitate to comment below; I learn from your feedback. If you like what I'm doing, you can follow me by hitting the "Follow" button at the top of this article. Plus, you can follow me in real time by selecting that option. It might give you somewhat of a head start whenever I write an article, as to what actions I am taking and the reasons behind them.
Disclosure: I/we have no positions in any stocks mentioned, but may initiate a long position in CDXS over the next 72 hours.
I wrote this article myself, and it expresses my own opinions. I am not receiving compensation for it (other than from Seeking Alpha). I have no business relationship with any company whose stock is mentioned in this article.