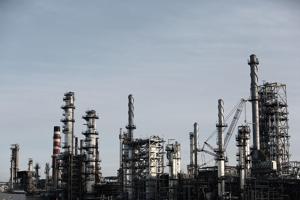 That shiny new natural gas economy that was a rock star in the markets a few years ago and supposed to lead us into the next decade has wound up where sadly all too many rock stars of the past have - floating face down in a pool. In this case, it was a pool of cheap oil, as the sharp drop in oil prices has led many would-be users of LNG to table those plans for the time being, leading to much slower progress on LNG export terminals, and filling stations.
This hard stop in the natural gas industry, combined with much tougher conditions in China, has hammered the shares of Chart Industries (NASDAQ:GTLS), with the stock down over 40% in the past 12 months and nearly 60% since my last piece on the company.
While I had thought expectations were still a little elevated back in May, little did I suspect that activity across LNG would shrink so far so fast. At this point, it would seem that Chart Industries is being valued only on the basis of its industrial gas business, a good business where the company has long enjoyed #1 or #2 share in most of its primary markets, and arguably even undervalued just on that basis. While the timelines for large-scale U.S. LNG exports and wider usage of LNG as a transportation fuel have certainly stretched out, to give the shares no value for them at all seems unduly harsh to me.
The Dream Is Over… For Now
From 2011 to 2013, there was ample enthusiasm in the market over the idea that companies were going to harness the abundant low-cost natural gas reserves of the U.S. and create a larger economic ecosystem powered by natural gas (in various forms, including LNG). Most significantly, LNG was going to begin to feature more prominently as a fuel source for marine vessels, rail locomotives, and commercial vehicles like Class 8 trucks, and was also going to be shipped overseas to markets like Europe and Japan where natural gas prices are considerably higher than in the U.S..
That was going to be a big opportunity for Chart Industries, as the company manufactures a range of equipment including heat exchangers and cold boxes for liquefaction, storage systems, and distribution equipment for LNG fueling stations. China kickstarted the process, and Chart Industries at one point enjoyed roughly 30% share in the LNG fueling station market (the equipment for fueling stations, not the stations themselves), with PetroChina (NYSE:PTR) as a major customer.
Quite a lot has gone wrong since then. Most significantly, the sharp fall in oil prices has made diesel significantly cheaper and that has led many trucking fleet operators to table decisions on whether to adopt LNG as a fuel source. It also hasn't helped that Cummins (NYSE:CMI) (together with Westport (NASDAQ:WPRT)) have really been the only companies to significantly move the ball forward in terms of engine development, significantly limiting trucking fleet operators' choice. Weak energy prices have also impacted the efforts to move forward with LNG export facilities, as the price of natural gas in Europe has fallen by 50% from its 2013 peak and would-be terminal operators are finding fundraising to be considerably more difficult these days.
Last and not least, quite a lot of chaos has come to China in the wake of weaker economic conditions and a lot of turbulence in the energy sector in that country. The net result to Chart has been significantly lower sales, with sales to China down 30% in the Distribution and Storage segment in the third quarter and the removal of $175 million in Chinese orders from the backlog due to management's belief that they are unlikely to convert to revenue.
What Remains Is Still Worthwhile
As I said in the beginning, Chart Industries was a high quality infrastructure supplier to the industrial gas market before the natural gas boom, and that business is still very much intact. Although revenue growth was volatile in the pre-China fueling station days, the company was generally able to produce good FCF so long as revenue stayed around $600 million or higher.
Looking ahead, I think there is still a very real business here. Industrial gasses are used seemingly everywhere - from welding to coolants to fire suppression to food to semiconductor production and so on. Now, it is a business with an industrial component, and I think investors have to take note of the weak current condition in the U.S. industrial sector and the relatively unimpressive growth outlook for companies like Airgas (NYSE:ARG) and Praxair (NYSE:PX) over the next year or two. Longer term, though, I think the company can still generate real growth and cash flow on the basis of its brazed aluminum heat exchangers (or BAHX), core-in-kettle, process, storage, and distribution systems.
But LNG Isn't Off The Table Entirely
I'll get to the valuation in a moment, but I really do wonder whether the market is now pricing Chart as though all of those LNG projects are gone forever. I think that is a mistake. It is clearly going to take longer for U.S. LNG exports and LNG-fueled commercial vehicles to grow into meaningful businesses, but "longer" is not "never."
Chart Industries booked an order in September for over $40 million in equipment orders (including BAHXs, core-in-kettle exchangers, and cold boxes) for two trains at the Magnolia LNG project in Lake Charles, Louisiana. If the project is extended to four trains, a similar order should materialize in 2016.
As a well-placed provider of products for mid-sized projects (projects which may now seem more economically appealing than the large-scale projects contemplated a few years ago), Chart could be in line for several more orders. Fortress's American LNG, Venture Global's Calcasieu Pass, and Parallax's Louisiana LNG and Live Oak LNG could all award orders to Chart in the relatively near future, and the values could be equal to or greater than Magnolia. Clearly, there is the risk that these orders never materialize, whether it is because the projects don't go forward or changes are made that leave Chart on the outside. Either way, I don't see this as a zero-value opportunity for Chart.
So too with LNG as a fuel source. Carnival (NYSE:CCL) has ordered four ships that will be powered by LNG, and Chart offers equipment that can allow it to compete in the marine market. I also believe that LNG can still emerge as a fuel source for on-the-road commercial vehicles. Whether it is part of an attempt to save on fuel costs or appear more environmentally conscious, I do believe there will be future interest in LNG-powered trucks. While LNG stations may never match the 62,000-plus stations that sell diesel in the U.S., supplying equipment to the nearly 6,500 truck stops and travel centers in the U.S. would still represent over a $1 billion opportunity to Chart in the future.
Trying To Dial In The Value
The weak results reported in 2015 have seen most of Chart's Chinese LNG fueling business wrung out from the results, and I believe what remains is largely the core of the company's industrial and biomedical gas businesses. If this business can grow at a long-term rate of around 3.5% with low-to-mid teens operating margins (consistent with the company's past experience), I get a discounted cash flow fair value of $22/share versus a price of about $16/share today. In this scenario, 2025 revenue comes in at a little under $1.3 billion.
In the most bullish scenario that I think is still credible, the growth of LNG exports and LNG fuel centers would add an incremental $800 million to the 2025 revenue total (equal to more than 9% annualized growth), lifting the fair value to about $37. I think it is reasonable, then, to argue that you could give Chart just a 10% to 30% chance of seeing that brighter LNG market future and still support a fair value of $23.50 to $26.50 per share.
The Bottom Line
I clearly underestimated how badly the decline in oil prices and the problems in China were going to destabilize Chart's business. That said, I think the market is arguably now undervaluing the shares on the basis of its long-term core industrial gas infrastructure business. If that's true, any future growth in LNG orders (whether terminals, fueling stations, or what have you) would represent a nice value-creating bonus for shareholders. Given that this business is still cash flow positive today, it may be worth a closer look from aggressive value hounds.
Disclosure: I/we have no positions in any stocks mentioned, and no plans to initiate any positions within the next 72 hours.
I wrote this article myself, and it expresses my own opinions. I am not receiving compensation for it (other than from Seeking Alpha). I have no business relationship with any company whose stock is mentioned in this article.