UK pharmaceutical giant GlaxoSmithKline (NYSE: GSK) has seen better days. The 300 years old Methuselah once produced a potent revenue growth rate per share of 15.3% per year (3 year average), now standing at the lowest rate of -4.1% in the past 13 years. This sluggish growth rate can partly be blamed on the unstable global economy and geopolitical changes as well as the ongoing impact of crushing loss of patents and a restructuring process that begun in 2015. But for how long will it last? Will this trend reverse in 2016?
GSK's 2015 Financial results fail to give an unequivocal answer to this question. If anything, the data portrays a tired and heavy old giant that struggles to keep up with competitors and market dynamics.
Let's begin with Altman Z-score. This score is designed to predict the chance for financial failure. The score for Q3 2015 was 1.27; lying well within the "financial distress zone". This score suggests that GSK may not be facing an immediate risk of bankruptcy, but if things will not turn around, there is a danger that GSK may face some kind of future financial distress.
This score alone may not give an accurate picture of GSK's financial strength but it reflects well the lethargic dynamic of the business; revenue growth rates are still sluggish due to the ongoing tough generic competition in the US and Europe, the bribery scandal in China and supply disruptions in the Middle East. Cash Flow From Operations fell to its lowest level ever recorded in more than a decade and Free Cash Flow even becomes negative if one calculates it net of capital expenditure. Furthermore, Other Long Term Liabilities increased for trailing twelve months (NYSE:TTM) to nearly 20% as a share of Total Assets, up from 7.2% in 2014. (Highest share ever recorded).
Therefore, it shouldn't surprise anyone that the Cash-to-Debt ratio, which measures the company's ability to pay off its debts using the cash in hand, stands currently at 0.36, a figure which places GSK lower than 72% of its competitors (industry median 1.43).
One can only wonder how it is that, despite sluggish performance, bribery scandals and growing generic competition, GSK lost within the past year "only" 9% of its share price?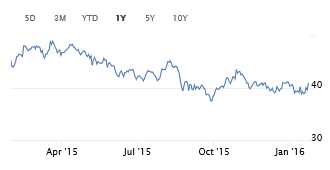 It looks like GSK's restructuring programme together with the acquisition of Novartis sent a clear signal to investors that bad times don't last forever and that GSK is constantly working its way to remain a behemoth in the premier league of pharmaceuticals.
Another ray of light for GSK's performance comes from current economic and political changes:
According to the latest predictions of the Economist Intelligence Unit (EIU) "Industries in 2016", healthcare spending is expected pick up in most regions around the world driven by growing and ageing populations.
The availability of "cheap money" due to low interest rates enables GSK to easily increase its medication portfolio through acquisitions of companies that are already engaged in research and development.
Acceleration in new drug approvals in the US has already begun to benefit GSK. Newly purchased Novartis Pharmaceuticals managed successfully to secure approval from the US FDA for two new indications of Cosentyx, a psoriasis drug.
Influx of refugees into Europe will increase the demand for vaccines after Danish authorities (SSI) reported that unvaccinated migrants are bringing in diphtheria, malaria and tuberculosis
Iran's re-entry into the oil market will further drop oil prices. Consequently, costs of raw materials for drugs, as well as running costs associated with manufacturing, will sharply fall together with other costs related to logistics and sales infrastructure. The practical meaning will express itself in plummeting costs of Cost of Goods Sold (COGS) and Selling, General and Administrative Expenses (SG&A). Such a drop is expected to give a significant boost to both, gross and operating margin.
Improving margins will enable GSK to deliver better shareholder returns and that way to diminish some of the negative effects of increasing generic competition.
Recent developments show that maybe not all is good, but all is for the good and things look more positive than they did for long time. Even recent rumours about a growing bubble in the pharma-industry can be rebutted as current market developments are giving the entire pharma industry a once in-a-lifetime chance to fill that bubble with some solid content.
Disclosure: I/we have no positions in any stocks mentioned, and no plans to initiate any positions within the next 72 hours.
I wrote this article myself, and it expresses my own opinions. I am not receiving compensation for it (other than from Seeking Alpha). I have no business relationship with any company whose stock is mentioned in this article.