Nucor Corp. (NYSE: NUE) and the entire U.S. steel industry have been hurt the last two years by anti-competitive practices from foreign steel producers. Because of weakening world-wide economic growth and artificially low domestic prices, NUE is expected to report weak year-end results on Jan. 28th. Investors may want to consider buying NUE for long-term growth and dividend income by taking advantage of the current low price.
Anti-competitive pricing from foreign steel companies, potential domestic over-capacity by steel companies using electric arc furnaces, and limited growth in scrap steel are influencing investor's long-term valuation of NUE. While these concerns are justified, the outlook is not as negative as reflected in the current price of the stock.
When many investors think of steel companies they remember driving near Gary, IN years ago and not being able to see nor breathe because of the burning thermal coal and iron ore. Nucor is different. It uses mostly scrap metal to make new metal products. It does not burn coal, but uses electric arc furnaces to melt scrap into new products. As more metal in the U.S. is recycled, the scrap steel industry and NUCOR have had impressive growth over the last half-century, subject to the economic cycles. Their growth has come from building new mini mills around the country and buying other steel companies. They also have increased financial leverage.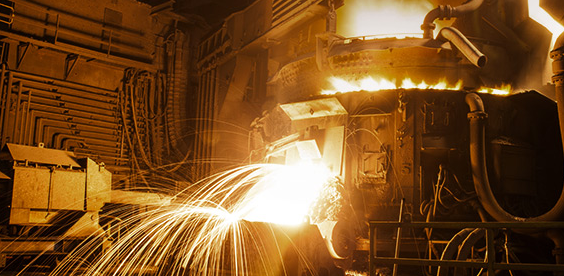 Pricing is critical to this commodity business (there is no "designer brand" of rebar). So when competition engages in unfair anti-competitive pricing, NUE profits and sales suffer. Over the last few years many foreign steel manufactures have engaged in dumping low-priced steel products into the U.S. As can be seen from the tables below, these foreign companies have had an explosive growth in U.S. market.
This is from the Enforcement Division of the Department of Commerce

This is from a different study in the Enforcement Division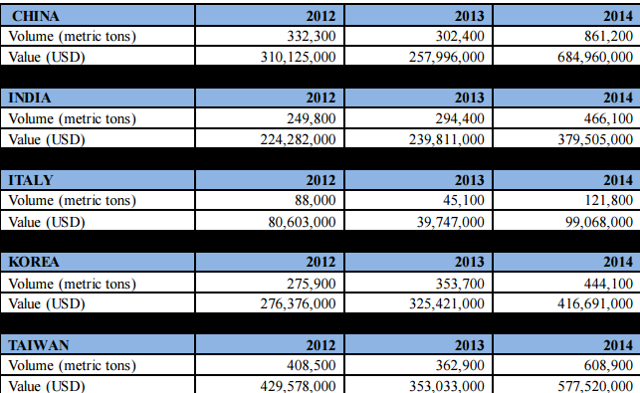 Some of this growth in imports is also due to a very strong U.S. dollar making imported steel cheaper, but the Enforcement Division of the U.S. Department of Commerce has been investigating individual foreign steel companies to determine if they have been engaging in illegal pricing of steel products- especially corrosive-resistant steel. On Dec. 22, the Department of Commerce announced results for part of their investigation that resulted in tariffs being imposed on individual companies-Yieh Phui (China) 255.80% down to just 3.11% for Marcegaglia (Italy).
While this enforcement action was focused just on corrosive-resistant steel, it indicates to foreign steel companies that the U.S. will take action the future if they engage in anti-competitive pricing for other steel products.
This chart by the U.S. Department of Commerce seems to indicate that total steel imports are falling late in 2015, but is it do to economic reasons or the new enforcement investigations by the department?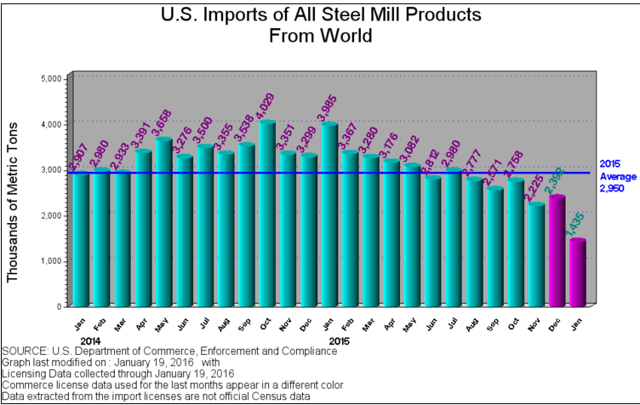 It will be interesting to see how much of an impact these enforcement actions will have on other imported steel products besides just the corrosive-resistant steel. It may take a few more months before these actions will impact prices for specific steel products.
Nucor has had strong growth over the last few decades as can be seen from the table below. Local and state laws requiring recycling of metal and banning certain products from public dumps have created an increasing supply of scrap metal, which enabled Nucor's growth.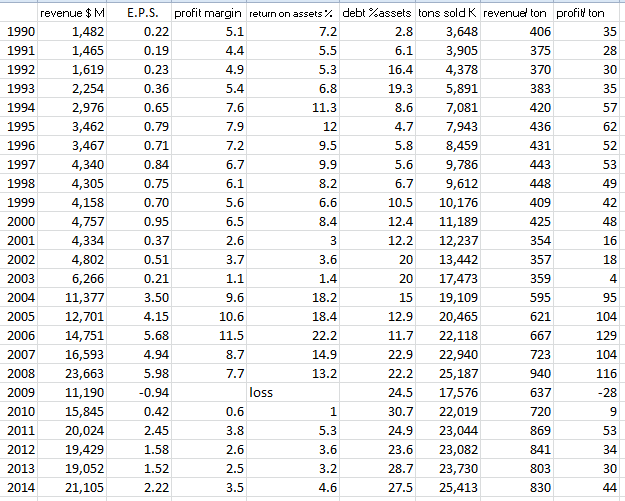 There is uncertainty about Nucor completing their planned $3.4 billion complex in Louisiana due to weak domestic demand. In mid-December NUE announced that they were halting production at their St. James mill, but then in early January NUE announced that the mill would re-open. Going forward increasing production at existing mills and increasing capacity utilization could be more profitable than building new mini mills. U.S. Steel Corp. (NYSE: X) last December also postponed their plans to build new 1.6 million ton electric arc furnace in Alabama because of weak domestic demand.
This map shows forecasts for finished steel for 2016 by region and for a 0.7% increase world-wide. While this does not show forecasts for other types of steel, it is an indication of a slightly better demand in 2016 for steel.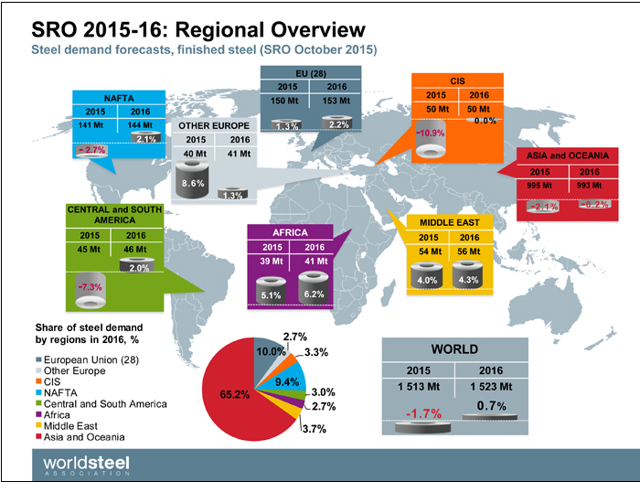 Part of Nucor's problem is that they are limited in their ability to grow by the availability of scrap metal. Currently 70% of domestic steel production is recycled. At some point, recycling will reach a peak and steel companies, such as NUE, could start bidding up the price of scrap hurting profit margins.
This chart indicates the impact of regulations banning appliances being dumped into landfills that were passed a number of years ago in most states. Eventually the recycling hit a peak and has leveled off.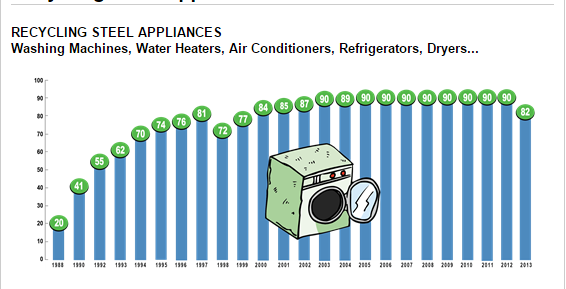 In order to try to expand profit margins NUE has been focusing on the cost side. A few years ago it joined up with Encana Corp (NYSE: ECA) to drill for natural gas that would used to supply their direct reduced iron -DRI-mini mills. With natural gas prices dropping, those plans have been put hold, but they could be restarted if NG prices increase. Most of Nucor's production, however, comes from electric arc furnaces that use electricity.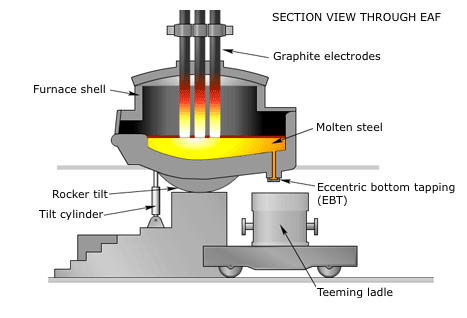 With all these negatives and with a December negative guidance from management for the 4th quarter of $0.15-.20 earnings per diluted share, why buy the stock? Government regulations. The Clean Power Act and other laws could limit future steel production from the old-fashion blast furnaces. Mandates from state and local government that steel used must contain a certain percentage amount of recycled steel are being enacted. Stricter enforcement of recycling laws for consumers and businesses could produce additional scrap metal. Finally, a "green" premium for Nucor's P/E. Many government funds and endowments are selling "politically incorrect" stocks and buying "green". NUE is considered to be "green"-it uses almost completely recycled steel to make products.
Disclosure: I/we have no positions in any stocks mentioned, and no plans to initiate any positions within the next 72 hours.
I wrote this article myself, and it expresses my own opinions. I am not receiving compensation for it (other than from Seeking Alpha). I have no business relationship with any company whose stock is mentioned in this article.