Brinker International, Inc. (NYSE:EAT) produced mixed results with its recent earnings by reporting an increase in earnings per share of 9.9% year over year despite falling comparable restaurant sales and traffic. In the short to medium term we believe it could be a great investment, but fear when the oil price starts to go up, its earnings could be negatively impacted.

Dallas-based Brinker International operates in the casual dining industry with its Chili's Grill & Bar and Maggiano's Little Italy brands. In total the company has over 1,600 restaurants worldwide, but predominantly in the United States.
There has been a very strong link to casual dining growth and low gasoline prices in recent times. Given the savings consumers are making on gasoline and the tendency for a large part of these savings to be spent on food Brinker could be poised to benefit greatly. As you can see on the chart below, revenue growth appears to have accelerated as gasoline prices plummeted.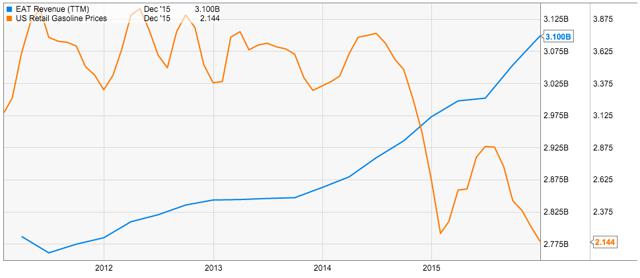 Source: Ycharts
But low gasoline prices are not going to be here forever unfortunately for both us and Brinker. The company's performance during these days of low gas prices has not filled us with a lot of confidence that it will be able to continue growing when the inevitable gas price increases come. This could yet be some way off of course, but nobody really knows what the price of oil is going to do tomorrow, let alone in a year or two.
Our concerns really come about from the softness of traffic. While we have seen improvement sequentially over the past quarter, traffic has remained in the negative, which should be a big concern for the Brinker team and the industry as a whole. Many market analysts have indicated their belief that diners are making less frequent visits to chain restaurants but spending more per visit. The net result here is of course traffic being hurt.
On the Q2 call chief financial officer Tom Edwards stated that:
"Total company­-owned comp restaurant sales decreased 2.6%, driven by 3.9% decline in traffic. Partially offset by 1.2% increase in price and a 0.1% improvement in mix. Looking more specifically at Chili's. The brands comp restaurant sales decreased 2.8% driven by 4% decline in traffic partially offset by 0.8% increase in price and a 0.4% improvement in mix."
When low gasoline prices disappear we worry that the extra spending will dry up. In this scenario we see many consumers opting for a relatively cheaper alternative in Chipotle (NYSE:CMG) ahead of Chili's. This coupled with lower traffic could have an extremely negative effect on the company's profitability.
We do feel there will be opportunities internationally for Chili's to offset some of this decline but it will take investment. Mexican food is growing in popularity all over the world and we think the Chili's model would have similar success overseas. However, the Maggiano's brand is not something we see being successful overseas. For us it looks like a restaurant of time gone by, perhaps by design, but it just doesn't really fit in with what we see as the modern dining experience.
As shown below, the company is generating a decent sum of free cash flow whilst maintaining steady levels of capital expenditures. This could support further international expansion. On the earnings call management revealed it is on track to open up to 30 new restaurants internationally this year which is a positive sign.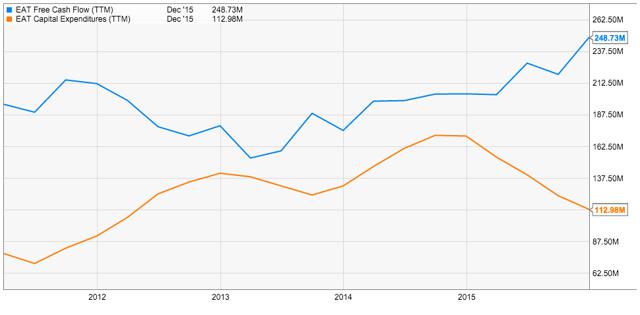 Source: Ycharts
While the price of oil holds down gasoline prices and consumers have that excess cash in their pockets, Brinker should still perform reasonably well. Due to this we feel the company can produce earnings per share of $3.55 for FY 2016 which is an increase of almost 15% from its earnings per share of $3.09 in FY 2015.
There are many macro events that could cause oil to climb in 2016 and beyond. Most commodity analysts don't see oil rising beyond $40 a barrel for some time. Though, there are however those that are rather more bullish. Namely Ecstrat's Emad Mostaque who sees the price of oil potentially rising to $130 a barrel by 2017. While he may face a little bit of ridicule for this outlandish prediction, if he is correct then Brinker's future earnings could be seriously impacted.
Based on the oil price staying below $40 a barrel by 2017 we see Brinker producing earnings per share of in the range of $3.75 to $3.90 in fiscal 2017.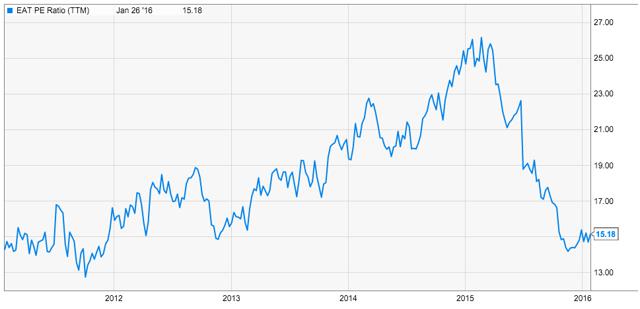 Source: Ycharts
In the last five years the stock has traded at an average price to earnings ratio of 18.29. For us that is a little bit too high considering the low traffic and same-store sales results. We feel a fair multiple to value the stock on at present is 16 times earnings. At 16 times earnings our fiscal 2016 earnings per share forecast of $3.55 give us a price target of $56.80, or 14% return based on the stock's price at the time of writing of $49.78.
We feel that Brinker International is a great short to medium term investment now that will provide great upside for investors. But we feel investors should keep a close eye on gasoline prices and be very cautious if prices do rise.
Disclosure: I/we have no positions in any stocks mentioned, but may initiate a long position in EAT over the next 72 hours.
I wrote this article myself, and it expresses my own opinions. I am not receiving compensation for it (other than from Seeking Alpha). I have no business relationship with any company whose stock is mentioned in this article.