As headline grabbers, the lead-laced drinking water in the municipality of Flint, Michigan should cause most water utility investors to stand up and take notice. The finger pointing is just starting, and the lawyers are lining up for the pending feeding frenzy. There are now calls for the nation's taxpayers to ante up for municipal water infrastructure upgrades. How might this affect the growing use of private companies in the water segment?
As Sgt. Joe Friday said, "Just the facts, ma'am": The customers of Flint Municipal Water were exposed to unsafe and high levels of lead in their drinking water. After a switch in April 2014 from acquiring water from a neighboring system to the local Flint River, a corrosion issue developed in older distribution pipes releasing lead into the water supply. Even after the water source was switched back in Oct. 2015, the pipes continue to corrode.
This issue is the cover story for Time Magazine on Jan 21. President Obama discussed the implications of elevated lead levels from July to Sept. 2014 this week as well, pledging $80 million in funding for Michigan's water infrastructure. Locally in upstate NY, a neighboring lower-income urban city is struggling with municipal water main breaks and the costs associated with these vs. a stretched and strained municipal budget. Our local congressmen are seeking Federal tax dollars to pay for an upgrade to their municipal water infrastructure system.
There have been many studies concerning the poor shape of our country's water infrastructure, and the current Flint situation will bring this deficiency to the forefront again. Much of our safe drinking water infrastructure is reaching the end of its useful life cycle and will need to be replaced. For example, the Wharton School of Business last June issued a report titled "America's Neglected Water Systems Face a Reckoning" with the opening:
Clean, safe drinking water has been available for so long in the U.S. that no one thinks twice about filling a glass of water at the kitchen sink or flushing a toilet. Indeed, for most people the shock would be if any of these conveniences failed to function. But the very longevity that has bred such faith in America's water systems now threatens its future. Vast networks of underground pipes, often dating back to the 19th century, are nearing or are already past the end of their useful lives. But unless a water main breaks or a street caves in, it is all too easy to ignore the invisible infrastructure slowly crumbling beneath our feet.

"For example, there are an estimated 240,000 water main breaks per year in the U.S. The bottom line is that we're not investing in our underground infrastructure," said Patrick Cairo, senior vice president for corporate development at Suez Environment. "Hundreds of billions in water and sewer improvements are not being made." As a result of this neglect, a million miles of underground pipes need to be replaced, according to a 2012 American Water Works Association (AWWA) report entitled "Buried No Longer: Confronting America's Water Infrastructure Challenge." The cost of repairing the existing damage and keeping up with ongoing maintenance is staggering. "Restoring existing water systems as they reach the end of their useful lives and expanding them to serve a growing population will cost at least $1 trillion over the next 25 years," according to the AWWA report. Through 2050, the costs escalate to $1.7 trillion. Looking at recent history, it is difficult to imagine municipalities shouldering this burden on their own.
As discussed in the American Society of Civil Engineers 2012 report:
The Environmental Protection Agency estimates that approximately 4,000 to 5,000 miles of drinking water mains are replaced annually. The annual replacement rate is projected to peak around 2035 at 16,000 to 20,000 miles of aging pipe replaced each year. Meanwhile, pipes installed during the middle of the 20th century are likely to begin to fail in large numbers. The need will double from roughly $13 billion a year today to almost $30 billion (in 2010 dollars) annually by the 2040s, and the cost will be met primarily through higher water bills and local fees.
There are over 50,000 municipal water districts in the US. The National Association of Water Companies believes that almost a quarter of the U.S. population, or 73 million consumers, are currently being served with assistance from a publicly-owned or private company. However, who will make the $13 to $30 billion annual investments needed to just maintain the current water infrastructure? The existing level of "Safe Drinking Water Act" state loans available for upgrades are approximately $1 billion a year. As a comparison, the electric grid upgrade and expansion investment cycle is topping out at $20 billion this year and next.
As discussed in the Wharton Report, one trend going against actually making these investments is the cultural belief that safe and limitless water is a citizen's "right" that is to be provided at a low cost. Historically, this may have been true, but recent droughts and water shortages are starting to change the perception that water is a "cheap" commodity. Current pricing is based on the cost to produce and transport potable water with no value placed on the scarcity factor of such. Politicians have been more than compliant with their constituent's desire to have safe drinking water on demand with little concern for costs.
There has been a growing backlash to the transfer of municipal water districts to private corporations. The first was a lawsuit brought by the town of Nashua, NH in 2002 to prevent the owner of the local water district, Pennichuck Corp., from selling itself to a larger national firm. After several years of court proceedings, the town won out. The same tactic is current being employed with the proposed transfer/purchase of the local water business in Missoula, Montana.
The water industry has grown by companies acquiring municipal water districts and by merging smaller companies. However, with over 50,000 independent districts and about 20 water companies, the industry lacks the critical mass to financially absorb the level of annual infrastructure investment needed. While there are much larger water companies in Europe and the UK, the US business model has been akin to a cottage industry.
Ever tightening EPA-mandated water quality standards have been motivating municipalities to seek a partnership with private companies. As delayed maintenance and replacement capital budgets continue to climb, and local municipalities become more strapped for cash investments, either the shortfall will be made up from more districts partnering with publicly-traded corporations or the Federal government stepping in and subsidize water consumption. The industry is at a crossroads as these investment needs will drive one of the two outcomes.
Indicative to the complex nature of the problem is the size of the financial needs vs. the current state of the water industry. If the investment needs range from $13 billion in current budgets to upwards of $30 billion, where will the additional $17 billion a year in capital expenditure come from? The water industry in the US is characterized by small to mid-size companies. There are usually nine water companies considered as the sector and the four largest are: American Water Works (NYSE:AWR), Aqua America (NYSE:WTR), American States Water (NYSE:AWK), and California Water Service (NYSE:CWT). However, combined these nine companies have a market cap of only $21 billion. Below is a list of US and selected international water companies and their current market cap.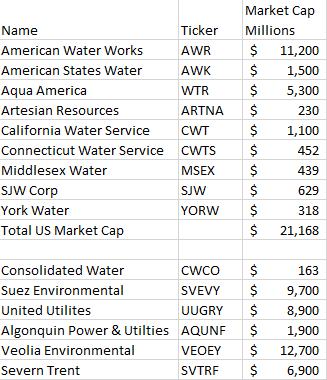 Source: Guiding Mast Investments
Even considering major international firms, reality is these small companies are dwarfed by the size of the industry's infrastructure financial requirements.
The lessons of the Flint water crisis for water investors will be to highlight the financial risk of providing safe drinking water. Obviously, the Flint municipal water district did not do so and the financial fallout will unfold over the next several months and years. At every turn going forward in this story, imagine the results if the responsibility was placed on the shoulders of one of your investment firms rather than a municipal government.
Investing is not without risks. Investing in a small cap company carries its own added risk based on size. However, it is safe to say that most of the companies listed above would be under extreme financial duress if they involved in the type of issues being raised in Flint.
The current programs from Washington concerning water infrastructure upgrade usually revolve around loans given to municipalities which are repaid if/when the business is sold, such as to publicly-traded companies. The age of direct grants from Washington fizzled as its abuses grew. Currently, the Feds offer around $890 million a year into the Drinking Water State Revolving Fund, which is matched by some state funds, and then loaned to municipalities for infrastructure upgrades. However, this amounts to less than 7% of the current total industry investment needs.
The average price of tap water in the US is $1.50 per 1,000 gallons. According to circleofblue.com, water prices have increased by 41% since 2010. Below is a map of 30 cities and the household cost of 100 gallon per person per day for a family of four for water, sewer and storm water bills. As shown, the highest is Atlanta and Seattle at over $3,700 a year and the lowest is Fresno, Memphis, and Salt Lake City at under $710 a year for the same amount of water consumption.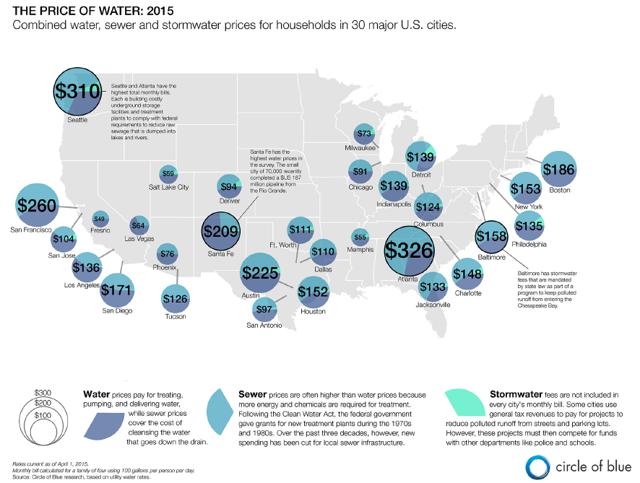 At what point will American consumers begin to accept the reality of higher water rates in order to fund infrastructure upgrades?
The three issue facing water investors are:
1) What is my investment risk in the water industry and am I being fully compensated for this risk?
2) How will the industry/government tackle the increasing problem of funding infrastructure investment?
3) What will be the political fallout of the Flint crisis as it relates to future funding of required water investments and the role publicly-traded companies will play?
Investors need to wrestle with these unique issues as it relates to the advantages of owning regulated and income oriented stocks. After writing about the water sector as an investment thesis in my books published in 2001 and 2002, I have moved to other segments for the majority of my utility investment exposure.
Author's Note: Please review disclosure in Author's profile.
Disclosure: I am/we are long AQUNF, CTWS.
I wrote this article myself, and it expresses my own opinions. I am not receiving compensation for it (other than from Seeking Alpha). I have no business relationship with any company whose stock is mentioned in this article.