Every now and then investors come across a company with good news, but not until after the stock has soared on that good news. Then later on, stocks often retrace a substantial part of those big moves and the investor has to decide if the stock is now cheap enough to get in and enjoy the ride he might have envisioned had the stock been noticed in time before the initial run-up.
Genie Energy (NYSE:GNE) had announced that it found a fair amount of oil (click on first quarter earnings release) in Israel last year. Naturally the stock took off. The stock received another boost with the results from a second exploratory well. But with the stock selling around eight dollars per share lately (January 21, 2016 closing price $8.18), maybe it is time to take a second look at the stock and see if what drove up the price initially still applies and makes for an enticing investment.
This company has a few extra risks attached to its oil and gas find. First it found the oil in the Golan Heights on the Israel side. While that is a whole lot better than the Syrian side, it still has its risk. This is a part of Israel that it formally annexed a few decades back, but much of the world has not recognized that annexation. The land was formerly a part of Syria, but Syria is in no condition to negotiate any kind of permanent solution with Israel at this time. And in the past, Syria was really not willing to negotiate a permanent solution. However, the mountains provide Israel with some natural protection and therefore the country may well fight hard to keep this territory.
Second the Syrian civil war could easily spill over its borders and at some point involve Israel. So the company has quite a few possible reasons that it may not be able to take advantage of the discovery in the future. On the other hand, Israel imports much of its oil and this find provides the hope that Israel could become self-sufficient in oil should those hopes pan out. However, that determination is going to take a significant amount of work beyond what has already been done.
Third the price of oil has really hit the skids and this find may not be commercially viable with current oil prices. My own take is that if this find has a significant quantity to it, Israel may strain to make it viable so that it has its own oil supply and does not have to depend upon unstable and changing sources for its oil. However, that view may also not come to be.
Fourth, the company really has no operating experience as an oil and gas company. Up until now it has been an electric and gas re-seller to the residential and commercial markets.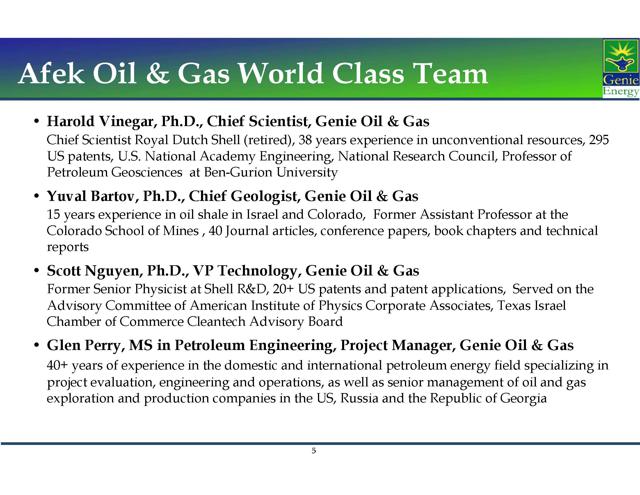 Source: Genie Oil and Gas Investor Presentation, July, 2015
To offset this, it has hired some key qualified (click on July Investor Presentation) people to run the division. However, that lack of operating experience could slow down or even prevent the exploitation of this discovery even with the key qualified people that were selected.
Lastly, in addition to all the usual operating hazards and opportunities, this discovery may turn out to be a complete and utter bust. It may be simply too expensive or impractical for any one of a number of reasons to develop. The company could end up writing off all of this as an expensive dream gone bad.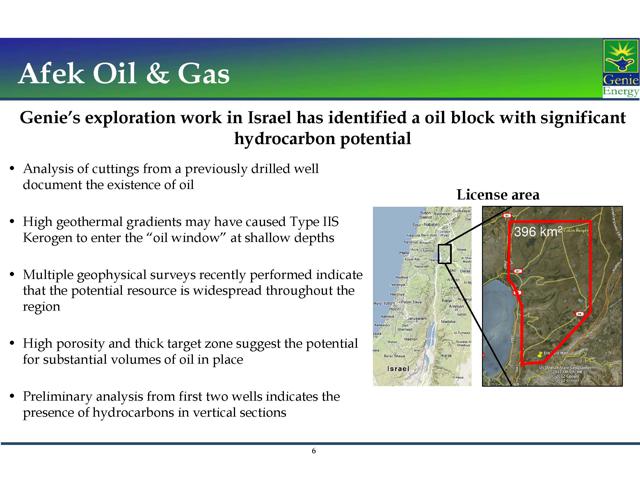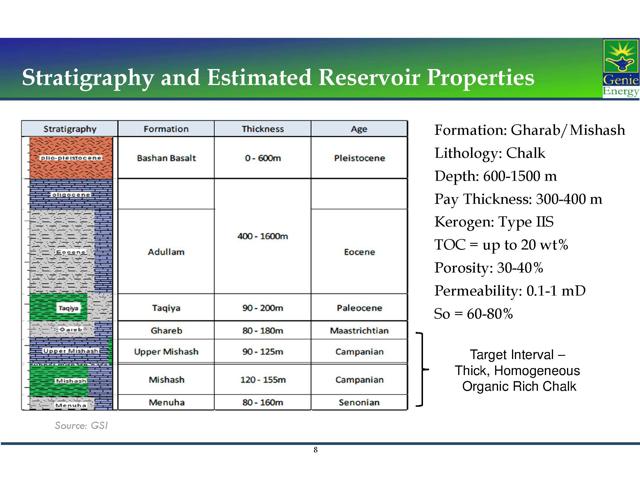 Source: Genie Oil and Gas Investor Presentation, July, 2015
Still, the oil and gas find does appear to be significant (click on July, 2015 investor presentation) at first glance. If the initial hopes prove correct, this find could be very significant to a company that so far has made its money in a far different part of the energy business. What helps the speculation along, is that the company has announced plans to drill a fourth exploratory well and has also announced a potential flow test on one of the exploratory wells. Both of these steps would provide a significant amount of information about the resource discovery. The regulators are cooperating by proposing a two year extension of at least one key permit and most likely will continue to cooperate (but again there are no guarantees).
The company has other lottery tickets too. It holds some leases that it partners with Total (NYSE:TOT) in Colorado that could pan out in the future or likewise be a complete bust. However, the involvement of a major company for a partner does bode well for the future of these leases. Now, if oil prices would just cooperate a little bit otherwise this project will stay mothballed for the future. There are also a few other projects that are in various stages of inactivity due to the current low commodity prices that may be significant in the future.
The other division of the company is the division that has provided the cash flow.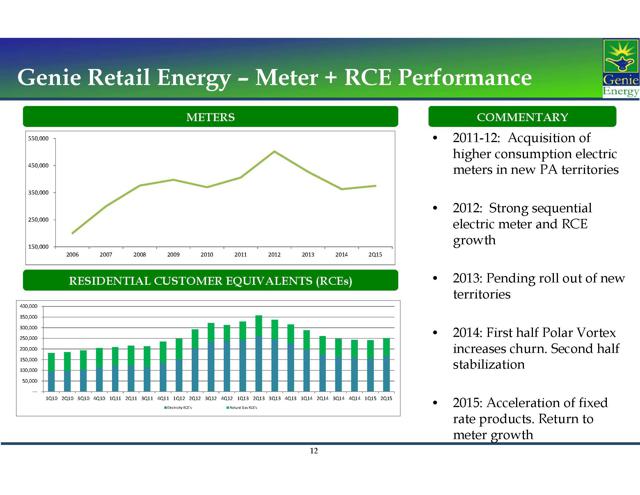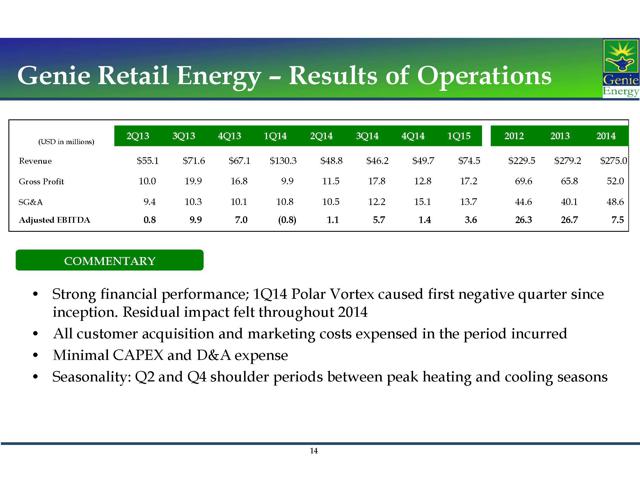 Source: Genie Oil and Gas Investor Presentation, July, 2015
As discussed above, the retail segment of this company (click on July, 2015 presentation) resells electricity and gas. It hedges to the extent it can so that it can control the risk of price changes. But predicting the amount to hedge can be very tricky. Unexpected demand surges and drops are a risk of this business. A demand surge in the first quarter of 2014 cost the company its profits for the quarter. Profits in the business are seasonal, there is a reliance on two quarters to really make most of the profits for the whole year. Still this business is usually profitable and the company does rely on it for some cash flow. The utility company for the area of the resale keeps the books and delivers the electricity or the gas. So this is not a real capital intensive business. This is the division where the company has experience and an operational history.
Calculation Of Annual EBITDA Average
'(All figures are in Millions Of Dollars)
EBITDA By Quarter
2015
2014
2013
2012
Annual Only For These Three Years
1st Qtr
$ 3.60
2nd Qtr
$ 0.30
3rd Qtr
$ 8.70
4th Qtr Projection
$ 3.00
Total For The Year
$ 15.60
7.5
26.7
26.3
Four year average
$ 19.03
Value Of the Cash Flow is
8
times the four year average or
Segment Value
$ 152.20
Source: Genie Energy Quarterly Statements, 10-Q's and Press Releases For the First Through Third Quarter Reporting 2015
The retail segment of the company showed EBITDA in the retail segment of $9.0 million in the second ($0.3 million) and third ($8.7 million) quarters. The first quarter showed $3.6 million EBITDA. If one were to assume a roughly average fourth quarter of $3 million, then income from operations would be $15.6 million.
If one averages that annual figure with the three EBITDA figures above, the average is about $19 million. An investor would be willing to pay at least eight times that figure or $152 million especially if the division is growing. The number of meters shown to be serviced by the company is approaching new highs, and there was an acquisition in 2013 made in the hopes of increasing market penetration. Plus the company has identified more states to grow into. Management definitely has plans for it to grow, but right now assume no growth to be conservative. If you subtract out about $19 million for the preferred stock, then that figure is about $5.78 per common share just for the retail segment.
"The decrease in general and administrative expenses in the three and nine months ended September 30, 2015 as compared to the same periods in 2014 was mostly due to a decrease in stock-based compensation expense, which decreased to $1.1 million in the three months ended September 30, 2015 from $4.7 million in the three months ended September 30, 2014 and decreased to $3.4 million in the nine months ended September 30, 2015 from $7.7 million in the nine months ended September 30, 2014. As a percentage of our consolidated revenues, Corporate general and administrative expenses decreased from 13.9% in the three months ended September 30, 2014 to 4.0% in the three months ended September 30, 2015 and from 5.4% in the nine months ended September 30, 2014 to 4.1%"

"Selling, General and Administrative:

On October 28, 2011, we were spun-off by IDT Corporation, or IDT, our former parent company (the Spin-Off). IDT charges us for services it provides pursuant to an agreement, and we charge IDT for specified administrative services that we provide to certain of IDT's foreign subsidiaries. The amounts that IDT charged us, net of the amounts that we charged IDT, were $0.4 million and $1.1 million in the three months ended September 30, 2015 and 2014, respectively, and $1.2 million and $2.2 million in the nine months ended September 30, 2015 and 2014, respectively, which are included in consolidated selling, general and administrative expense."
From the third quarter, 2015, 10-Q, there are some unallocated costs that show up in the segment reporting. This is meant to be a partial window of the types of charges the company did not allocate. Those charges should be non-recurring and either a discontinued activity (maybe related to the spin-off or the current offer outstanding to minority owners of some subsidiaries to exchange common stock for their minority interests for example) and this amount should definitely not grow. In fact, it should remain nominal, or ideally be zero in the future. However, there is an allocation to the key officers of the company of an amount equal to approximately 2.8% of the currently outstanding shares of the common stock worth about $1.2 million. That figure is down from $4.9 million in the previous year, so its heading in the right direction. Ideally, bonuses are awarded for meeting certain goals specified by the board, therefore these awards should be allocated to the various segments in the future as part of SG&A. However, should they continue to be unallocated in the future, at least part of these allocations should be attributed to the retail utility segment and could lower my per share estimated value significantly. Especially since previous awards were fairly generous when compared to the shares outstanding.
This company is debt free and its latest current ratio in September, 2015, is approximately four-to-one. Plus the company showed about $67 million of cash and certificates of deposit on its balance sheet. That cash alone is worth nearly $3 dollars a share, even though it will probably be spent on the oil discovery in the coming months. In the five year period, that money spent (per share) should come back to the company as profits, however, in the name of conservatism, lets assume the company spends the cash and not show the $3 on the five year future projection below. This little company has a lot of liquidity and a fair amount of cash flow, even if that cash flow is variable.
Now this company will need to build infrastructure, which they can do by issuing equity or debt. They will also need to forecast production, cash flow and all the other things, as well as protect this field from attacks by unfriendly neighbors. There is a danger here that the company may need to dilute the current shareholders too much to get this done, or acquire a big partner, and in the process give too much of its share of the profits away.
However, there is a decent chance that in five years, oil will be about fifty dollars a barrel, with production at about 20,000 BOD. Really though, results could vary wildly around this guess. There is simply not enough information at this time to make a reasonably accurate estimate of the future. A guess of all in costs of $25 a barrel before royalties of another $5 a barrel (we will skip any production of gas and LNG as being a bonus). So that would make a cash flow of $20 a barrel or about $146 million a year. Since the preferred stock was already subtracted out in the value of the other division, it does not have to be subtracted again, but we do need a 30% tax rate and assume we would value this at seven times that cash flow. Per share after taxes, the value would be about $31 per share. If the value of the other division of $5.78 is added in the total approaches $37 per share in five years. Subtract out about four dollars per share for corporate expenses (and miscellaneous items-just in case) and the final amount comes to $33.00. The actual results could vary quite a bit from that guess and will probably become a whole lot clear within a year to eighteen months when there is more information from the exploration wells and tests. Right now there are some hopes that this find will make the country of Israel oil independent all by itself. Time will tell if that is remotely possible but the preliminary data are exciting.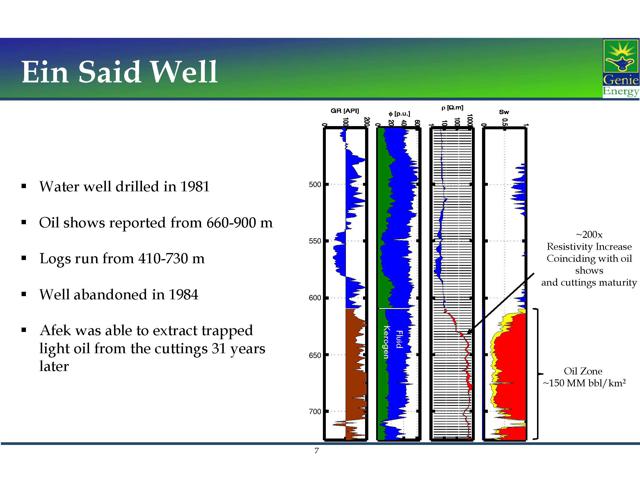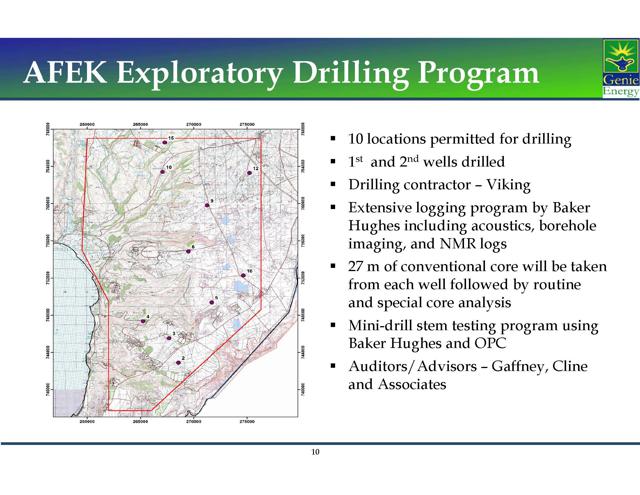 Source: Genie Oil and Gas Investor Presentation, July, 2015
The above is what makes the company exciting (click on July, 2015 presentation). The slide above shows an oil potential of 150MM BO for each square kilometer, and the leases cover almost 400 square kilometers. That would be a potential of 60 billion barrels of oil in the leases if the right geology is found in the total area (unlikely but the top potential). Recovery rates of about 10% before secondary recovery would mean about 6 billion barrels could be recovered. That is a potential value in the billions of dollars for this little company. They still have to find out if it is commercially profitable and all the other risks discussed above. In the worst case scenario, the investor is stuck with a cash rich company with a cash flow source whose business is growing by selling electricity and gas. That business is worth about $5.78 per share. When the current cash holding are added in, the stock value is about $8.78 per common share. So really the oil and gas find is valued at nearly nothing by the market. If the exploration and testing turn out to be a bust, the investor really stands to not lose much of his investment. So the downside risk is fairly low. The company has intentions to grow the other division in its own right and the stock could well end up being a successful investment based upon that division (with far less risk than this current oil find).
The company has spent some money on some other projects, but those projects will probably go dormant in the current low pricing environment, and the company may well devote its entire attention to this projects first. That includes the joint project with Total, and the project in Mongolia. Therefore no significant expenses are assumed for these or any other "lottery ticket" projects for the next five years.
On the upside, the stock meets the average investors' dream (it finds a lot of cheap oil and does not dilute the potential earnings that much) and soars on a discovery that turns out to be commercially viable and very rewarding. This is just the kind of stock that appeals to a fair amount of long term speculators.
The board will be of some help here too.
"Genie's founder and CEO is Howard Jonas, an influential American-Jewish businessman. The president of Genie's Israeli subsidiary is Effie Eitam, a Golan settler and a former general who is close to the prime minister. And in America Genie has increased its clout. In September it added some influential new members to an advisory board that already included a former vice-president, Dick Cheney, and a media tycoon, Rupert Murdoch. One was Larry Summers, who was treasury secretary in the Clinton administration and director of the National Economic Council under Barack Obama. Also added were two other Clinton-era appointees: Bill Richardson, an ex-ambassador to the United Nations and energy secretary, and James Woolsey, a former CIA director."
From an article in the economist, this board is going to be very influential in helping this company achieve its goals. This board has above average connections and they may be very needed as the company seeks to achieve its goals.
Disclaimer: I am not an investment advisor and this is not a recommendation to buy or sell a security. Investors are recommended to read all of the company's filings and press releases as well as do their own research to determine if the company fits their own investment objectives and risk portfolios.
Disclosure: I/we have no positions in any stocks mentioned, and no plans to initiate any positions within the next 72 hours.
I wrote this article myself, and it expresses my own opinions. I am not receiving compensation for it (other than from Seeking Alpha). I have no business relationship with any company whose stock is mentioned in this article.