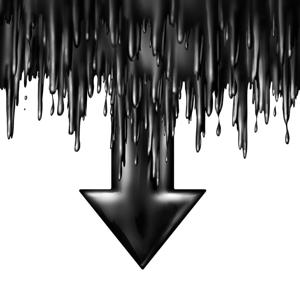 The oil market reached a new low as prices dipped below $30 a barrel last week. Some estimate that oil prices could even reach as low as $10. The EIA estimates such a scenario isn't likely, but does consider prices could dip to the low $20s over the coming months. Are the current low oil prices just a cyclical turn, or is it a more persistent trend? Let's review the latest market developments and try to tackle this question.
As I've pointed out in the past, despite low oil prices, U.S. production hasn't come down by much in the past several months. And it could remain at its current level of 9.2 million bbl/day for quite some time. For one, oil companies have become more efficient, and some of them also have hedges on their output that keep them selling oil. Given that for many projects the major spending was already done -- the initial investment -- the marginal cost is still low enough to continue pumping oil.
According to Shell (NYSE:RDS.A) Chief Financial Officer Simon Henry, the cost of mothballing wells outweighs in some cases the cost of pumping out oil. Also mentioned in The Economist article linked above, according to an estimate by Simon Flowers of Wood Mackenzie, even at $30 a barrel only 6% of global available output doesn't cover the operational costs. Therefore, we could keep seeing oil prices low for a long time. Conversely, the reduction in capex and cutbacks will eventually catch up with the current market conditions to push oil prices back up.
While oil prices will eventually climb back up, I think that this time the ramifications of the crash in oil prices will resonate in the oil market for years to come -- even long after oil prices rise back to over $60. Oil companies will be much more prudent in picking and investing in high-cost projects that might not yield a positive ROI if oil prices dwindle again, as they did back in 2014/2015.
For now, even though oil production could start to come down in non-OPEC countries, the same can't be said of OPEC members -- most notably Iraq, Saudi Arabia, and Iran. The latter had its sanctions lifted, and the IEA estimates that the country could boost its output by 0.3 million bbl/day within a few months, which will bring its total output to over 3.2 million bbl/day. This is still well below the output of 3.7 million bbl/day it used to record before the sanctions were imposed. And keep in mind that Iran consumes roughly two-thirds of its output. So its role in the global oil market has substantially diminished in recent years -- exports were slashed by half. Regaining this market share won't be easy given the current market conditions. Therefore, the oil output is likely to remain high.
From the demand side, things aren't much better. China's pace of growth is slowing down, and even the U.S. might not be out of the woods just yet. Other major importers of oil include the EU and Japan -- two economies that also face very low growth. Moreover, as consumers become conscientious about the environment, alternative energy is on the rise and cars have become more fuel efficient. All of these factors could keep the demand for oil from fully recovering.
The U.S. dollar has also played a role in falling oil prices. If the U.S. dollar maintains its strength against other currencies, this could keep the price of oil down. Some oil producing countries, however, might have benefited from the stronger U.S. dollar as their relative operational costs (mostly labor expenses) went down -- as was the case for Russia. The downside is that double-digit inflation is eroding the salaries of oil company workers. So this "arrangement," in which workers' real salaries diminish, won't last long.
Bottom Line
I still think that the oil market will recover, and we will eventually see prices climb back up to over $60. But it could take awhile (perhaps by next year). Nonetheless, the oil market has experienced a change from both the demand and supply sides. Oil producers will be more cautious when exploring new projects, demand isn't likely to rise as it did in previous years, and the U.S. dollar could keep weighing on oil prices. This doesn't mean the volatility in the oil market will subside -- an eruption in the Middle East could still prompt a spike in oil prices -- but the range of oil prices might not reach the same high levels it once did. (For more, please see: "A Couple Of Notes On The Oil Market.")
Disclosure: I/we have no positions in any stocks mentioned, and no plans to initiate any positions within the next 72 hours.
I wrote this article myself, and it expresses my own opinions. I am not receiving compensation for it (other than from Seeking Alpha). I have no business relationship with any company whose stock is mentioned in this article.