Introduction
The global energy market is in chaos and the price of crude oil and natural gas are hovering at all time lows. It is hard to be optimistic about the future as an energy sector investor. Natural gas pipelines are primed for growth as the world struggles to catch up with the tremendous expansion in gas supply.
Why Pipelines?
Pipeline projects are more attractive investments in the current market as they are typically better insulated against commodity price fluctuations. Much of this insulation comes from "tolling" or "fee based" revenue streams on pipeline projects where the pipeline does not actually own the commodity being transported and merely charge the commodity owner a service fee or transport fee to move from point to point in the system. The beauty of this is that the pipeline owner makes money regardless of the value of the commodity being transported.
As an example, a variety of pipeline MLPs [Enable Midstream Partners (ENBL), OGE Energy (OGE), CenterPoint Energy (CNP), ONEOK Partners (OKS)] have been structured around the fee concept, and in some cases they earn as much as 88% of gross margins from hedged or fee based revenue streams.
It can actually be to the benefit of pipeline companies for oil/gas prices to remain low as it increases the overall demand throughput on the pipeline system. There is a risk of production tapering off due to the reduced prices, but natural gas demand should remain resilient regardless of crude oil price deflation. Also, fracking wells can be turned on quickly as price recovers reducing the risk of a prolonged shortage in production. The current market environment has beaten many of these stocks down to very attractive price points.
Pipeline Project Forecast
It is a good time to be in the natural gas pipeline business as the demand side drivers and future prospects have never been stronger for the companies that can survive the current market cycle.
As of the beginning of 2015, operators announced plans to build more than 41,700 miles of crude oil, product, and natural gas pipelines -- 66% of the total capacity being for natural gas. These projects require significant capital outlay and have lengthy construction periods. Even a bearish prediction of pipeline projects estimates $465 billion of projects forecast through 2035 (base case prediction was $640 billion). The majority of the newly discovered natural gas, crude oil, and NGL production locations in the U.S. lack fully developed pipeline infrastructure and require development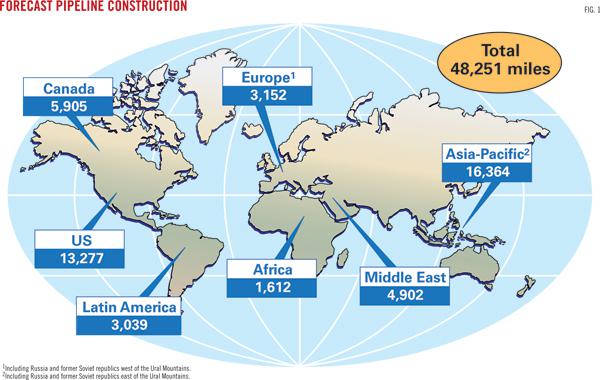 Power generation conversion to natural gas fired turbines is driving up demand at an unprecedented rate. The EPA continues enforcing stricter regulations causing additional coal units to retire earlier than expected. April 2015, traditionally the month when electricity demand is the lowest, was the first time U.S. generation from natural gas exceeded generation from coal. Demand for gas will only continue to grow as more generation is shifted from coal.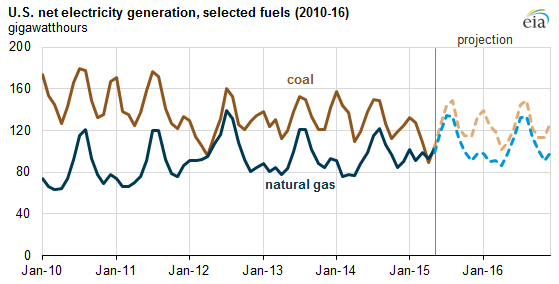 In mid 2017, it is forecasted that the U.S. will be a net exporter of natural gas. The Sabine Pass LNG (LNG) export facility will begin exports this quarter and will further expand capacity through 2017. There is an additional 7.86 BCF of LNG export capacity currently approved and under construction in the U.S. further driving demand for additional pipeline capacity.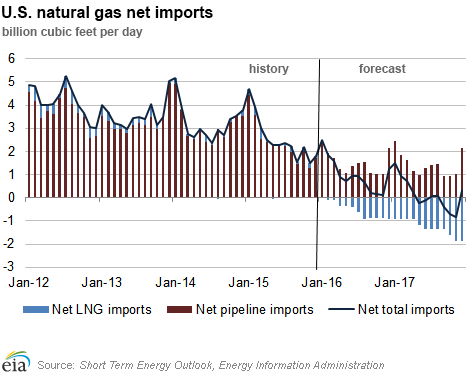 In Mexico, the state-owned electricity utility has planned over $10 Billion in projects to carry natural gas from Southern Texas to the Mexican Gulf Coast. There are 24 total projects including a $3.1 billion underwater line from Brownsville, TX to Tuxpan, MX. Most of these projects are expected to begin operation in 2017-2018, and will add nearly 75% capacity to transport natural gas. Each of these projects represents the potential for a 7-15% return on investment for the companies that win the tender over the life of the project.
-- Source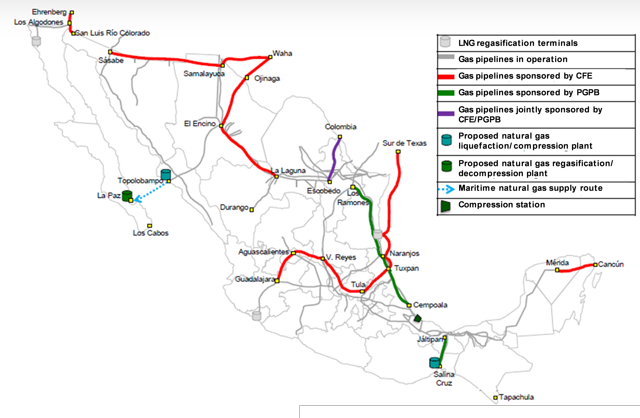 In fact, exports of natural gas from the U.S. to Mexico are at record highs and the forecast is expected to continue on an upward trend as more of the pipeline capacity goes online further increasing demand side pressure.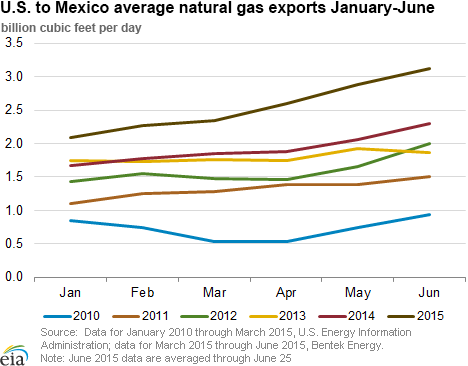 Potential Investment Ideas
Hopefully I have convinced you that the pipeline market is poised for long term growth and you are looking for potential investment targets. As this article is quite long already, I will highlight a few companies that I believe are worthy of your consideration.
I believe the tolling fee-focused MLPs represent the lowest risk investment in the current market, but the top three companies in play(in my opinion) are:
First, Energy Transfer Equity (NYSE:ETE) and the acquisition of Williams (NYSE:WMB) make an interesting investment case as the combined companies offer a massive economy of scale and over 100,000 miles of Oil and Gas pipelines. The newly merged companies are positioned well to capitalize on the big projects on the horizon, and I would expect that they will capture a significant chunk of the future midstream market both in the U.S. and in Mexico.
TransCanada (NYSE:TRP) announced in November, 2015 that they had won a section of the Mexican pipeline with an estimated project size of $500 million. TransCanada already owns and operates two pipeline systems in Mexico, and is building two additional lines bringing their total investments in the country to $3 billion. This bodes well for TransCanada, as they have already proven they can put a successful project together and should take several of the remaining projects in Mexico.
A pipeline discussion would not be complete without at least mentioning the largest player in the space, Kinder Morgan (NYSE:KMI). KMI is the largest natural gas midstream provider in the U.S. and they own and operate nearly 67,000 miles of pipe. KMI has recently cut dividends 75% and is posturing for defense, but their recent earnings surprises and high debt load have seriously eroded investor confidence.
Conclusion
Try not to panic at the current downturn in commodity prices. Look to the well insulated natural gas pipeline operators for future growth. Demand for natural gas from gas turbine fired power plants, LNG exports, and NG exports to Mexico will create tremendous future growth and generate the majority of the future profits for these companies.
I believe TransCanada represents the best near term speculative play as their recent win in Mexico could foreshadow additional victories in the $10b tender currently out for bid.
Disclosure: I/we have no positions in any stocks mentioned, but may initiate a long position in TRP over the next 72 hours.
I wrote this article myself, and it expresses my own opinions. I am not receiving compensation for it (other than from Seeking Alpha). I have no business relationship with any company whose stock is mentioned in this article.