Cliffs Natural Resources (NYSE: NYSE:CLF) has just published its fourth-quarter report, missing analysts' estimates on both earnings and revenue. Without further ado, let's discuss the key points of the report.
Costs continued to trend down. Cash cost for Cliffs' U.S. iron ore segment was $57.19 per ton compared to $62.84 per ton in the third quarter. Australian costs also trended down to $33.70 per ton compared to $34.72 per ton in the third quarter.
Cliffs has already shown its ability to cut costs, and the fact that the company was once again able to push costs further down is not a major surprise. For 2016, Cliffs expects U.S. cash costs to be $50 - $55 per ton while Australian costs are expected to be $25 - $30 per ton. Thus, the company expects further improvements in its cost structure, which is surely positive for the business.
Let's turn to an even more important thing - the company's projections for 2016 realized prices and different levels of the iron ore prices.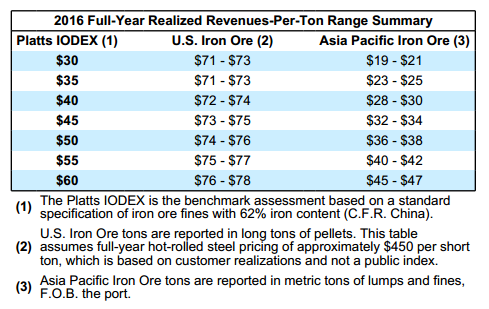 Expected realized revenues for 2016 are down compared to the previous year numbers. The U.S. segment shows much better pricing strength than the Australian segment. In the U.S., the decrease in realized prices will likely be offset by continuing improvements on the cost side. At the same time, Australian iron ore expected realized revenues collapsed compared to 2015 numbers.
In the fourth quarter, Australian mines were EBITDA-neutral for the company. This achievement won't be replicated in 2016 despite continuing cost cutting efforts. However, I think that the stability of U.S. prices outweighs Australian problems. It also highlights that focus on the domestic market was a prudent thing to do despite the current condition of domestic steel producers.
Another good news is the debt exchange offer.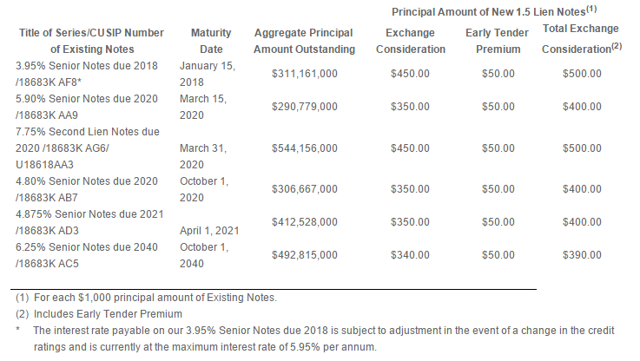 Cliffs continues to optimize its debt profile and to push maturities to the future. The current offer consists of the proposition to exchange Cliffs' existing debt for up to $710 million of newly issued 8% 1.5 Lien Senior Secured Notes due 2020. Given the current exchange consideration, the company may decrease its outstanding indebtedness by almost $1 billion if its offer is fully executed. This is a move in the right direction.
Cliffs Natural Resources also outlined its interest expense, SG&A and capex targets for 2016. Cash interest expense will total $205 million, the cash part of SG&A will be $65 million and capex will be just $50 million. Target for U.S. production is 17.5 million tons and the target for Australian production is 11.5 million tons.
Of course, one would like to see more tons sold in U.S., as the company still has a healthy margin, but the weakness of the market plays its role. There is a significant upside possibility for the U.S. segment, but the year 2016 will likely be difficult from the demand side.
Taking into account Cliffs' guidance for cash costs, production target, interest expense, SG&A and capex targets I arrived to the conclusion that the company's operations could lose about $20 million of cash this year. I believe that this is bullish for Cliffs, as the stock's dynamics suggested more serious problems for the company.
The above-mentioned forecast is based on the IODEX price of $35 per ton, so I'm not bullish on iron ore, especially given the possible impact of Vale's (VALE) S11D at the end of this year. However, Cliffs' dependence on the IODEX pricing will fade once the company gets rid of its Australian segment.
All in all, I believe that it was a solid report that must help Cliffs' shares stabilize and ultimately find their way to upside.