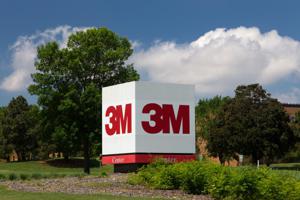 3M (NYSE:MMM) recently posted strong fourth quarter and fiscal 2015 results. Its strategy of strengthening its portfolio by moving toward high-growth high-margin businesses is working for the company. Despite a depressed environment, 3M's investments continue to hold up, even while the company restructures and transforms its corporate entity. The focus of this restructuring center on the U.S., with some emphasis on Europe, the Middle East, Africa and Latin America. The company incurred almost $114 million in restructuring charges over the final quarter of fiscal 2015.
In Q4, sales declined by 5.4%, down to $7.3 billion, relative to same quarter of the previous year. However, most of this drop was due to currency headwinds and the strengthening of the dollar, with currency translation sales growth falling by 5.8%. In my thinking, this is a very strong performance when you consider the intense market volatility we have witnessed in the second half of fiscal 2015. The company's operating income and margins have remained strong, thanks to its focus on high-growth, high-margin businesses. Excluding restructuring charges, 3M's operating income stood at around $1.6 billion and its operating margins grew by 0.6% to 22.1%.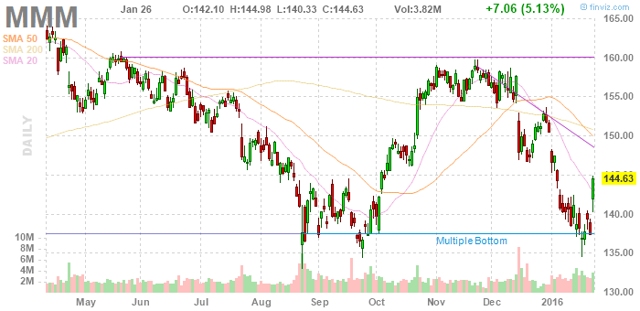 Despite its strong financial performance, the company's stock has dipped significantly in the past two months. I believe this dip is only due to external factors, as nothing appears to be wrong with 3M's business model and its financial performance. The company's stock declined primarily because of a plunge in the Chinese markets, tumbling oil prices, and slow economic growth. Therefore, I'm viewing this dip in share price as a buying opportunity.
It's wise to pick stocks on a dip and when others are fearful. Beyond this generally accepted principal, it is also important to buy only those stocks that carry strong future fundamentals. In the case of 3M, its shares are trading near their lowest rate of the past 52 weeks. With its 52-week high of $167.16 per share, achieved in the beginning of fiscal 2015, I believe this share price has strong upside potential in the coming days, due to its strong market fundamentals.
The company's business model is not dependent on the volatile commodity prices, nor on the growth in Chinese markets. It has extensive market shares, which lowers its dependence on any specific market. 3M has also affirmed its 2016 earnings outlook. The company is expecting to see earnings-per-share in the range of $8.10 to $8.45, with organic local-currency sales growth of 1 to 3%.
Moreover, the company's cash generating potential is more than enough to cover dividend payments, capital investments, and the buyback of its outstanding shares. In fiscal 2015, 3M converted 103% of its net income to free cash flows and produced a 22.5% return on invested capital. In addition, it returned $2.6 billion in cash dividends to shareholders and repurchased $5.2 billion of its outstanding shares. The company's dividends not only look safe, but 3M is in excellent shape to provide further increases during fiscal 2016. With the expected growth in earnings and a strong cash conversion rate, this company will continue to show respectable growth in dividends throughout the year.
In Conclusion
Other than currency translations and the strengthening of the dollar against other currencies, I'm not seeing any risk to its business model. The company has minimal exposure to the beleaguered oil and gas industry and has extensive footprints throughout the world. 3M's business fundamentals look strong despite a volatile business environment. Thus, buying on the dip is a wise idea here, if you want healthy dividends and strong share price appreciation. In these uncertain times I only suggest that investors avoid those companies whose business models show extensive exposure to mining and to the oil and gas industry.
Disclosure: I/we have no positions in any stocks mentioned, and no plans to initiate any positions within the next 72 hours.
I wrote this article myself, and it expresses my own opinions. I am not receiving compensation for it (other than from Seeking Alpha). I have no business relationship with any company whose stock is mentioned in this article.