Apple and Asia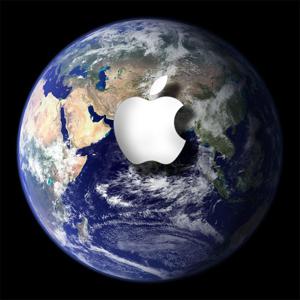 I first wrote about the potential of Asia for Apple (NASDAQ:AAPL) in September 2014. My article, titled "Asian Growth sends strong bull message for Apple" met with a lot of critical comments that the Apple brand would never catch on in China. The people were too poor, the local competition was too strong, the political and legal hurdles were an insurmountable barrier, etc. Of course, such critics have been proved very wrong. In the company's 2012 annual report, China was not even listed as a specific operating segment. China is now second behind the US in terms of operating income. Now everyone writes articles about how vital China is to the company.
Apple's Q1 2016 results showed the importance of international sales (66% of revenue) to Apple, and specifically the importance of Asia.
The Americas: revenue decline of 4% to US$29.3 billion.
Europe: revenue increase of 4% to US$17.9 billion.
Japan: revenue decline of 12% to US$4.8 billion.
Asia-Pacific: revenue increase of 4% to US$5.4 billion.
Greater China: revenue increase of 14% to US$18.4 billion (and + 47% sequentially).
India specifically, and Asia in general, now offer the same future potential for Apple as did China. Indeed, Asia is already realizing that potential for the company.
India
Of course, India is not exactly the same challenge as was China, but the similarities are very apparent. Again, the naysayers state the people are too poor, the local competition is too strong, and the political and legal hurdles (including rampant corruption at every level of society) are insurmountable. For the same reason this was a false argument in regard to China, it is a false argument in regard to India.
China's economic growth is indeed slowing. However, consumer demand is strong as China transitions from an industrial economy to a consumer-driven one. Apple will continue to grow there, but more slowly than the 84% growth in revenue it enjoyed last year. Despite all the talk of gloom and doom, in Q1 2016 iPhone unit sales in China did increase by 19%. Mac sales increased 27% year-on-year as the Apple "ecosystem" increasingly embeds itself in the country.
The country forecast by the IMF to have the fastest growth of any major economy this year is India, at 7.5%.
Of course India has the negative of a much lower GDP per head than China or of many other Asian countries. The IMF assesses Chinese GDP per head in 2015 at US$8,280. For India it has a figure of US$1,688. What this misses out though is the incredible wealth inequality in India. The middle class there is growing fast and has a strong culture of showing off brand affordability. General estimates are that by 2025 the country will have over 500 million people who can be called "middle class." As Tim Cook commented in the Q1 2016 conference call, the median age of the country is only 27, the kind of demographic that economists love.
As my October 2015 article pointed out, India is forecast to have 314 million mobile users by 2017, which would be the second-highest total of any country.
Retail in India
Despite the headlining and highly-paid Angela Ahrendts coming on board, Apple has been slow to ramp up its retail presence in Asia. Only about 10% of Apple's worldwide total of stores are in Asia and Australia. Only in China has the pace of new stores been quickened. In total, 26 new stores are planned for China this year, doubling their current number. The latest of these, the 33rd, opened in Qingdao this week. Apple targets to have 40 stores open in China by the middle of this year. This still compares poorly with the 53 retail stores, for instance, in California alone.
In India, retail could be vital for success. So far Apple has been handling the retail market in India through sub-distributors, but this has put their brand image in the hands of often not very competent third parties. Historically, retail has been difficult for foreign companies in India, but the Modi Government is relaxing the rules.
Previously, single-brand retailers which were foreign-owned had to source 30% of their product locally. Additionally, there were heavy restrictions on the use by such companies of e-commerce. With these restrictions being loosened, in mid-January, Apple filed an application to open the first real Apple Store in the country. Just as Tim Cook personally led the political dance to get Apple established in China, so he has reportedly met twice with Indian Prime Minister Modi in the past six months.
The India Market
Almost identically to when Apple entered the China market, the smartphone market in India is dominated at present by Samsung (OTC:SSNLF) and by local manufacturers. We all know what happened in China when that was the case a couple of years ago.
IDC estimates that in the third quarter of 2015, Samsung had 24% of the market and Lenovo held second place among imported phones. Apart from them, it was local manufacturers such as Micromax, Lava and Intex. This is ripe for Apple to follow their China strategy. That means supplying current new models to the wealthier middle-classes and their older models at a strongly discounted price to those who cannot afford the current model. Apple is already doing this in fact. As an example, the 6S originally sold for 62,000 rupees, while the 5S price was cut in early December to 24,999 rupees. This put it in a similar price bracket to the Samsung "A" and "E" series phones. Now the 16GB 6S has been further reduced to 48,499 rupees.
Up to March 2015, Apple increased sales by 44% to over US$1 billion. It is expected that this figure will double in the year to March 2016. In Q1 2016, revenue increased 38% (or 48% in constant currency terms). iPhone unit sales increased 76%.
Sales are growing from a small base, but retail expansion and a new concentration on India by Tim Cook should see sales take off in the next couple of years. An accelerated planned roll-out of 4G in India, just as we saw in China, will also help the company's expansion. Interestingly in the Q1 2016 conference call, Tim Cook made specific reference to rising 4G penetration in China as a boost to Apple sales. No doubt the same is equally true of India.
He also stressed the importance of emerging markets in general and LTE penetration to the future. He commented:
"If you go outside of China into the other emerging markets, our share is much lower and the LTE penetration is so low.... it indicates to me that there is still a lot of people, a tremendous number of people in the world, that will buy smartphones."
The GDP per head differential with China will mean that India takes longer to reach the stratospheric sales figures we saw in China. Equally, the Apple ecosystem is not as strong in India and it will take time for iTunes and the App Store to become a way of life there.
One potentially very bullish factor for Apple is the fact that their biggest manufacturing partner, Foxconn, has applied for manufacturing approvals in the country. This has led to obvious speculation that iPhones will be manufactured in the country, with all the myriad advantages that would bring. Foxconn is proposing to have 20 facilities operating in India by 2020 at an investment cost of US$5 billion.
China may have a population of 1.4 billion and India 1.25 billion, but elsewhere in Asia the sheer mass of the addressable market is substantial. Figures of population of other Asian countries for 2015 and World Bank details of GDP per capita for 2014 illustrate the often-overlooked potential in Asia outside of China and India. In the Q4 2015 conference call, the company had stated that revenue increased 27% in that period for this region.
There are over 1.8 billion people in Asia outside the behemoths of China and India. This potential is reinforced by the fact that these countries have the demographics that economists look for. That is to say, young growing populations with improving educational levels in countries with strong growth rates. This group of countries alone far exceeds the populations of US or of Western Europe.
Below, I summarize just a few of the Asian countries where Apple's footprint has grown strongly.
Japan (population 127 million and GDP per capita of US$36,194) is the market in the world where the Apple ecosystem is generally considered at its strongest. In the Q4 2015 conference call, Apple had stated that Japan revenue increased 9%, not bad for a mature market. However in Q1 2016, revenue declined 12%, although in constant currency terms it was a decline of only 4%. This is still of some concern for Apple, and the figures seem to reinforce market rumors that the iPhone 6 and 6S were not so well received there in what is already a mature market for Apple.
Indonesia (population 255 million and GDP per capita of US$3,491) and the Philippines (population 101 million and GDP per capita of US$2,872) are both seeing Apple sales grow strongly. Both have very young populations and the Philippines was the strongest growing economy in Asia last year. Apple is planning to invest in R & D facilities in Indonesia following new government regulations to come into effect in 2017. These will require overseas suppliers to include 30% of import value in their products from either local manufacturing or from software input. Official figures show that Indonesia imported US$5 billion worth of mobile phones in 2015. The real figure would be higher as it does not include parallel imports through Singapore.
In Korea (population 49 million and GDP per capita of US$27,970), Apple has made significant inroads. This is despite Korea being the home market of the formerly all-powerful Samsung. At the Q1 2016 conference call, it was reported that iPhone sales increased 45% there.
Thailand (population 67 million and GDP per capita of US$5,977) and Malaysia (population 30 million and GDP per capita of US$11,307) are seeing significant growth for Apple. Exact growth rates have not though been released by Apple.
Vietnam (population 93 million and GDP per capita of 2,052) is an interesting study. The country was a long-time foe of the US and has a low GDP per capita of US$2,052. Yet, Apple opened a subsidiary there in October last year on the back of sales that had tripled in the first half of 2015. This will allow them to open their own store and sell directly to Vietnamese consumers. There are a startling 124 million cellphone subscribers in the country which shows the fast development in the country.
Singapore (population of 5.6 million and GDP per head of US$56,284) will be seeing its first Apple store opening in 2016. With a GDP per capita higher than the US and a large re-export business, this is a strong market for the company. Apple Pay will be launched here in 2016. The other Asian destinations for Apple Pay this year will be China and Hong Kong.
Different commentators may argue as to what extent these countries can have a substantial effect on Apple's bottom line. There seems little doubt to me as to the strongly accretive effect on the company in the medium to long term.
For 2016, the ADB (Asian Development Bank) has forecast GDP growth of 7.3% for South Asia, 4.9% for S-E Asia and 6.7% for China. Though lower than in some previous years, this is a lot stronger than likely growth rates in developed countries and will further narrow the gap between the two.
Conclusion
It should be only a matter of time before China is the single biggest market for Apple in terms of revenue. As Tim Cook said on the earnings call, the company is "maintaining our investment plans for China."
It is probably only a matter of time and demographics before the rest of Asia is Apple's third biggest market in terms of revenue. This makes it false to argue that growth for the iPhone and other Apple products is limited because of the company's high market share in its mature markets. Short term, currency fluctuations somewhat tempered Apple's still healthy growth in the region, but that will not be a continuing long-term issue.
These immature markets signify that Apple has very significant growth opportunities for years to come, as Tim Cook pointed out. The company may have been somewhat slow to roll out its retail footprint around Asia, but this now seems to be on the way. At the Q1 2016 results call, it was revealed that the company has US$215.7 billion in cash. US$200 billion of this is stashed off-shore. Retail expansion in Asia could well be the best use Apple has for a portion of this huge cash pile. This will help set up Apple's long-term continuing growth in the region.
Disclosure: I am/we are long AAPL.
I wrote this article myself, and it expresses my own opinions. I am not receiving compensation for it (other than from Seeking Alpha). I have no business relationship with any company whose stock is mentioned in this article.