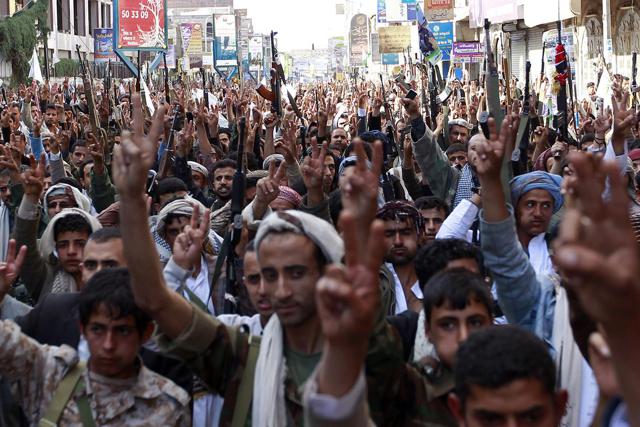 2015-16 has so far been dominated by grim reports of rising and increasingly violent tensions in the Middle East. In one sphere, Saudi Arabia, backed by the United States, has been waging a war with Yemen since May of last year, resulting in thousands of casualties as artillery barrages, airstrikes, and naval blockades rock the region. U.N. intelligence estimates that 80% of Yemeni citizens are in need of basic aid, and the United States has since accelerated the sale of supplies and weapons to coalition states involved in the conflict.
In a neighboring sphere, ISIS, a jihadist militant group expanding within the war-torn nations of Iraq and Syria, has secured a sizable amount of territory and resources, forcing many governments on the world stage to intervene further in the conflict. Military factions in the region are preparing for the second battle for Mosul, the second largest Iraqi city currently occupied by the Islamic State. This critical battle, set to play out in the coming weeks, underscores the current situation in Iraq and Syria - a complex, violent mess, and one that won't resolve itself soon.
As if that weren't enough, overshadowing the whole situation is the deteriorating relationship Iran holds with the rest of the world, and the impact this has on U.S. interests in the Middle East. Many are concerned about the recent nuclear deal struck with Iran, and the billions of dollars in assets that are being given back to the nation as a result. Combine this with reports of Iran capturing two Naval vessels (and rumors of their ability to jam our GPS systems), and it becomes very difficult to see a way forward in the Middle East that doesn't involve more violence and foreign intervention.
The Best Defense? Good Defense
With the amount of U.S. intervention in an increasingly violent Middle East, parts of the economy have started to show the effect of American involvement. Defense companies, with major exposure to domestic and foreign military demand, have seen their stocks out-perform the broader averages since mid-2014, when ISIS became a world-wide threat and Middle East tensions intensified: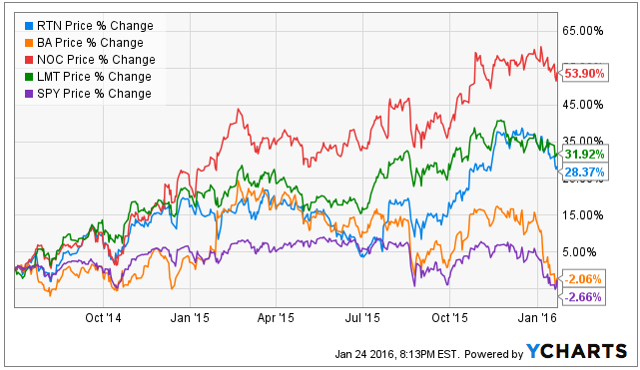 The logic behind this is simple; if countries are at war, their demand for munitions and equipment rises, which translates to higher-volume contracts and backlogs for manufacturers domestically as the U.S. trades with these nations. Going forward, this thesis should stay intact as the need for weapons and military support in the Middle East continues to rise.
U.S. Involvement Benefits All
At a minimum, domestic defense companies will see higher demand from the United States in 2016, with America leading the charge to achieve stabilization in the Middle East. These companies derive a majority of their revenue from the federal government through contracted manufacturing deals, with specific U.S. sales shown below:
| Name | % of Revenues from U.S. |
| --- | --- |
| Boeing (NYSE:BA) | 42% |
| Northrop Grumman (NYSE:NOC) | 84% |
| Lockheed Martin (NYSE:LMT) | 79% |
| Raytheon (NYSE:RTN) | 70% |
| General Dynamics (NYSE:GD) | 58% |
If violence (and reports of violence) continue to escalate, look for the government to put both its budget and foreign relationships to work in order to get supplies into the hands of Middle Eastern allies. Public opinion can work into this part of the puzzle, and affects the decisions of both Congress and the President when implementing future defense budgets. For example, back in 2010, the Obama administration signed the largest arms sale in history with Saudi Arabia, valued between $60 and $90 billion. The deal, which strengthened relations between the two countries, came under a liberal President who became elected siding against involvement in Iraq and elsewhere in the Middle East. Who benefited from the sale? Military manufacturers - mainly Boeing, which developed 84 F-15 fighter planes and 190 helicopters as part of the sale, while other names took part in the sale of bombs, missiles, and radar systems to bolster the country's armed forces.
If Obama can get away with $60 billion in arms sales before ISIS and Iran became significant threats, it wouldn't be out of the question to think that similar deals could happen in the future. Bottom line: If threats against the United States continue to exist, public opinion will move to back defense against these threats, which can only work in the favor of companies in this space. And this all goes without even considering a scenario where a defense-friendly Republican is in the White House.
Apart from direct sales to the U.S., defense companies make money through indirect sales to other countries, and have been benefiting from Middle East tensions in this manner. When looking at the equipment currently in use by many countries engaged in the conflict, U.S. products immediately show up, and in large numbers. Going forward, companies will benefit differently depending on how the conflict in Iraq and Syria evolves, with air, ground, or support operations affecting the demand for equipment in different ways.
Air Operations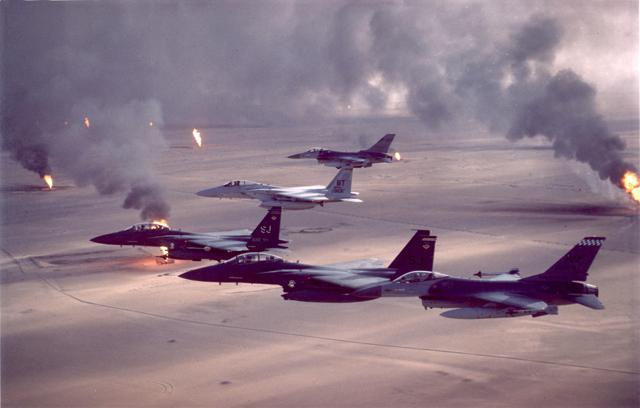 The current strategy, at least from the American perspective, involves conducting air operations against both Yemen and ISIS in conjunction with allied forces, in an effort to cripple key infrastructure and take out leaders within each terrorist group. When it comes to aircraft and related supplies used by Middle Eastern countries, Boeing and Lockheed Martin take the lead position among competitors. The Royal Saudi Air Force today is largely made up of the F-15 Eagle fighter jet and AH-64 Apache attack helicopter, both manufactured and sold - directly or indirectly - by Boeing. The Apache is also deployed within a number of other regional militaries involved in the conflict, including Israel, Egypt, and the United Arab Emirates.
Along with these aircraft come rockets and missiles compatible with each respective model, which are in heavy demand by all countries involved in air campaigns in the region. Reports have surfaced that, with over 20,000 missiles and bombs dropped so far in the fight against ISIS, American munitions stockpiles are sliding below optimal levels, which, along with the demands of other countries, generate medium-term demand for replenishing of these reserves. As long as these campaigns are effective, armies are going to demand bombs and missiles, and defense companies are going to make more money filling this demand.
In addition to Boeing aircraft seeing heavy action, Lockheed Martin has played a significant role in air campaigns, supplying both attack and support aircraft to many countries involved in the fight. The C-130 Hercules and UH-60 Black Hawk transport aircraft are in use by virtually every country in the Middle East, and the F-16 Falcon is a mainstay in the air forces of Turkey, Oman, Egypt, Iraq, Jordan, and Pakistan. Maintaining the effectiveness and durability of these different aircraft is an important part of these countries' long-term strategies, and Lockheed Martin is an integral part of making this happen. If air superiority stays a vital part of the war effort in the Middle East, look for these defense names to outperform further.
Land Operations

If an air campaign isn't enough to subdue ISIS and Yemeni terrorists, land operations will take the center stage, which benefit a different set of defense names. The current beneficiary of land engagements by the Saudi and Iraqi armies is General Dynamics; the company is responsible for the M1 Abrams tank, a combat vehicle deployed through both armies in their respective spheres. In service since 1980, the Abrams has seen action in every recent war in the Middle East, and is a favorite of the countries most involved in conflict on the ground. Saudi Arabia recently had an order delivered for 69 Abrams M1A2s, which shows their continued demand for supplies. The upcoming and highly anticipated battle for Mosul will almost certainly feature the Abrams in action; if conflict intensifies, demand for this weapon of war should tick up.
Support Operations
When any offensive takes shape, the most obvious images of these events come in the form of tanks, planes, and soldiers. Behind the scenes, however, there are countless systems and support equipment that help ensure success on the battlefield. A major provider of this support equipment is Raytheon, and their products can be found in every facet of the current Middle Eastern conflict. From radar technology in Boeing's F-15 to early-warning systems to UAV drones, Raytheon's portfolio of products integrates with and adds value to every branch of the military.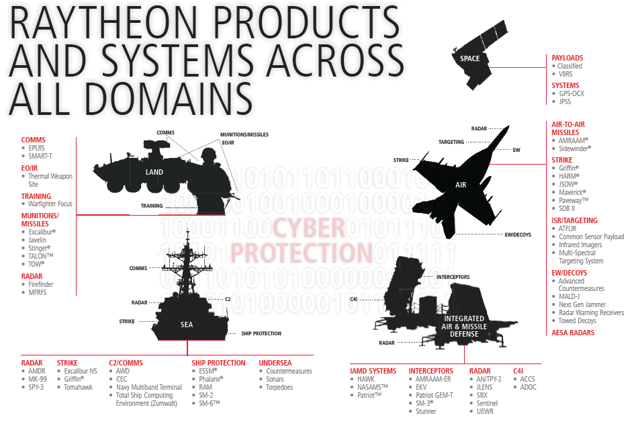 On the offensive side of Raytheon's arsenal comes a large variety of missiles and rockets, including the AGM-65 Maverick, AIM-7 Sparrow, and the AIM-9 Sidewinder - all hugely popular among a majority of the world's armed forces. And, of course, I would be remiss if I failed to mention Raytheon's Patriot missile system, a long-range surface-to-air defense package that is in use among many U.S. allies in the Middle East, including Saudi Arabia, the UAE, and Israel. Implementation of these systems translates to future business with adopting countries, in order to build out, upgrade, and maintain combat readiness. Tensions in the Middle East (and elsewhere in the world, for that matter) demand preparation, and Raytheon's radar, early warning and missile systems give customers exactly what they need.
Bottom Line
Although defense stocks have rallied since Middle Eastern conflict became a hot topic, I believe the trend won't fade anytime soon; in fact, we may be closer to the beginning of military violence in the region than we are to the end of it. To help survive market craziness at home, I suggest investors stick with macro trends that have proven to pay rewards, and defense stocks are one of these trends. Additionally, if conflict in Yemen, Iraq and Syria shifts phase, I think different defense companies will see varying effects based on what equipment is in higher demand at the time. Regardless, U.S. defense products can be found in use in every conflict currently underway, and the companies that make these products are going to continue to benefit, so long as demand stays robust.
Disclosure: I/we have no positions in any stocks mentioned, and no plans to initiate any positions within the next 72 hours.
I wrote this article myself, and it expresses my own opinions. I am not receiving compensation for it (other than from Seeking Alpha). I have no business relationship with any company whose stock is mentioned in this article.