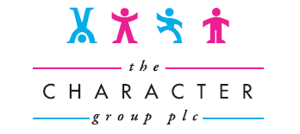 Roughly one year ago, I wrote about UK toy business The Character Group (OTC:CGROF). At the time the company's shares sold for 320p or so; its shares currently change hands for 500p for a return of 56% excluding dividends. My thesis revolved around the fact that shares were selling for a low multiple of earnings while the earnings outlook was good, and that the company had recently signed a deal to become a licensee for Teletubbies-branded toys. This seemed highly attractive to me because the Teletubbies have been a major children's television franchise ever since the first episodes aired in the late 1990s and the new owner of Teletubbies planned to order new episodes. The Character Group's shares have apparently moved upward mostly because its last fiscal year showed strongly improved earnings. On top of that, the company continues to channel substantial amounts of free cash flow into buybacks.
Recent performance
Sales were higher by 1.2% for fy14/15, which was lower than I had expected after strong results in H1, but margin improvements more than compensated for the modest topline improvement. Gross margins moved up to 37.1% from 29.8% a year earlier, which was the most important factor contributing to operating margin of 12.6% (7.62% a year earlier) and net margin of 10.34% (6.07% a year earlier). This meant diluted EPS were higher by 81.6% for the year, which I conclude was a significant driver of the gains made by Character's shares over the year. The weaker than expected growth rate in revenues was due primarily to weak sales outside the UK, while Character continued to perform very well in its domestic market. Sales in the UK expanded by +12.5% and accounted for 78.73% of total revenues in FY 14/15 while international sales contracted by -26.25% and made up the remaining 21.27%. An important question is why margins improved so strongly during the year; to an important degree this was related to the company's use of forward exchange contracts and other derivatives to hedge its procurement exposure to the US dollar. The Character Group sources its products from China and pays for those products in dollars. Because the US dollar has appreciated against the British pound over the course of FY14/15 the company registered gains on those contracts, which totaled £2.05 million versus losses of £-1.93 and £-0.46 million in prior year periods. This alone contributed more than four hundred basis points of margin improvements, with the balance of the improvement likely related to an improved product and geographic mix.
Industry dynamics
It is an admirable achievement that the Character Group has managed to wrestle itself into a well-established position on the UK toy market, which is both crowded with competition and very much mature. The company was founded in the early 1990s by three executives from the toy industry, all of whom are still involved with the company today. They have managed to build the company into a decent-sized operation and have carved out a good position with some quality franchises. However, there is no denying that the company's fortunes are highly intertwined with the UK toy market and its relative performance within in. Stalling population growth and lower birth rates mean the UK's population of children under the age of 14 is expected to grow at only a very moderate pace in the coming decades (barely over 1% annually).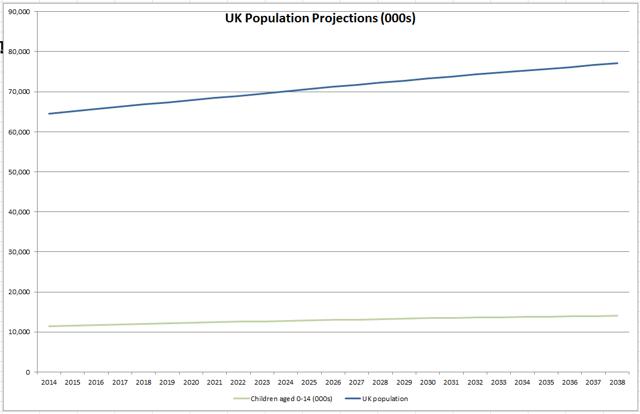 Graphic picturing UK Population projection in thousands (blue line); age cohort 0-14 years is displayed separately (green line). Author's own work using Data from Office of National Statistics.
Character's dependence on the UK market therefore means that the company's performance hinges on market share developments relative to other companies like Mattel (NASDAQ:MAT), Hasbro (NASDAQ:HAS) and Lego. I would not say those companies dominate the market for toys in the UK, but they are definitely an important force to reckon with, if only because they oftentimes have the best chances at gaining internationally important toy franchises from entertainment companies like Disney (NYSE:DIS).
Besides a barely expanding target demographic, the UK toy industry like the global industry has to contend with increasing competition from the electronics industry, which also competes for the free time, attention and preference of young consumers. The rise of tablets and large screen smartphones has significantly increased the appeal and competitiveness of electronic games as a pastime, which have generally taken share away from traditional toy products. The omnipresence of electronic games will remain a threat to companies like the Character Group because they are low-cost, have convenient distribution and the devices on which they are played have become far more intuitive since the adoption of touch screens, which can be operated even by toddlers. Whereas during the 1980s and 1990s, competition from computer games like provided by Nintendo (OTCPK:NTDOY) was mostly relevant for products aimed at somewhat older children, tablets and touchscreens have decidedly made electronic games more relevant in younger children's categories.
Traditional toy manufacturers have responded to this threat by increasing the level of interactivity in traditional toys, for instance with electronic dolls or by tying board games in with apps. Important examples of such cross-over products are Hello Barbie and Vtech's (OTC:VTKLF) Innotab, which is a tablet specifically aimed at children. Both those products have received a large amount of criticism because of their apparent vulnerability to hacking, which may indicate that the increasingly sophisticated technology required to introduce interactivity is not necessarily something that toy manufacturers are highly familiar with. An opposite movement has also been visible, with gaming companies moving into toys, which is something Activision (NASDAQ:ATVI) has successfully done with its Skylanders franchise. Skylanders belongs to a game genre called toys-to-life in which actual figurines interact with video games.
While traditional toys do not seem likely to disappear as a result of electronic entertainment, they do make the marketplace for toys more competitive. If you combine decreasing market share for traditional toys with a stalling demographic group in the age of 0-14, this means that the Character Group's future will depend to a very high degree on its ability to supply products that win the consumer's favor over the competition's alternatives. It has achieved its success in the past mostly by winning toy licenses for product franchises owned by third parties. This is a familiar concept within the toy industry of course, which works well because it allows the toy companies to leverage brands, characters or stories that consumers are already highly familiar with. The connection consumers feel with these characters is oftentimes built through their presence in television shows, movies or books. The toy companies simply bring them to the consumer in another way. The attraction of this model resides in the higher level of predictability for the demand and longevity of a product. The fact that they are already well-established in the consumer's mindset also removes an important part of the need to communicate the toy's existence to the consumer, by way of expensive television commercials for instance.
Product strategy
The Character Group has won numerous licenses to successful franchises, but it has relatively little chance of landing huge franchises like those owned by Disney . It has one or two based on Disney Frozen and Disney Princess but those appear to be relatively limited in scope. Mattel and Hasbro have a substantial competitive edge in this regard because of their size, historical relations with important licensors and their global distribution capabilities. What Character Group has smartly done is to chase the somewhat smaller franchises, for instance characters from national television shows instead of international ones. The UK market is quite an attractive place to employ this strategy because it is home to arguably the most successful public broadcaster in the world, or at least in the west; the BBC. The BBC has a long track record developing successful adult and children's television shows, which on more than one occasion have ended up being syndicated internationally. Character's strategy to leverage those national television franchises into toy product lines becomes clear if you look at the company s toy brands, which include some franchises with international exposure like Disney Frozen or Minecraft, but hosts mostly local franchises. Some of those have gone on to become internationally known, including Teletubbies, for which the company signed a toy license in 2014.
The company's product portfolio consists of a large part of toys developed and sold under a license provided by the IP owner, some toy product brands developed in-house and also some toy ranges sold under distribution agreements. For the toys sold under license, the overwhelming part consists of television characters that originate from UK-produced television series, mostly from the BBC and some from Nick Jr. Important BBC franchises include The Clangers, Fireman Sam, Postman Pat, Dr. No and the Teletubbies, most of which are still being aired (oftentimes in multiple countries). The Peppa Pig and Ben & Holly's franchises are based on television shows aired on Nick Jr. in the UK.
I expect that as long as such franchises are being aired on television, demand for related toy products will continue, adding to the predictability regarding the Character Group's economic results. Unfortunately, the Character Group does not report extensively on toy brand mix; its annual report for FY13/14 mentioned that its top 9 franchises accounted for over 75% of revenues in that year; this may have differed during FY14/15, but I expect that its top franchises are quite consistently responsible for much of the company's revenues. Peppa Pig, Minecraft, Fireman Sam, Tekstra, Little Live Pets, Scooby Doo, Doctor Who and the company's activity toy ranges were the most important product franchises for its last fiscal year. Going forward, I expect that sales from Teletubbies products will start adding a very meaningful contribution, after being launched last December. The new television series of this franchise have started airing in the UK (CBeeBies/BBC) and owner DHX (NASDAQ:DHXM) has signed distribution agreements with broadcasters in the US (Nick Jr.) and Australia (ABC Kids).
Conclusion
I have become a bit more careful regarding the Character Group since I touted the company as an attractive investment last year. The main thing that still has to play out is the launch of the Teletubbies toys and their impact on the company's performance. I still think this franchise will do very well and perhaps provide meaningful growth for the company in the current year. But it is also very difficult to quantify the sales opportunity, which makes it hard to value to opportunity. I do not own any Character shares myself, but if I did I would probably keep only a part of them at these levels. The thing that worries me most is the fact that the company's founders all seem to be taking a back seat now that they are nearing or exceeding retirement age. Chairman Richard King will relinquish his executive role on the board starting 1 February 2016, while Kiran Shah will relinquish his role as group finance director but will remain a joint managing director. There were a number of other shuffles as well, which makes it look like an extensive top-level shake-up is about to take place. Richard King has substantially decreased its shareholdings in recent periods, which makes me wonder why he would sell out just before the impact of Teletubbies sales becomes clear. The company's most recent trading update mentioned that sales were up by +6% since August, which includes one month of new product sales for the Teletubbies franchise. That is a decent performance in the UK market but also difficult to assess or project forward. The company's valuation is relatively low at roughly 11x trailing earnings, but somewhat higher if you take out the gains recorded on currency contracts. The substantial buyback of shares served mostly to compensate for rather steep dilution from stock options being exercised. At this level, the company is much closer to being fully valued in my opinion.
Disclosure: I/we have no positions in any stocks mentioned, and no plans to initiate any positions within the next 72 hours.
I wrote this article myself, and it expresses my own opinions. I am not receiving compensation for it (other than from Seeking Alpha). I have no business relationship with any company whose stock is mentioned in this article.
Editor's Note: This article discusses one or more securities that do not trade on a major U.S. exchange. Please be aware of the risks associated with these stocks.