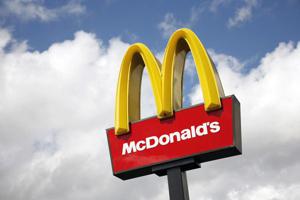 McDonald's (NYSE:MCD) 8-K shows strong growth domestically and in foreign markets, excluding forex translations. Innovations like table service in the UK, customization, updated trade dress and order kiosks are clearly paying off in terms of sales and will continue to do so as they are rolled out into other territories.
But the sales increases overseas were mostly eaten up by currency translation to the strong dollar and by "refranchising", McDonald's ongoing effort to sell 4,000 of its company-owned restaurants to franchisees.
It seems likely that McDonald's all-day breakfast, or ADB, is viable only as a short-term growth strategy. Customers inclined to choose breakfast after normal breakfast hours are unlikely to grow substantially and, to the extent they do, they may very well cannibalize sales of higher revenue/ higher margins from the post-11:00AM menu.
While ADB may yield additional marginal growth in territories where it is yet to be rolled out, it seems doubtful that there will be additional comps growth attributable to ADB in later quarters in those business segments and territories where ADB has already been rolled out.
A deeper dive into McDonald's 8-K also shows that a lot of the company's Q4 earnings came from increased margins from cost savings, some $359.6 million. On a quarterly net income boost of just $108.7 million from the same period last year, the cost savings gave a substantial boost to Q4 earnings. But the savings are also not likely replicable in another quarter, so they are presumablly a "one shot" already built into the share price.
There are also political headwinds for the McDonald's brand in Europe. A coalition of consumer organizations and trade unions is challenging McDonald's long-rumored "real" business model before the European Commission: collecting above-market rents from franchisees on properties McDonald's owns and other McDonald's business practices. The coalition says its allegations, if proven, would yield a fine reportedly as high as $9 billion.
Finally, McDonald's faces a huge demographic challenge, both among its customers and its franchisees. Even the youngest customers who grew up with McDonald's as the nation's QSR of choice are well into their 40's. (Ray Kroc's original target audience of youngsters and teenagers are well into their 60's and 70's now.) US franchisees tend to be older, too.
America's "Gen Xers", "Gen Ys" and Millennials are far less likely to make McDonald's their first choice in QSR dining. Low-cost travel and US immigration trends have made these younger people far more open to, and familiar with, other low-cost dining options - Asian, South Asian, and Latin American - than their parents and grandparents. They have more sophisticated palettes that won't reach for burgers and fries as their first choice.
Likewise, as franchisees, these younger people are less likely to accept standing orders from Oakbrook to do things "the corporate way". These are better-educated, more independent, freer-thinking, individuals who are far less likely to adhere to rigid, regimented HQ dictates, especially when there are alternative - and usually cheaper - QSR franchising options. Who will buy McDonald's franchises as the current franchisees retire when they can buy a Five Guys or some other cheaper, hipper, brand? And even if they do buy a McDonald's franchise, they would seem far more likely to engage in a franchisee mutiny that would demand a bigger share of profits than their older retiring predecessors.
McDonald's, a self-described "modern, progressive, burger company" - whatever that is - has never really recognized its real expertise: Branding, marketing, logistics, and franchising in the QSR space. Its 2006 Form 10-K specifically rejected growth strategies that would exploit that expertise, like its early work with faster-growth QSR restaurants like Chipotle CMG and Pret-a-Manger, so that it could focus on being "a burger company".
That was likely a strategic mistake because it tied all McDonald's future growth to burgers, fries, and the usual McDonald's fare, a menu that has generally not changed from its 1950's to 1980's heyday.
Failing to adopt to new market and taste trends will limit McDonald's growth to its current strategy, but there will be no longer-term innovation or growth that would justify the company as a "market outperform" to justify a premium share price. (Even if there were such innovation, the "McDonald's" brand is so virtually eponymous with QSR hamburgers, like Kleenex is with facial tissues, that consumers would likely reject it out-of-hand if it were served under the Golden Arches brand.)
Unfortunately, McDonald's management appears so wedded to "burgers 'n fries" that there can be little in the way of the kind of innovation that would drive growth and truly superior shareholder value. Absent some epiphany by the McDonald's board - like, say, recognizing the potential of a merchant banking model to build out small regional or even single-store QSR's brands using McDonald's franchising, logistics, branding and marketing expertise and the BCG Brand Matrix- McDonald's will simply stumble on and soon return to its traditional PE of around 17:1. The heady share price rally that accompanied Steve Easterbrook's appointment as CEO in January of 2015, and that has now pushed the stock to a PE of 25:1, is well overstated, absent some genuine innovation and risk-taking by Mr. Easterbrook and his team.
Assuming a generous fully-diluted EPS of around $5.50 a share (which gives Easterbrook & Co. a full additional $0.70 a share from the current EPS for building-out of the current ADB strategy in other markets), a macro environment with a continuing strong dollar and a historical McDonald's PE of around 17:1, the stock should be selling at around $95 to $100 a share with a more negative longer-term outlook over 5 to 10 years as franchisees retire and sell out and other demographics take their toll. Pension and retirement funds should stay clear.
Disclosure: I/we have no positions in any stocks mentioned, and no plans to initiate any positions within the next 72 hours.
I wrote this article myself, and it expresses my own opinions. I am not receiving compensation for it (other than from Seeking Alpha). I have no business relationship with any company whose stock is mentioned in this article.
Additional disclosure: The foregoing is only the author's opinion about a company and its operations, market, and management. It is not intended as investment advice, and you should not use it for that purpose. You should consult your own personal financial adviser before undertaking any changes to your investment portfolio.