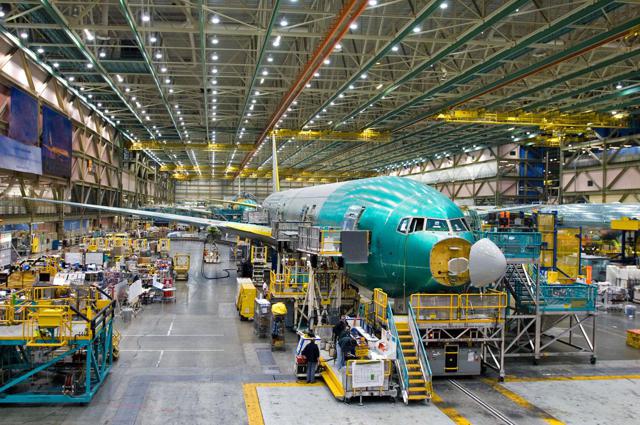 Img 1: A Boeing 777 under construction
The announcement in the past week by Boeing (NYSE:BA) that they will cut back Boeing 747 production along with rumors the Boeing 777 is next and low guidance on today's earnings by Boeing are sending its stock down. There are a few things investors should be aware of going forward with regards to recent developments at Boeing.
Boeing 747 Cut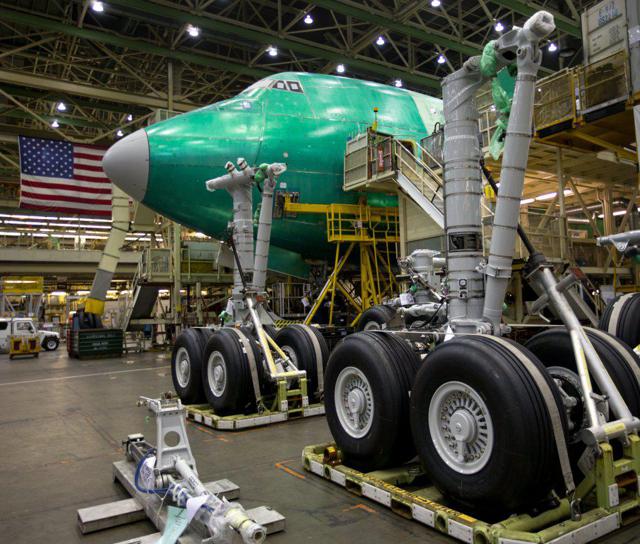 Img 2: A Boeing 747-8 under construction in Everett, WA
Boeing is taking a $569 million charge to cut Boeing 747-8 production to 0.5 per month from 1 per month previously. A slowing air cargo market which had previously been an area of strength for the Boeing 747 forced the decision as well as little prospect for passenger version sales going forward. Passenger sales were based on predictions that many airports around the world would reach capacity in coming years, with Airbus in 2007 predicting Beijing and Hong Kong would have 118 million and 90 million passengers in 2015 when in reality they only had 86 million and 63 million in 2014. While there are certainly some airports that will face capacity constraints, flying is shifting in ways to offset this with aircraft like the 787 allowing airlines to economically fly long point to point and hub to point routes rather than hub to hub.
Marketing activity for the Boeing 747-8 undoubtedly takes sales away from the Boeing 777, Boeing's most profitable aircraft so investors should see it as a net positive that the program has been cut back. Unless the air cargo market makes an epic comeback in the next year or so, Boeing may pick up a few orders from Air Bridge Cargo and Air China, and Iran to fill production and end with production of the Air Force 1 replacement for the U.S government. It seems fitting that the last aircraft in that case could roll off the line September 30, 2018, 50 years exactly after the first roll out.
Boeing 777 Cut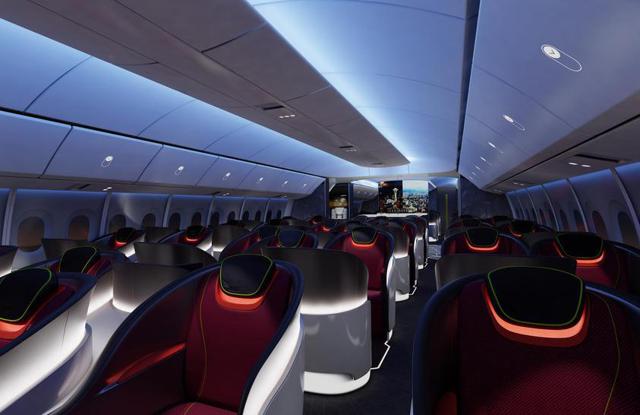 Img 3: Boeing 777X interior
Another contender for a rate cut as recently reported by the Seattle Times is the Boeing 777. There are a number of reasons for this. Firstly an aircraft with a $340 million price tag that is generally a 30 year investment will have trouble selling when it is set to be outdated in under 5 years as the Boeing 777-X is launched. British Airways has backed away from buying any new Boeing 777 aircraft due to this despite its admiration of the aircraft and would rather lease them instead. Secondly, low interest rates over the past several years caused airlines to go on buying sprees and at this point it does not look like there are not too many potential new orders for an aircraft as large as the Boeing 777, especially in a world undergoing an economic slowdown in many regions. Finally, the 777 is one of Boeing's most profitable aircraft and maintaining the current production rate will require steep discounts to fill delivery slots, something that could reduce demand for the replacement 777-X down the road. Why make a sale now for next to no profit when Boeing can hold off a few years and make a much more profitable sale of the 777-X?
The large widebody segment looks like at this point like it needs to digest its current capacity before large amounts of new capacity can come online, especially with many regions of the world showing economic troubles. Since this is one of Boeing's most profitable aircraft it will undoubtedly have a negative impact on overall revenues and profits. However, in a few years time when the 777-X launches Boeing will have a killer product that its largest competitor, Airbus has no product to rival the upper range of the 777-X. This should lead to very strong margins for Boeing in the upper end of the Boeing 777-X when it is launched. Between now and the Boeing 777-X launch however, 200 Boeing 777 classics will need sold at a reduced rate to fill the production gap. Something to consider is in 2015 when the world economy was in better shape and the outlook was more positive Boeing sold a mere 38 777 aircraft. Due to this Boeing may be forced to discount the 777 significantly in the coming years to fill the production line until the 777-X arrives. Unfortunately for investors it will be a waiting game between now and the launch of the 777-X for Boeing to once again realize the strength of this model on its balance sheet.
Boeing 737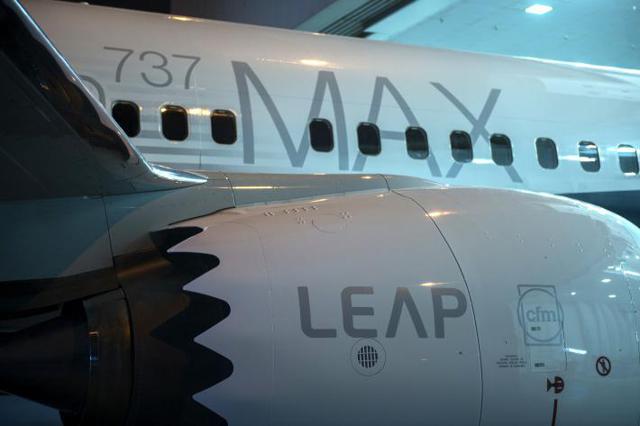 Img 4: Boeing 737 MAX
The Boeing 737 has long been the cash cow of Boeing and that certainly looks set to continue. The backlog of Boeing 737 aircraft has never been higher and with the 737 MAX entering production, Boeing is set to increase production from 42 aircraft a month currently to 47 in 2017, 52 in 2018 and 57 in 2019. This was reaffirmed today and shows the strength of the 737 division at a time when other programs are seeing production cuts. The re-engining project to create the Boeing 737 MAX has cost a fraction of the cost of creating a clean sheet aircraft and has still delivered thousands of orders with Boeing executives recently suggesting the aircraft has at least a 20 year production life ahead. While 20 years seems excessive considering possible competition from Brazil, China, India and Russia in the years ahead, even 10-15 will deliver massive returns for the program. The Boeing 737 MAX was launched with $100+ oil in mind so while oil remains at the levels it is at today it makes little sense for Boeing to develop any new aircraft for fuel efficiency benefits for the foreseeable future. Instead, Boeing can focus on increasing the scale of Boeing 737 production and getting unit costs down further. This will make the 737 more competitive against Chinese and other emerging competitor aircraft that are being produced on a much smaller scale.
Despite the threat I see for the 737 from high speed rail that I outlined here, the increase in range for the 737 MAX should offset lost opportunities for routes under 1,500 miles where high speed rail in some cases will be a much large competitor. Airlines are increasingly finding ways to use Boeing 737's on trans Atlantic flights to open new routes and the 737 MAX with increased range and capabilities should take this usage even further, something that should drive additional Boeing 737 sales. In addition low cost airline penetration in many large markets, especially China and India is rather small and while alternatives like high speed rail may play larger roles in these markets than in developed markets there will certainly be a large market for the 737 on longer routes where high speed rail does not make as much sense.
Boeing mentioned that out of over 300 customers who operate the Boeing 737, only 62 have ordered the latest version, leaving room for additional orders. While the Boeing 737 MAX will sell thousands of units, the question will be how much market share can it hold against Airbus. The A320NEO is currently outselling the Boeing 737 MAX around 3:2 and the aircraft also features a geared turbofan engine, something that the 737 MAX does not have. While the jury is still out on the success of the geared turbofan it could be a big edge for Airbus if it can meet its performance targets and maintain reliability. This along with a more successful C919 from China than anticipated are the 2 possible concerns I see ahead for the Boeing 737.
Boeing 767 and 787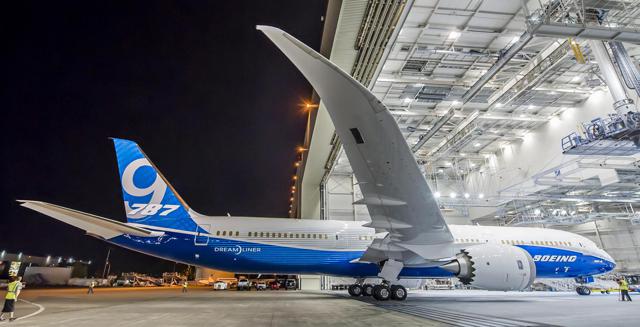 Img 5: A Boeing 787-9 rolls out of the paint shop
The Boeing 767 has seen somewhat of a second coming despite the launch of the Boeing 787 Dreamliner, with airlines looking at it favorably as a cargo aircraft. The KC-767 tanker program, along with Fedex orders, and interest from Amazon and additional cargo companies suggest the aircraft will remain in production for years to come. It recently saw its production raised from 1.5 to 2 aircraft per month, a testament to its strong niche market.
The Boeing 787 continues to do well and is opening up many niche routes for airlines worldwide. Unlike the Boeing 777, many airlines are still waiting for large numbers of 787's to be delivered while many more large airlines have yet to order the 787 or A350 as replacements. The launch of the 787-10 in coming years and the large backlog and order strength should see the program at least maintain its current rate, if not increase in the coming years. Work on bringing the costs with the 787 down should be beneficial in the coming years for Boeing shareholders as the plane will begin breaking even later in 2016 and profits should come from the program in the years ahead.
Conclusion
If you are looking to invest for the next year or so now is probably not a good time to get into Boeing. However, if you are looking for a long term investment Boeing is a excellent buy in my opinion. This is simply a case of Boeing right sizing certain divisions of its commercial division to match the economic and market realities it is facing today. Investors slowly add to any position as the stock is likely to see lower prices before bottoming. The upcoming Boeing 777-X, the Boeing 787 becoming profitable, and continued success of the Boeing 737 are all reasons to be bullish. In addition, Boeing's largest customers, the airlines are printing record profits like never before. While they may not be buying certain categories of aircraft right now due to somewhat of an over supply, economic uncertainty and interest rates increasing they will in the future. When that time comes, the airlines will be in better financial shape than ever before and should be able to take on much larger aircraft orders and expansion plans than they could in the past.
Disclosure: I/we have no positions in any stocks mentioned, and no plans to initiate any positions within the next 72 hours.
I wrote this article myself, and it expresses my own opinions. I am not receiving compensation for it (other than from Seeking Alpha). I have no business relationship with any company whose stock is mentioned in this article.