This article is following my preceding article on VAALCO Energy (NYSE:NYSE:EGY), published on Dec. 24, 2015, about the recent North Tchibala 2-H well.
VAALCO Energy was incorporated in 1985 and is headquartered in Houston, Texas. The company has 111 full-time employees (59 in Gabon).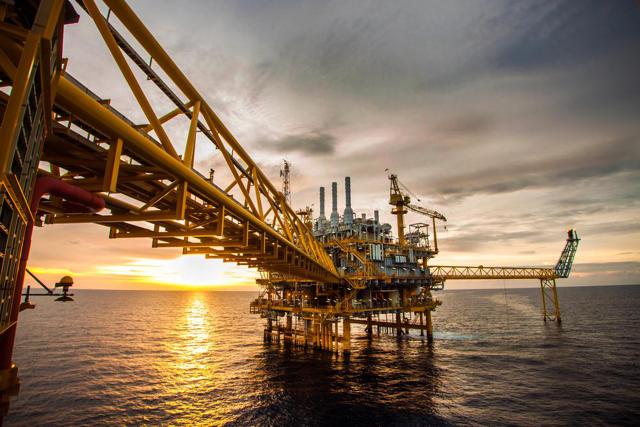 Today, Vaalco Energy announced the following:
Its Board of Directors has formed a strategic committee to explore a range of strategic alternatives to further enhance shareholder value. The strategic alternatives process will explore options for the future of the Company including, but not limited to securing additional investment to support existing projects and growth opportunities, joint ventures, asset sales or farm-outs, the potential sale or merger of the Company, or continuing to pursue the Company's existing operating plan.
On December 24, 2015, Vaalco Energy announced the following:
It has entered into an agreement with Group 42, Inc., Bradley L. Radoff and certain other participants (collectively, the "Group 42-BLR Group"), which beneficially owns approximately 11.1% of the Company's outstanding stock, regarding the composition of the VAALCO Board of Directors and certain other positive changes. In connection with the agreement, the Group 42-BLR Group has withdrawn its consent solicitation to replace a majority of the directors of VAALCO, and the Company has cancelled its plans for a special meeting of stockholders on January 5, 2016.
Messrs. James B. Jennings and O. Donaldson Chapoton will retire from the Board, effective immediately. VAALCO will appoint the Chairman of Group 42, Mr. Michael Keane, to its Board and the Nominating and Corporate Governance and Compensation committees effective immediately.
Commentary:
Today's announcement took me by surprise, I must admit. I know for sure that selling the entire oil business -- or eventually monetize (farm out) part of the business -- is a good idea, solely based on a potentially favorable market, with strong revenues and a clear long-term growth visible. What I see here, is basically nothing that resembles remotely what I have said above. In fact, just the exact opposite.
The oil market is experiencing the worst crash in decades, and the company, of course, is struggling financially in this terrible environment. Despite this torrid market climate, EGY went on and developed successfully its offshore assets in Gabon. A quick comparison between the price of Brent oil and EGY, the last three months is quite interesting: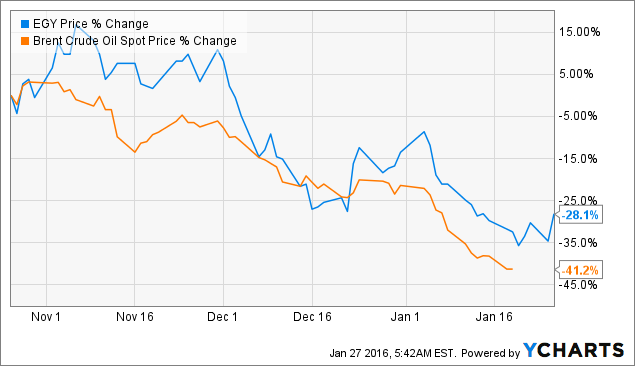 1 - Thus, I wonder why EGY is now exploring "a range of strategic alternatives to further enhance shareholder value"? Any sale or farm out now, would be done at a large discount right due to oil trading barely above $30, and would be considered as a distress sale.
I suspect that this initiative has been brought by the Group 42, and its representatives which will be a long and worthless process at a cost to actual shareholders, again. I do not see why, people who are not even remotely connected to oil, are pretending knowing better what to do, just based on the fact that they own 11.1% of the company shares? I hope there is no connection between the Group 42 and Scotia Capital.
VAALCO has engaged Scotia Capital (NYSE:USA) Inc. as financial advisor who will advise the Company of potential strategic alternatives.
This news is sending the wrong message and will incur unnecessary costs, in my opinion.
2 - Furthermore, the company gave a good production update from the Gabon prospect and particularly what has been done to the South Tchibala & Avouma sector.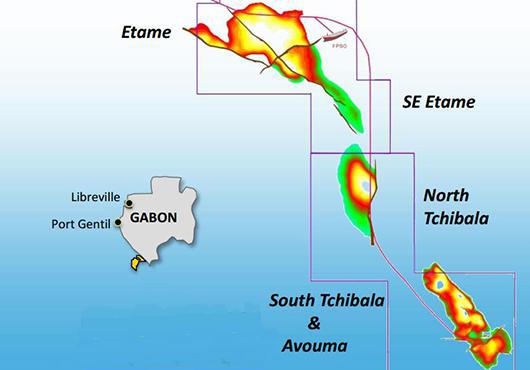 After drilling the two successful wells in the North Tchibala, the Jackup Constellation II, was moved to the South Tchibala & Avouma prospect, where it was supposed to workover three wells in the project consisting of the South Tchibala 2-H, Avouma 3-H and the Avouma 2-H. Good results overall:
The South Tchibala 2-H workover operation was completed successfully and restored approximately 1,700 gross barrels of oil per day (BOPD) (415 BOPD net to VAALCO),
The Avouma 2-H workover operation was also completed successfully and the well is flowing approximately 3,000 gross BOPD (730 BOPD net to VAALCO),
The Avouma 3-H workover operation was suspended and the well was secured for future use due to downhole equipment becoming lodged in the wellbore with efforts to remove it being unsuccessful.
The JU Constellation II, was supposed to end its contract in July 2016.
M. Guidry, CEO, said the following:
On January 25, 2016, we began demobilizing the Constellation II rig operated by Transocean (NYSE:RIG) and no longer intend to drill any wells in 2016 on our Etame Marin block offshore Gabon. We are pleased with the overall results we achieved with our 2015 drilling program as we reversed the decline in our production and meaningfully increased our volumes. Due to the continued sharp decline in oil prices we have determined additional drilling to be uneconomic. As a result, we estimate our 2016 capital expenditures to now range from $4 to $6 million. We are in discussions with Transocean regarding the remaining rig contract term which we believe carries a maximum exposure of approximately $7 million (net)."
The maximum exposure seems right, at first glance?
The contract was supposed to end in July 2016 and the day rate is $170K/d. This is an early termination representing about 170-day to 180-day or about $30~ million? EGY will pay about 24.4% of this total amount or $7.3 million net.
However, this workover campaign represents 1,145 BOPD net to Vaalco, which is remarkable, with another 488 BOPD for the North Tchibala prospect. A total of 1,633 BOPD net to EGY for the two prospects beside the main Etame-Etame South.
The company indicated a 4Q'15 production as follow:
VAALCO said its net production for the fourth quarter of 2015 averaged approximately 4,859 net barrels of oil equivalent per day (NYSE:BOE), up 31% compared with 3,696 net BOE in the fourth quarter of 2014. For the full year 2015, its net production averaged approximately 4,627 net BOE per day, up 16% compared with 3,995 net BOE per day in full year 2014. The 2015 fourth quarter and full year production rates were both within the guidance provided in the Company's most recent earnings conference call.
3 - Another setback for EGY due to the depressed oil environment is the deferring of the CSP:
Additionally, VAALCO announced that the offshore Gabon Etame Marin Crude Sweetening Project (NYSE:CSP) is being deferred until oil prices recover to levels that support positive economic returns. Although over 15 potential solutions were identified and evaluated to remove hydrogen sulfide (H2S) from produced fluids, none are economic in the current depressed oil price environment. The suspension of the CSP resulted in a 1.9 million barrels of oil net to VAALCO reduction of VAALCO's proved reserves as of December 31, 2015. The sour reserves will be reclassified to contingent resources at January 1, 2016.
Conclusion:
EGY is a small company struggling against exceptional headwinds, because the main source of revenues is coming solely from the sale of oil and gas. It is not difficult to imagine the tough financial situation in which EGY is confronted now, despite indicating an increase of 31% in oil production year over year for the 4Q'15.
How long can a small oil producer afford to sell oil at $30 per barrel, when it costs over $55 per barrel to bring it to the market?
This is the fundamental question that investors and shareholders, as well, should try to answer.
Of course, there is no easy answer, and the oil price is of a paramount importance in 2016. The company's debt situation will give room to maneuver in 2016, but I am afraid that the Group 42's new influence, will push the company to act negatively, and sell assets or farm-out assets (Angola) at the worst time, aggravating an already serious financial situation.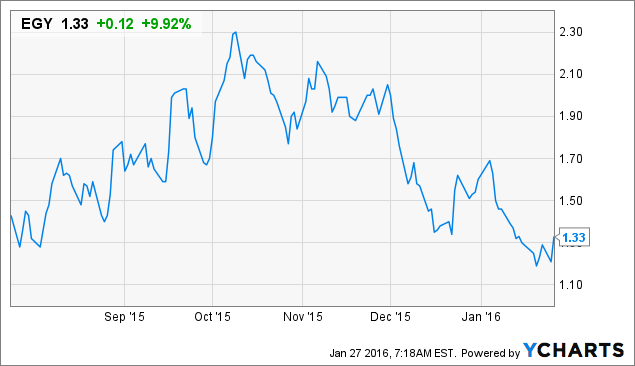 I am not sure I can keep enough confidence to the new management EGY-Group 42, and I would not recommend a long-term investment anymore. However, the stock price is attractive and can be used as a trading tool, especially around $1.10's.
Editor's Note: This article covers one or more microcap stocks. Please be aware of the risks associated with these stocks.