By Parke Shall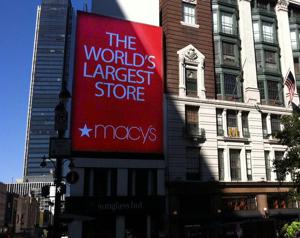 It was just a few weeks ago that we first recommended taking a look at Macy's (NYSE:M) based on the company's beaten-down share price and its intrinsic real estate value, which we predicted would act as a backstop for the share price.
Additionally we also made note of the fact that the company is in the midst of one of its worst quarters in recent memory, and we believed strongly that the company was going to be able to bounce back performance wise in coming quarters. Since then, the weather has gotten cooler and Macy's pre-announced a terrible quarter, so believe there's nowhere to go but up from here.
Since then, a lot of news has come to light. The company itself came out and hired a real estate banking company. They have also established an executive position strictly for the purpose of dealing with the company's real estate.
The company has said publicly that they are looking to enter into joint ventures for its real estate, but that the company was not yet considering a full REIT spin-off.
Regardless, if a full REIT spinoff could unlock an additional $40 or so in shareholder value, we believe that joint ventures with real estate candidates may be able to unlock an additional $20 per share in value (at least, this is a very conservative estimate).
We do not think $60 is unreasonable for Macy's, yet we keep our price target at our modest and conservative $50 per share that we have already established based on small multiple expansion and realization of the companies real estate's intrinsic value.
In addition, activist investor David Einhorn has taken a stake in the company, with an average price of around $45. If Mr. Einhorn sees significant value from $45 upward, it lends credence to our thesis that $50 may very well be achievable. Mr. Einhorn basically, in his letter, cited all of the items that we liked about Macy's; the real estate, the underlying business, the expansion to online, and the continued buybacks. Here's his reasoning:
We established a position in Macy's , the operator of about 900 Macy's, Bloomingdale's and Bluemecury stores, at an average price of $45.69. Earlier in 2015, with the stock at $70, an activist argued that the store real estate could be separated to unleash a valuation in excess of $125 per share. Management determined a whole-company REIT wouldn't provide the required operational flexibility.

Now, with the stock closing the year at $34.98, the math might make more sense. While it's unlikely that management will reverse course on its own, it wouldn't surprise us if a private equity firm teamed up with a REIT to buy the company and unlock the value privately.

Even if this doesn't happen, the shares are cheap at 5x EBITDA, 7x equity free cash flow, and less than 9x 2015 EPS, with a healthy balance sheet and strong history of share repurchases. We think a portion of the recent sales weakness was driven by unseasonably warm weather and a strong dollar impacting tourist business, which should set up for favorable comparisons in 2016.
We had said in our last few articles on Macy's that the company was ripe for another activist investor or a potential takeover. As we were typing that, it looks like Mr. Einhorn was building his position. Now, with both Einhorn and Starboard as major shareholders, the pressure on management to take the necessary steps to unlock the company's real estate value may be insurmountable.
We had found over the last few quarters that Macy's executives may have been a little more hardheaded than we would have liked. Specifically, two quarters ago, when the company posted poor results and management made commentary indicating that everything was fine after their stock had fallen 50% in just months, we were starting to wonder whether or not they were going to have trouble threading the needle.
With Mr. Einhorn and Starboard in place, we believe we have great stewards of our shareholder capital in the company, helping the company do what will be best for shareholders. These investors may help management "see the light".
Bears will say this is like Sears (NASDAQ:SHLD). They will say that spinning off the value of the real estate will not be successful. We disagree, and we believe Macy's will not make the same mistakes that Sears made.
First, we think Macy's is a far more prestigious brand than Sears to start with. Second, we think Macy's real estate assets (particularly in New York City) are worth significantly more than Sears. Third, we believe the location of these assets are in better spots than Sears' locations. Fourth, and finally, we do not think Macy's is going to wait much longer before they implement a plan. The last quarter has shown that they are already taking steps to push the real estate ball forward and we think that the company will act soon. Sears had the major disadvantage of waiting too long to take action. We do not think that will be the case with Macy's.
We have been saying for the last year that success in retail is going to directly depend on how well retail owners can manage to create a hybrid version of their stores. There is a recipe to make the perfect mix between brick and mortar and online shopping. As we move further into the future, this will likely mean more done online and less done in stores.
One great way to ignore the evolution in retail would be to do what JCPenney's (NYSE:JCP) is doing in bringing appliances back in store. We were baffled when we heard that, and we believe that all major future focus should be dedicated towards online. We think Macy's is hitting this problem right in the sweet spot and, combined with its roll out of its lower-priced stores and it's superior growth online, the company is doing a far better job in managing the evolution of retail then Sears had ever done.
When this is all taken into account, combined with the fact that the company is seeing momentum in online sales, we continue to believe that there is significant opportunity in Macy's, and we think another 20% upside from today's prices to reach our previously established target price of $50 is reasonable. We remain long Macy's, trading around a core position.
Disclosure: I am/we are long M.
I wrote this article myself, and it expresses my own opinions. I am not receiving compensation for it (other than from Seeking Alpha). I have no business relationship with any company whose stock is mentioned in this article.