Since the Chipotle (NYSE:CMG) sell-off started last year, investors have been wondering whether the company is a good investment opportunity. The sell-off begun when CMG was affected by an E. coli outbreak. The selling pressure magnified after management released two statements where it reported over 10% decline in same-store sales (SSS for short) in Q4 and the receipt of a subpoena for an investigation regarding a norovirus outbreak. Following the news, the market action wiped approximately 40% of the value of CMG stock.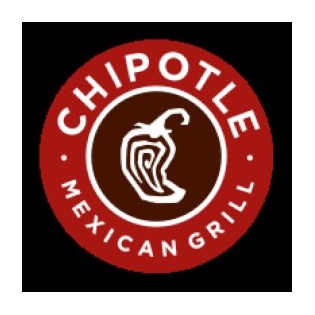 I became interested in Chipotle because of the good old advice from Benjamin Graham. According to the value investor, some of the best investment opportunities arise when a great company gets into temporary trouble.
The E. coli outbreak should be temporary
In a previous article, I stated my belief that the E. coli outbreak was a temporary issue. I based my argument on the fact that Taco Bell experienced the same outbreak in 2006. Taco Bell overcame the E. coli issue with only one year of declining average restaurant sales (in 2007). Since history tends to repeat itself, my opinion is that a few years from now, customers will not be concerned about E. coli in Chipotle's meals.
A review of the board of directors returned positive for Chipotle
In addition to the E. coli issue, my previous article highlighted the quality of CMG's board of directors and management, which is an important qualitative factor. Three characteristics in particular make for a high-quality board of directors:
The number of independent directors on the board. Chipotle has seven out of nine independent directors.
The broad experience of the board members. CMG has directors with useful broad experience.
The small number of board members relative to the size of the company. It is important to mention that a recent study links small boards to better stock performance.
The fundamentals of Chipotle's business
In a recent article, I reported the results of a careful study of the fundamentals of Chipotle. I found two key aspects that I consider positive for the long term.
The first is that Chipotle doesn't use any debt. Despite the lack of borrowings, Chipotle is still leveraged from an operational standpoint. The operating leverage has to do with the company's fixed cost to run its operations. The degree of operating leverage will hurt profits in the short term because SSS is negative. But if SSS turns positive (as it has been for the past five years), then operating leverage increases income as it allows for fixed costs to spread to a larger number of meals sold. In the short term, operating leverage will not help Chipotle. In the long run, operating leverage is a positive for CMG.
The second point is that Chipotle is a rich company. It has approximately $1.6 billion of liquid assets that can be used for investments. After considering the stock repurchase program and a potential settlement of the norovirus investigation - which is not certain to occur - Chipotle has ~$1 billion for future investments. That is enough capital to open more than 800 new locations, which is consistent with management's announcements of continuing with aggressive expansion.
Chipotle should continue to expand because it generates substantial return on its invested capital (ROIC). This will be explained later in the article.
Revenues and profits per restaurant
Over the past 10 years, Chipotle has been able to gain popularity among consumers. The popularity led to increasing SSS. CMG has been able to roughly double its average restaurant sale in 10 years. Part of it is due to its increase in menu prices, but the major driver is the popularity of its food as customers come back for a good dining experience. One of Chipotle's strategy to compete in the crowded restaurant industry is the dining experience. It strives to offer fast food with an exceptional dining experience. See the graph for average per restaurant metrics: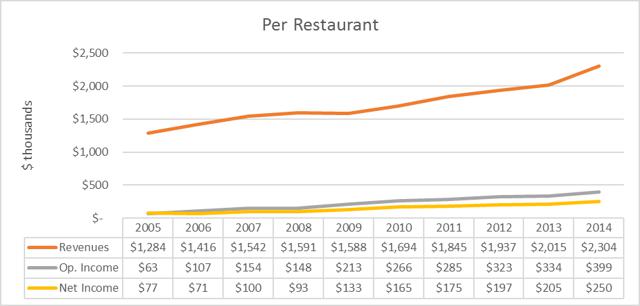 The increase in SSS strongly impacts the bottom line because of the operating leverage. Due to the company's reliance on fixed costs, per-restaurant margins increase at a faster pace than revenues. The use of fixed costs allows for margin expansion, which has been consistent for the past 10 years.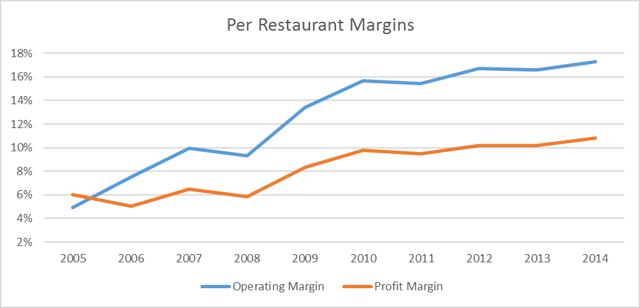 Costs of running a restaurant
Chipotle has five types of costs that affect the value of its operations. Those costs exclude depreciation and amortization as they do not require a cash outlay. The five main costs are:
Food, beverage and packaging costs: These are variable costs as they increase directly with sales. The more meals are sold, the higher the food and beverages costs. This is particularly true for Chipotle since it is committed to providing fresh ingredients.
Labor costs: These are fixed costs as they are related to the staff that work at the restaurants. Staff don't get fired simply because they are having a slow hour, nor staff get immediately increased because they are having a slightly longer line than standard.
Occupancy costs: These are fixed costs as they are related to rent for the restaurants locations leased. Chipotle does not own its restaurant real estate, it leases.
General and administrative expenses: These are fixed costs as they relate to headquarters' cost (excluding stock-based compensation). These are certain labor costs that are not directly related to the restaurants but are essential to the operations, such as legal costs and bonuses.
Other operating costs: These are related to maintenance costs to the restaurants as well as credit card fees. The credit card portion of this are variable costs, and the fixed portion relates to marketing, utilities and other maintenance.
Fixed costs do not stay fixed forever. For one thing fixed costs increase as a result of inflation. But the other aspect is that fixed cost continually change due to market conditions, particularly labor and real estate markets. As Chipotle opens more locations, more managers need to be hired. Additionally, headquarters cost increase as a result of controlling more restaurants. Recall that Chipotle does not franchise.
The two largest costs are food and labor. Note the trend difference when each cost is plotted as a percent of sales. Labor costs decrease as sales increase. Food and beverage costs stay relatively flat as they increase directly with sales. The graph reflects the fundamental difference between fixed and variable costs (the impact to margins was explained above):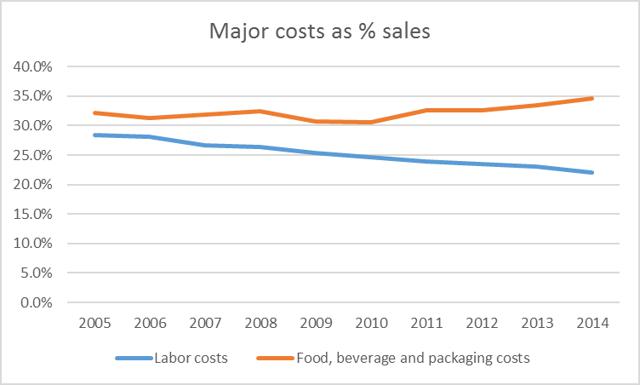 Fixed costs are set to increase in the near term, combined with SSS decreases as a result of bad press related to the E. coli and norovirus outbreak. That combination will lead to Chipotle's margin to fall in the near term.
According to recent reports filed by Chipotle, SSS has decreased drastically in Q4 2015. Lower average restaurant sales with a fixed-cost base will inevitably lead to margin contraction. On the other hand, food costs have decreased at the farm level throughout 2015. This affects Chipotle positively because of its reliance on small farmers to supply its Food With Integrity program. The costliest inputs that Chipotle uses in its meals are beef and pork, for which the costs have turned downwards in 2015.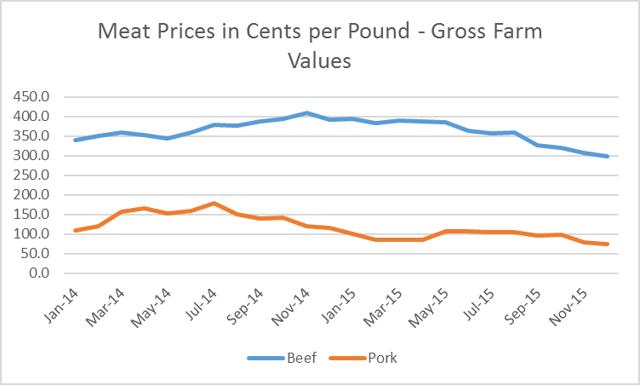 Source: USDA
The flip side of lower food costs is that fixed costs are going to increase. First, there will be higher labor costs associated with wage increases, particularly in California where more than 300 restaurants are located. California's new minimum wage of $10/hour just kicked in. Second, labor costs nationwide are going to increase due to Obamacare and the increased costs associated with providing health insurance to a larger pool of full-time workers. Third and more importantly, there will be added costs of quality inspection and control after the outbreaks. Additionally, marketing expenses will have to be ramped up in order to clean up the reputation. While the exact increase in fixed costs are hard to quantify, the fact that they are going to increase is 99% certain. This increase in fixed costs is built into the DCF model, which is explained later.
Despite the lower food costs, Chipotle will suffer from higher fixed costs. If SSS decreases, as it has in Q4 2015, a margin contraction is inevitable for CY 2016. I am 95% confident that CMG will suffer from higher costs and lower margins.
Capital expenditures (capex)
Since Chipotle's practice is to expense maintenance and repair costs on its existing restaurants, capex is mostly allocated to opening new restaurants. Per-restaurant costs of opening have increased from $0.9 million in 2009 to $1.3 million in 2014, faster than inflation. As the plans to run more than 4,000 restaurants continue, and at a pace of ~190 new openings per year, capex will continue to increase. Capex will increase from the inflationary pressure and expansion. But higher capex is ok because Chipotle generates an exceptional ROIC.
ROIC = Operating income/invested capital
Invested capital = Net operating assets + long-term assets
When excluding extra cash and investment balances that are not needed for the operations - which are over $1 billion - the ROIC of Chipotle is exceptional. ROIC was 55% in 2013 and 60% in 2014. At this rate of return, shareholders should ask management to continue investing in expansion. The more capex investments, the better for shareholders.
The flip side is that CMG needs to balance several factors in order to achieve such a high ROIC. For one thing, the location of its restaurants is important to attract a clientele willing to pay a higher-than-average bill for fast food. Secondly, the costs of rent and labor have to be attractive for Chipotle to maintain this ROIC. Third, the supply chain of its food products must be aligned with every new location opened.
Nonetheless, at the current rate of return, Chipotle should continue investing and expanding. Management is indeed creating value when expanding across the US. This is a long-term positive because it indicates that the intrinsic value of Chipotle's stock will increase over time.
The competitive landscape for Chipotle
The fast casual restaurant market is highly competitive. The competition not only comes from large national (and international) restaurant chains, but also comes from small, family-owned Mexican restaurants. A complete list of all competitors of Chipotle is nearly impossible to collect. A few recognized competitors are McDonald's (NYSE:MCD), Subway, El Pollo Loco (NASDAQ:LOCO), Panera Bread (NASDAQ:PNRA), Jason's Deli, and others.
Average sales per restaurant is a useful measure of popularity among restaurants. The logic is rather intuitive. A good restaurant will have a larger recurring clientele. That is, customers who are dining repeatedly.
A list compiled by Statista indicates that Chipotle is not the leader in terms of average sales per restaurant. Chick-fil-A is the leader with ~$3 million of sales per restaurant. Chipotle reports ~$2.4 million sales per restaurant, but I am slightly skeptical of this number because it excludes new restaurants. I find that a more realistic measure of sales per restaurants would consider all restaurants opened (which is used in the DCF model explained later). Other competitors that are ahead of Chipotle include Panera Bread, Jason's Deli, McDonald's and Krispy Kreme (KKD).
In the DCF model, the assumptions are that Chipotle will not become the fast-casual leader. In fact, the assumptions are that CMG will probably be outcompeted in terms of average sales per restaurant.
The market size for Chipotle
According to management's answer to an analyst question, the target size of Chipotle is 4,000+ restaurants in at least 15 years. Most of these restaurants are projected to be in the US since Chipotle's presence internationally is small. The company only operates 22 restaurants internationally, compared to 1,873 restaurants in the US. Due to cultural differences in regards to Mexican food, the international potential for Chipotle is small.
The target size is achievable considering that there are ~25,000 Subways, ~14,000 McDonald's, and ~6,500 Taco Bells in the US. Chipotle is the leader in its kind as it has more restaurants than Qdoba (~600) and El Pollo Loco (~430). Since dining at Chipotle is a little costlier than other fast-food restaurants, I consider the 4,000+ target market as a reasonable ceiling market. The DCF models that Chipotle will reach ~3,600 restaurants. The combinations of international and domestic restaurants is not relevant in this case.
One more fact that supports the size of Chipotle's market is the simple fact that the US population continues to grow. According to the Census Bureau, the population increases by one person every 17 seconds. And with higher population, there is higher demand for food. People need to eat.
The model used for evaluating CMG stock
I used a DCF model to evaluate the operations of Chipotle. The model extends until CY 2024, or 10 years. The discount rate of the model was found using the capital asset pricing model, with a beta adjustment using Blume's technique. The DCF is based on free cash flow, which is found using the following formula:
FCF = After-tax operating profit + depreciation + stock based compensation - capex
It is worth to mention that maintenance investments are accounted for in operating profit.
Key assumptions
The value of any common stock is estimated based on the following conservative assumptions:
Per-restaurant revenue will stay flat in 2015 (results are reported in February) and decline 3% in 2016. Per-restaurant revenue will return to growth in 2017, growing at 3% for two years. After that, per-restaurant revenue will grow at the long-term inflation rate of 2%.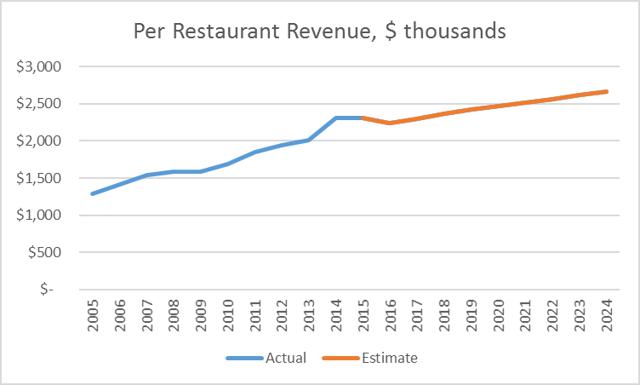 Fixed costs will grow by 16% in 2016 to reflect higher labor, quality control, marketing and Obamacare costs. It will constantly grow with long-term inflation thereafter.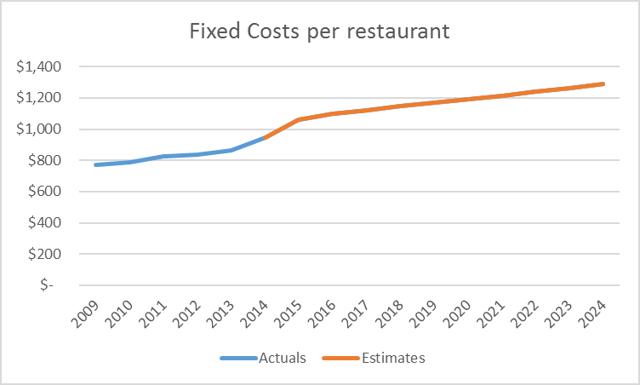 Despite the lower cost of food, variable costs will remain the same as they were in 2014. This is estimated as a percent of sales. The largest cost is food and beverage, which will account for 35% of revenues going forward. The reason to estimate variable costs similar to 2014 is to avoid over-optimism over a short-term decline in food costs. Even though food costs are cheaper in 2015, and are likely to be cheaper in 2016, recall that the model is built under conservative assumptions.
Smaller variable costs are also forecasted as a percent of sales.
Other assumptions are in the table below:
| | |
| --- | --- |
| Discount rate | 7.5% |
| Equity Risk Premium | 6.5% |
| Beta (after adjustment) | 0.77 |
| Tax rate applied to cash operating income | 38% |
| EV/EBITDA exit multiple | 12x |
Results
Under the assumptions explained above, the DCF model results in a conservative valuation of the operations of Chipotle. Operating and profit margins decrease and never recover to levels seen in 2014. Revenue growth is driven only by restaurant expansion and inflation. The target number of restaurants (national and international) is ~3,600. All numbers in the DCF are expressed in $ millions.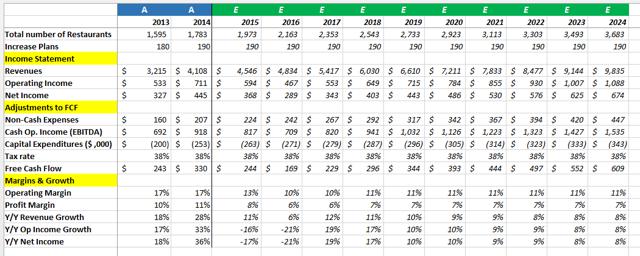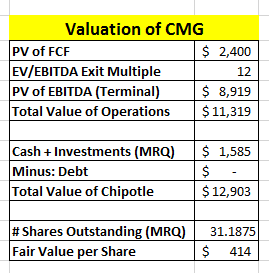 Risk of capital loss
As of this writing, the price of Chipotle is ~$440. This implies that the stock has rightfully retreated towards a conservative estimate of fair (intrinsic) value. The current premium to valuation is ~6%.
At a price of ~$414, the long-term risk of losing capital with an investment in CMG would happen if the operating margin drops below 11% (a decrease of 8% or more). As seen in the historical graph of operating margins, Chipotle has maintained an operating margin above 11% since 2009. In fact, operating margin was 18% as of Q3 2015. In the week of Jan. 4, the stock price of CMG dropped below its intrinsic value to a 52-week low of $399. In my opinion, that is likely to happen again in 2016, particularly after earnings release.
Since Chipotle generates ROIC neighboring 50%, the intrinsic value of it should rise over time. That is simply because the value of operations will increase as more restaurants are opened.
At a price of $414, I find that the risk of losing capital in the long run are minimal. Chipotle would have to lose a substantial portion of its customers, and become one of the worst-performing fast-casual chains in the nation in order for an investment to lose capital at a price below $414. Note that the DCF does not give Chipotle the credit of becoming the top fast-casual restaurant in terms of average sales per restaurant. If that were to happen, the upside potential in CMG's operations are significant. If Chipotle reaches >$3 million in average sales per restaurant before 2020, the value of operations would increase substantially. I did not quantify the upside potential, but it does not take a genius to know that it is substantial.
However, the recent correction that the market has seen was well deserved, as called by two good articles in SA (here and here). The share price of Chipotle got far ahead of its intrinsic value when it was trading around $750. The likely cause was that SSS and the addressable market were grossly overstated.
Applying a margin of safety at 30%, the investable price of Chipotle would be $290
Given the expected margin contraction, coupled with the bad press that Chipotle received, a price of $290 is a possibility. At that price, the company should be a no-brainer overweight. In fact, at any price near $300, CMG should be a no-brainer overweight.
Investor takeaways
The current price of Chipotle presents a slight premium to intrinsic value, when intrinsic value is conservatively estimated. However, if the price drops below $414 anytime during 2016, then Chipotle should be strongly considered for any portfolio, whether individual or institutional. The risk-reward ratio is attractive at that price.
My course of action from this analysis would be to wait until the price drops below $414, and start accumulating then. Perhaps I am making a big error of omission by ignoring the minimal premium to valuation currently offered. Nonetheless, as a value investor mindset, I shall wait.
For investors who want to own a wonderful business at a fair price, I believe that this year you have the opportunity to do so with Chipotle. Despite the current bad press, the E. coli problem should be temporary. Despite the expected rise in fixed costs, even an operating margin contraction of 7% justifies the current valuation. If margins are maintained, the upside potential of Chipotle is large.
Even at the current price of $450 per share, the long-term risk of losing capital is minimal. The risk of capital loss is small for several reasons:
The large capital cushion (>$ 1 billion) to survive the stormy weather lowers the long-term risk of Chipotle.
The high ROIC indicates that expansion can (and should) be continued. Expansion adds value in the long run.
The fact that CMG uses no debt makes the balance sheet very strong. No debt also benefits shareholders as it allows them to own every dollar of earnings.
Remember to be greedy when everyone is fearful, and fearful when everyone is greedy.
Disclosure: I/we have no positions in any stocks mentioned, and no plans to initiate any positions within the next 72 hours.
I wrote this article myself, and it expresses my own opinions. I am not receiving compensation for it (other than from Seeking Alpha). I have no business relationship with any company whose stock is mentioned in this article.