Ecolab Inc. (NYSE:ECL) is a large capitalization ("cap") stock within the Cleaning Products industry of the broader Consumer Goods sector of the U.S. stock market.
The first thing that comes to mind when I hear the name "Ecolab" is my stint as the Vice President of Finance for a fraternity in college. I paid a monthly bill to the company because our kitchen utilized an Ecolab system for washing dishes. Sanitation has brought Ecolab back into my life again. It is the second company that I have analyzed as part of a broader initiative to research companies that specialize in important aspects of sanitation.
Ecolab's business is best understand by examining each of its three major segments that account for 95% of overall sales. As we look at each of these, I will highlight the key operating units that drive overall revenues.
Global Industrial (35% of sales)
Ecolab's Industrial segment was essentially formed a few years ago after Ecolab merged with Nalco. According to the firm's most recent 10-k:
"It provides water treatment and process applications, and cleaning and sanitizing solutions primarily to large industrial customers within the manufacturing, food and beverage processing, chemical, mining and primary metals, power generation, pulp and paper, and commercial laundry industries."
This segment is broken down into the following 4 operating units:
Water (43% of segment sales; 15% of overall sales)
Food & Beverage (34% of segment sales; 12% of overall sales)
Paper (17% of segment sales)
Textile Care (6% of segment sales)
The Water business sells products and service programs for cooling water, boiler water, process water, and waste water applications. Nalco's 3D TRASAR Technology is the unit's flagship technology. It was a main contributor to Nalco winning the 2012 Water Technology Company of the year award given out by Global Water Intelligence. The technology has consistently been used to save customers money on energy, water, and labor costs. The typical installation pays for itself over time. Even in an economic downturn, such attributes make the business fundamentally attractive.
In my mind, the Food & Beverage business is the most attractive in the segment. Its focus on providing cleaning and sanitation products for the food processing industry is just the sort of sanitation business I have been searching out. The potential costs (brand and monetary) that food & beverage companies face from the contamination of food products alone is enough of a driver to ensure the industry continues to prioritize spending towards prevention. Moreover, only 19% of the broader Industrial segments sales come from the Asia Pacific region so I see a lot of room for growth here in the years to come as developing nations such as China & India increase their dairy and protein consumption. Consistent with this outlook, is the fact that the business has generated the highest rate of revenue growth within the Industrial segment.
Global Institutional (32% of sales)
The Institutional segment sells cleaning and sanitizing products to the education, foodservice, hospitality, lodging, healthcare, government, and retail industries.
This segment is broken down into the following 3 operating units:
Institutional (67% of segment sales; 21% of overall sales)
Specialty (19% of segment sales)
Healthcare (14% of segment sales)
The Institutional operating unit (to be clear, the underlying business within the broader Global Institutional segment that shares the same name) is the core of Ecolab. Specializing in the cleaning and sanitization of kitchen items and equipment, it brings in about $3 billion of stable revenue per year. Ecolab is an essential partner for many restaurants in the United States, as the videos from their recent Coast to Coast initiative demonstrate. It is the backbone of Ecolab's highest margin segment (20.5% operating margins in 2015).
In the U.S. at least, Ecolab is generally considered to be the leading provider of cleaning and sanitization equipment and related products. Their solutions tend to cost more than some others, but institutions prefer them because of the prompt service they provide and their reputation with health inspectors. The takeaway here is that the "Ecolab" brand carries considerable prestige which helps to insulate its higher margins.
The Specialty business is similar to the Institutional unit, in that it provides cleaning and sanitizing products, but does so for restaurant chains and grocery stores. It provides more customized programs to meet the needs of these specific customers. This business has been experiencing strong growth, with revenues increasing 12% in 2013 and 8% in 2014.
Global Energy (28% of sales)
The Global Energy segment, operating under the Nalco Champion name, supplies chemical solutions to the upstream oil & gas industry and water treatment applications to the downstream oil & gas industry. Nalco Champion has only been under the Ecolab umbrella for a few years now. It will be important to watch the performance of this unit to see if (and how) it changes the operating dynamics of the overall firm.
Perpetually Overvalued
My analysis of Ecolab's financial results going back to 1999 led me to the conclusion that the company is the sort that can grow earnings or free cash flow at an average annual rate of about 11%. During their 2013 Investor Day conference, Ecolab's management mentioned that they think they can grow earnings at a 15% annual rate over the longer term. Given the near term headwinds the Energy segment is facing, coupled with a rising dollar, I don't see this as even potentially achievable until these headwinds become tailwinds. I think the continuation of annual earnings or free cash flow growth at an 11% rate is more realistic and should be used for determining valuations.
Depending upon my broader outlook for the economy and stock market, I would normally be willing to pay no more than 16 times twelve month forward earnings or free cash flow ("FCF") for such a company. Measured on a year end, trailing twelve month ("ttm") basis, shares of Ecolab have only fallen below 20 times earnings once since 1999, and barely at that. That time was at the end of 2008, during the middle of the financial crisis, when the ttm P/E ratio was 19.6.
Based on my earnings estimates, the stock is trading right now with a forward twelve months earnings multiple of 25 and a forward twelve months free cash flow multiple of 22. This is way out of my price range. Other Seeking Alpha authors with valuation discipline have come to a similar conclusion. I'd rather pay about 10 times ttm earnings for an industrial/water related firm like Tetra Tech (NASDAQ:TTEK) with arguably better growth prospects over the next few years.
Ecolab seems to garner a premium valuation that predates the current low interest rate/multiple expansion environment for three main reasons.
First, is the historic stability of the company's revenues and earnings, backed by a seasoned and well regarded management team. 90% of the firm's revenues are recurring. Just like the monthly bill I paid to Ecolab in college, they come in the form of a reliable annuity. Management has also successfully met its own earnings forecasts 94 of the last 95 quarters. The closer you get to certainty with something, the more premium investors are willing to pay.
Second, is the fact that it is an Aristocrat. This doesn't do anything for me, but it is the holy grail for some investors. I don't see maintaining a 1% dividend yield as that big of accomplishment though when you are essentially selling staples to institutions.
Third, is the genuine growth outlook for the company. There is a constant need for the company's products and with relatively little exposure to the massive developing Asian Pacific region (only about 12% of sales) plenty of opportunities await. Ecolab is also continuing to drive growth through innovation. The firm is now leveraging the technology it obtained through Nalco in its other business lines. In the 2014 Annual Report, management stated, "We forecast the 2014 innovation pipeline will deliver $1 billion in new revenue in five years." Ecolab's secret sauce has not only been the development of new technologies, but more importantly, the coupling of them with broader solutions and service programs to lower the overall cost for its customers. This formula continues to drive growth and ensure high margins.
Ill-timed Share Repurchases
The only problem I currently have with Ecolab is that management has been plowing a substantial amount of free cash flow into share repurchases - almost $1 billion over the last twelve months - at very stretched valuations.
This $1 billion buyback program was announced in February 2015. Reflecting on the timing of this, it appears that management might have been overly optimistic on the recovery in the energy industry and thus expected a stronger earnings contribution from the Energy segment. More likely though, is the fact that management is confident that the continued integration of the Nalco and Nalco Champion businesses will lead to higher margins over the rest of the decade. However, I estimate that even at 18% operating margins - more than 400 basis points above current levels - the 2016 earnings multiple would still be slightly above 18. I would say that any expectations for higher margins have already been baked into the cake.
I suppose one could argue that Ecolab's valuations are still below historical averages, which would be true, but just because the train has been running smooth for a long time doesn't mean its on the right track. At forward multiples exceeding 16, I think shareholders would be better served by a higher dividend yield. And herein lies the irony behind this great Aristocrat: many investors are buying it for the dividend, but management doesn't seem too interested in increasing it at a material level.
If there is any weakness with Ecolab's management it is their poor track record of timing their share repurchases. In 2009, a year that yielded almost $400 million of free cash flow and when their long term debt to EBITDA ratio was less than 1, only $69 million was spent on share repurchases. The company could have been buying back a lot more shares when the price was down in the $30s, as revealed by the following chart: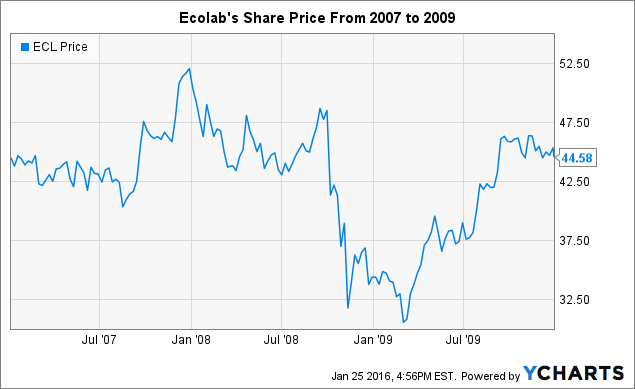 $1 billion spent on buybacks at an average share price of $35 would have removed almost 12% of outstanding shares in 2009. Conversely, the $1 billion that they are now almost done spending will have only removed about 2% to 3% of outstanding shares.
Some would likely pose the argument, on behalf of Ecolab, that more shares were not repurchased in 2009 because of the economic concerns at the time. My response? This is exactly why fixed valuation standards are needed, not only for investors buying and selling stocks, but by companies deploying free cash flow into repurchases. Ecolab's management has performed poorly in this respect. They should develop a share repurchase policy with valuation metrics in place to limit buybacks when valuations are stretched. By "valuation metrics" I am referring to valuations guidelines that are more inline with historical U.S. large capitalization equity market valuations, not just historical Ecolab valuations. I wouldn't have a problem with them ratcheting them up a notch (e.g., 18 to 20 times earnings) because their historical valuation has been higher, but repurchasing shares when the stock is trading with 25 to 30 times forward earnings? Big mistake.
One company I follow that does this (superbly I might add) is Sturm, Ruger & Co. Inc. (NYSE:RGR). Their management repurchased shares in late 2014 / early 2015 only when their shares were extremely undervalued, as shown on the following chart: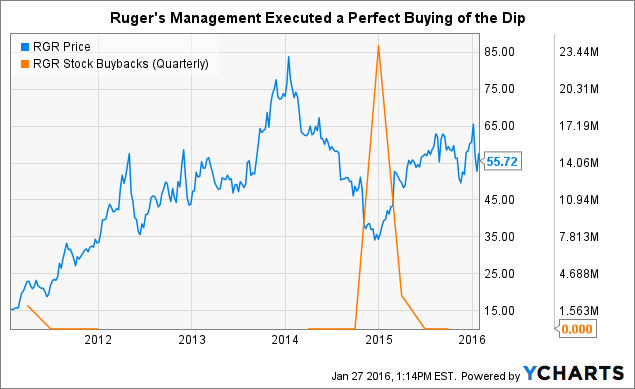 Ruger's management uses valuation perimeters to determine when to buy (e.g., when the P/E ratio is below 10).
Time will eventually tell whether this $1 billion buyback program was the best of use of free cash flow. Either way, it will likely go unnoticed by the investment community. However, sometimes such moves of confidence are looked at in retrospect as moves of overconfidence that signaled an inflection point. For Ecolab, the inflection point could be the early stages of a longer term movement to a more reasonable valuation range.
Ecolab's stock price rose sharply from 2012 to 2015, as shown on the following chart: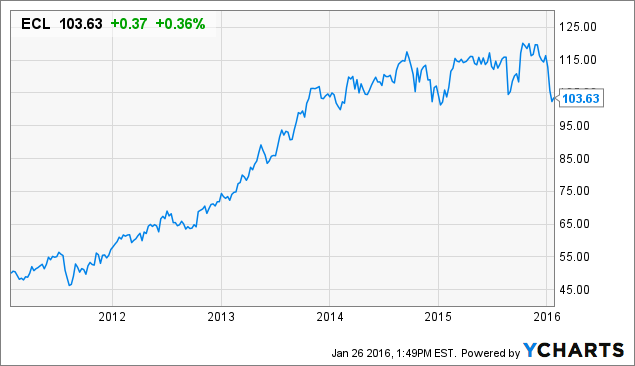 This was driven by the acquisitions of Nalco & Champion and the subsequently successful integration of the businesses, as reflected in margin expansion. Operating margins climbed from 10.9% in 2012 to 13.7% in 2014.
Given Ecolab's successful track record of integrating acquisitions, I think shareholders would have been better served by management using the $1 billion of free cash flow to pay down debt and/or build cash reserves for future acquisitions. At present, their cash balance is only about $185 million and their working capital is negative after deducting for inventories. Their long term debt to EBITDA ratio is also hovering around 2 so there is less room for borrowing.
The spike in Ecolab's stock price also came during a period when its share count was increasing. This reveals that successful acquisitions will do far more to enhance shareholder value than buying back shares at inflated valuations. Management has wisely noted that the decline in many foreign currencies versus the dollar has created opportunities to acquire companies on the cheap. However, it looks like they missed an opportunity a year ago to prepare for it.
Conclusion
I am kicking the tires hard on Ecolab, because I owe it to my clients and those reading this article. Like many other investors, I agree that it is a great company. I might want to eventually put shares of it in the portfolios I manage (but with a close eye on how they use free cash flow). Based on my outlook for the broader global economy, U.S. stock market, and True Vine Investments valuation system, I would not be a buyer of Ecolab shares above $60.
To be sure, Ecolab is not going to $60 per share anytime soon, but in the coming years external factors could combine to present an opportunity to buy it with a 24 month forward earnings or free cash multiple below 16. A lot of investors seem to focus on round number price targets, such as $80 or $100, when considering an entry point, but it is the valuations they should be focusing on. This is the number that will ultimately determine prices.
An Alternative Approach For Conservative Investors
Investors who agree with my view that Ecolab's shares are way overvalued, but who still want to benefit from the company's fundamental strength, may want to consider the following strategy. It will not net big gains, but it will earn a higher yield than Ecolab's dividend, and shelter capital that could be used for eventually taking a position in the stock.
Investors could determine how much of a position they would like to have in the stock (at the eventual right price), such as 5% of a portfolio. They could take the funds now and purchase Ecolab's 2% notes maturing on January 14, 2019. These notes are currently yielding 1.92% to maturity. They could be held to maturity with the proceeds subsequently invested in the stock or sold, partially or all at once, at anytime beforehand, with minimal downside risk, to buy the stock if the right opportunity presents itself.
I specifically chose the January 2019 notes, because my view is that the timing will coincide with the early stages of the next major, multi-year move higher in the U.S. stock market. At the time, the forward multiples on the stock could be much more attractive for investors looking to take a long term position.
Important Regulatory Disclosures
I am a Registered Investment Advisor in the State of Pennsylvania. I screen electronic communications from prospective clients in other states to ensure that I do not communicate directly with any prospect in another state where I have not met the registration requirements or do not have an applicable exemption.
Positive comments made regarding this article should not be construed by readers to be an endorsement of my abilities to act as an investment adviser.
Disclosure: I/we have no positions in any stocks mentioned, and no plans to initiate any positions within the next 72 hours.
I wrote this article myself, and it expresses my own opinions. I am not receiving compensation for it (other than from Seeking Alpha). I have no business relationship with any company whose stock is mentioned in this article.