By Dr. Brian Jacobsen, CFA, CFP®
So far in 2016, the daily return on the S&P 500 Index has been -2% or worse three times in the span of 12 days. For perspective, the stock market dropped that many times plus one for all of 2012. The average number of days the market drops 2% or more is five times per year. This is probably why the first 12 days of 2016 have felt like a whole year for many investors.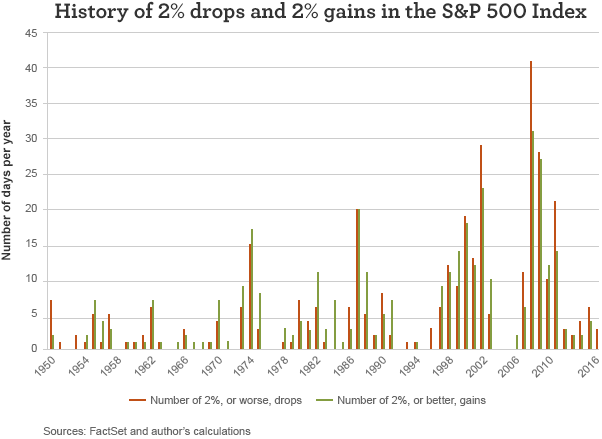 Between the stock market's down days, you typically get more good days. Those are easy to forget, as the market tends to rise more often than it falls. The rises are typically less dramatic than the falls, which is probably why we take them for granted and easily overlook them.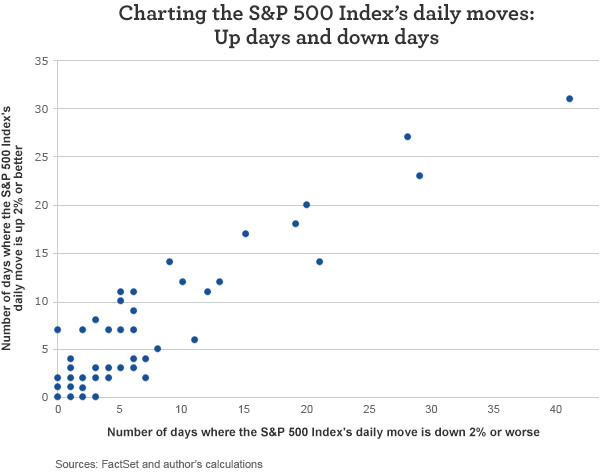 If you bail out of the market because the market just fell, you have to ask what might draw you back in. Fear tends to feed on itself and can be quite costly if you miss the rebounds. If you look at the markets-or your portfolio-too often, it can give you a distorted picture of risk. For example, if you measure returns over a monthly horizon, the annualized standard deviation (a measure of risk) is 71.58%. If you take that same investment, but measure it annually, the risk drops to 17.54%. A lot of the noise from daily or monthly moves tends to cancel out, over longer investment periods.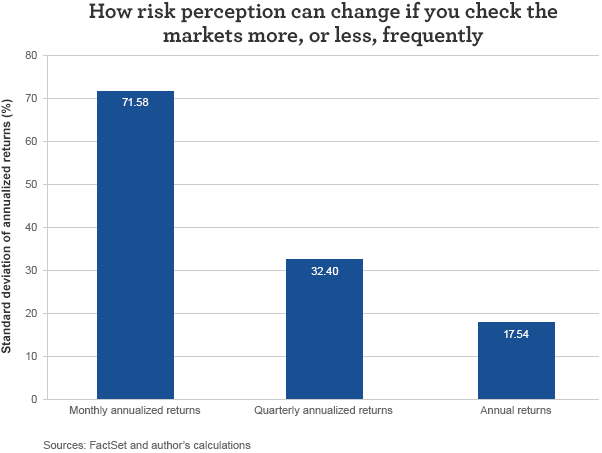 If stocks' fundamentals have not changed, which I don't think they have materially, it probably doesn't pay to change your investment strategy. The collective perception of the fundamentals has changed, which is driving the market drops, but that probably just heightens the volatility in the market without changing the long-term trajectory. Why haven't the fundamentals changed? Companies are still quite profitable. In China, earnings per share (EPS) have risen 2.8% since the beginning of 2014, and S&P 500 earnings have risen 4.2%; yet, U.S. markets are trading as though earnings are stuck at 2014 levels.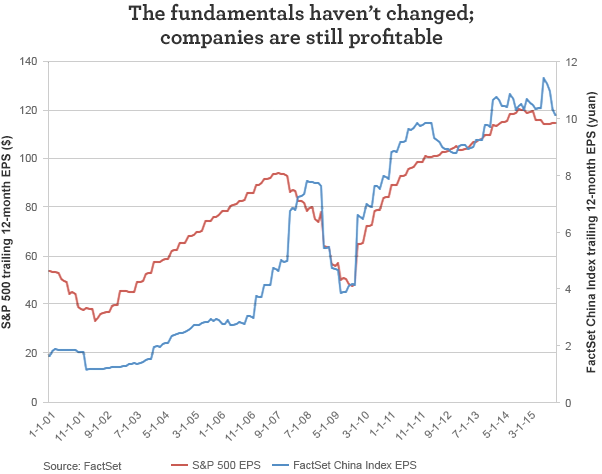 While it's likely that we will see earnings at energy and materials companies drop during earnings season, future earnings growth-which is more important than trailing earnings-should stay buoyant. One measure of this is the Chicago Fed National Activity Index (CFNAI). This is a composite index of 85 indicators that give a summary of whether the economy is expanding or contracting and by how much. A reading below zero indicates below-trend growth, but it's not until the index hits -0.7 that it signals a recession. The most recent reading is -0.3. That's consistent with EPS growth of approximately 4%.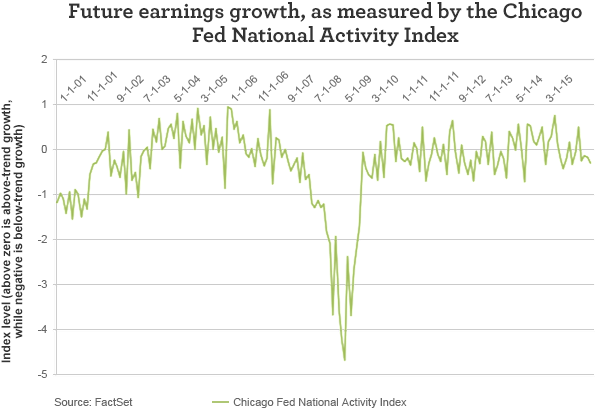 If data rolls in that shows the economy is rolling over, then I'll change my mind about the longer-term path for the market. Until then, I think the current market correction is driven more by a shift in sentiment than a change in the fundamentals. I think only hard data that disproves the doubters of growth will be able to turn the markets. What are those factors that need to change? Here are three:
Oil: Oil markets seem to be driven by primal forces, not technical or fundamental forces. Production in the U.S. peaked at 9.2 million barrels per day in June 2015. It's been on a slow descent, and it will likely take a deeper drop to convince traders that oil prices should start to rise.
The economy: Stocks seem to be trading like we're back in the midst of the global financial crisis, but the economy is much healthier now. Residential real estate is contributing to growth; consumer spending is rising along with payrolls. These are not the makings of a recession.
China: China's market went from flat to a bubble beginning in November 2014. That bubble started to pop in June 2015, and the markets are convulsing, trying to find the new level to build from. Markets tend to overshoot to the upside and the downside, but it appears to me that we've overshot to the downside. Long-term investors can take solace in the fundamental foundation of earnings and accommodative policies to sustain growth.
There's a reason patience is a virtue. If it was easy, it wouldn't be a virtue.
The views expressed are as of 1-20-16 and are those of Dr. Brian Jacobsen, CFA, CFP®, and Wells Fargo Funds Management, LLC. The information and statistics in this report have been obtained from sources we believe to be reliable but are not guaranteed by us to be accurate or complete. Any and all earnings, projections, and estimates assume certain conditions and industry developments, which are subject to change. The opinions stated are those of the authors and are not intended to be used as investment advice. The views and any forward-looking statements are subject to change at any time in response to changing circumstances in the market and are not intended to predict or guarantee the future performance of any individual security, market sector or the markets generally, or any mutual fund. Wells Fargo Funds Management, LLC, disclaims any obligation to publicly update or revise any views expressed or forward-looking statements.
Wells Fargo Asset Management (OTC:WFAM) is a trade name used by the asset management businesses of Wells Fargo & Company. Wells Fargo Funds Management, LLC, a wholly owned subsidiary of Wells Fargo & Company, provides investment advisory and administrative services for Wells Fargo Funds. Other affiliates of Wells Fargo & Company provide subadvisory and other services for the funds. The funds are distributed by Wells Fargo Funds Distributor, LLC, Member FINRA, an affiliate of Wells Fargo & Company.
Not FDIC Insured • No Bank Guarantee • May Lose Value
Disclosure: I/we have no positions in any stocks mentioned, and no plans to initiate any positions within the next 72 hours.
I wrote this article myself, and it expresses my own opinions. I am not receiving compensation for it. I have no business relationship with any company whose stock is mentioned in this article.