I recently had the opportunity to speak once again with Phillip Li of Hong Kong based investment firm Value Partners, which manages the closed-end Asia Pacific Fund (NYSE:APB). Based in Hong Kong, Value Partners took over management of this CEF on October 1, 2013. In my article about 18 months ago, I presented a mostly positive spin on APB, given Value Partners' experience and success investing in cheap, high-dividend Asian stocks through a somewhat equivalent fund product unavailable to U.S. investors.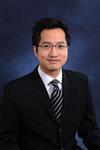 Phillip Li of Value Partners
Recent Performance Assessment
With only about 9 months under its belt, it was a bit difficult to assess whether the fund's steep fee (~2%) was worth the price of entry. Today, with more of a track record under its belt and the fund firmly entrenched with the revamped strategy, we certainly have a bit more to go on.
Mr. Li took over the fund with a net asset value of $11.52. As I write this article, the net asset value has declined to $10.20, representing a loss of 11.5 percent. However, APB declared its first dividend to investors (since Value Partners took over) of 51 cents last month, which was consequently paid out in early January. When we take that payment into account, the fund has lost only about 7% of NAV since taking over.
But in the CEF world, as we know, market price is not usually not in synch with NAV. APB today, priced at $8.95, trades at an approximately 12.5% discount to NAV. Over the span of time since Value Partners was hired, the discount has remained in a 10%-15% range. The arrow in the chart below directs you to the point in time Mr. Li began managing the fund, a point when APB's discount was about 10.25 percent.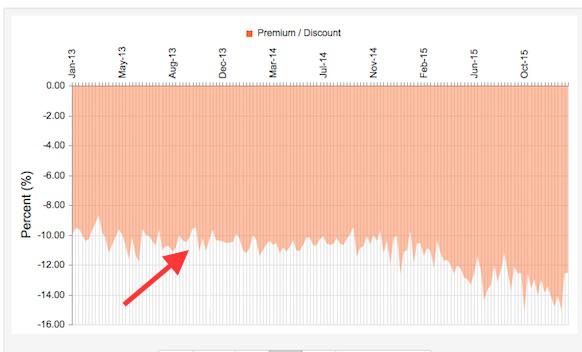 Chart courtesy CEFconnect.com
To get a better grip on APB's seeming lackluster performance, we need to refer to an appropriate benchmark. The proper index with which to compare APB to is the MSCI AC Asia Ex-Japan Index, a constituency of 625 large and mid-cap companies.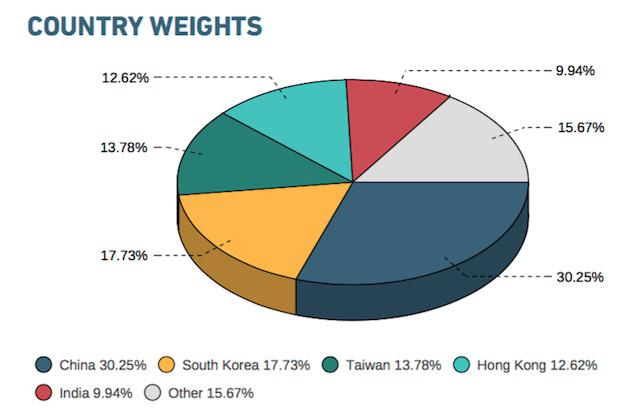 Source: MSCI.com
Looking strictly at calendar year 2014-15, the index was down a total of 4.37 percent. And AAXJ, an iShares product that attempts to mimic this index, was down 5.92 percent. However APB's total return was up 4.87% over those two calendar years.
This is evidence that APB, despite its hefty fee, has been a superior alternative when compared to passive peers, which I opined to be the case 18 months ago. Still, 5 percent over two years isn't awfully impressive when you consider that the S&P 500 returned 15% over the same timeframe. A BBB-rated 10-year investment grade bond might have generated 10 percent over the same duration.
Forward Outlook For Asian Equities And APB
While our rear view assessment of APB's performance offers cues that it has the potential to be a serial out-performer, the more important question remains whether it's worthy of portfolio inclusion. Despite common rules of thumb that find international diversification to be a desirable portfolio attribute, the U.S. market since the financial crisis has been a generally more profitable, and arguably safe, place to invest.
One of the drivers of the U.S. stock market's plunge in early 2016 has been jitters related to growth in China. If you hadn't been watching, the Shanghai Composite market index had a boom and bust 2015. After rising more 50% during the first half of the year, Chinese stocks gave all of that back rather quickly. Continuing concerns have the Shanghai Index down even further this month.
Chinese Stocks - 1 year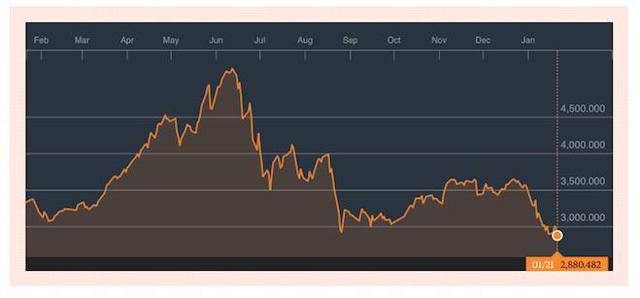 Source: Bloomberg
Mr. Li, in our previous discussion, talked about a gradual slowing of the Chinese economy to the 7% range. With many reports now pointing to sub-7% growth, there appears to be rampant concern over the health and, more importantly, qualitative characteristics of the Chinese economy. One bear even sees Chinese growth of only 4 percent, although in our recent discussion Mr. Li didn't seem to think growth had slowed to that level.
Chinese growth is of central importance to the Asia Pacific Fund, which revealed almost 40% exposure there in its most recent report.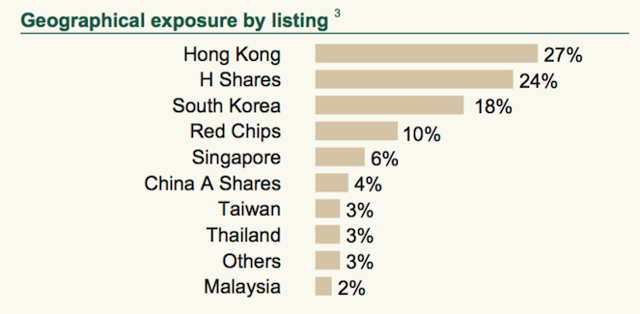 Source: APB December Report
For those not familiar with Asian share nomenclature, China A shares are listed on the Shanghai and Shenzhen exchanges, while H Shares are Chinese companies listed on the Hong Kong exchange. Red Chips indicate incorporation of a mainland China company outside China, but listed in Hong Kong.
The ASEAN region, an area that Mr. Li continues to see as overheated, represents subordinate allocation within the portfolio. Singapore, Thailand, and Malaysia - three ASEAN countries - make up just over 10% of recent allocation. I asked Mr. Li about Vietnam, which seems to be an emerging growth story. He seemed optimistic but pointed to internal rules against foreign investment as being somewhat prohibitive.
ASEAN Map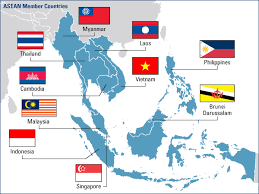 APB's strategy is one of deep value. The fund, in its latest portfolio fact sheet, states that the collective P/E of its holdings is 7.4X 2016 EPS estimates and 1.2X book.
APB Top 10 Holdings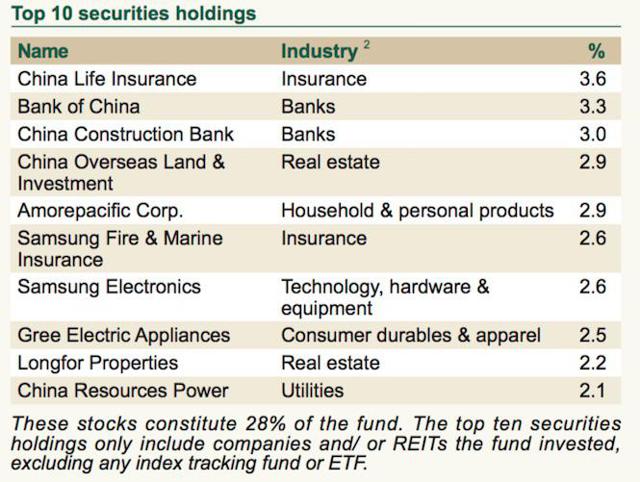 China Life is new to APB's top 10, as is Gree Electric Appliances, since my last review. Over the same time, Hyundai, Kia, and China Vanke, a residential real estate company, all dropped out of the top 10. Mr. Li explained that China Vanke had appreciated substantially recently, with the fund taking the opportunity to rotate into cheaper equity.
In terms of turnover, Mr. Li said that the fund won't be shy about moving around available markets if the value situation dictates it, which means it is not the most taxably efficient fund to own.
In terms of sector exposure, APB appears to have done some minor allocation tweaking over the past 18 months, with real estate being the big mover, up 8 percent. Most other sectors appear to have made 5% or lower moves within the portfolio.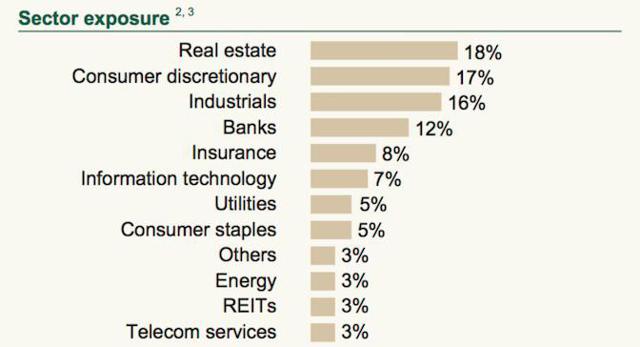 In terms of the dividend, Mr. Li told me that the absolute yield of the fund (blended dividend rate of all holdings) is around 4.5% at the moment. When we first spoke, it was closer to 5 percent. While the fund distributed 51 cents this past year all in a one-time payment, there's no way to know what the future dividend will be, nor how it will be paid. This represents a problem for those looking specifically for a more reliable income instrument.
Investment Conclusion
APB in my view possesses a top notch management team with a solid, well-articulated investment strategy. While Mr. Li focuses on deep value for equity entry, there is a willingness to move on when a position becomes fully priced. The Asia Pacific Fund, given its geographic investment flexibility, should be viewed as a somewhat more conservative product as compared to other pooled solutions that focus on Asian country-specific or more pure growth-oriented strategies.
The fee is one of the noticeable quantitative hurdles to owning the fund. Hovering around 2%, there are passive pooled products that charge only half or even only one-third as much as APB. Still, investors should consider their potential bottom line more so than what they are paying for management. Which would you rather own, a security with an IRR of 10% and 2% fee, or one with 7% IRR but only a 50 basis point fee?
Value Partners is off to a good start, all things considered, with its management of the Asia Pacific Fund. But the question remains whether the fund represents a sound diversification solution for income investors.
Quantitatively speaking, there seems to be good reason to allocate to Asian value equity, given the general valuation spreads seen there versus a still salty, although recently less-salty, domestic market. I would opine, however, that there is good reason for the general valuation discounts. Governmental oversight and fraud mitigation, while improving, continue to be a concern for Asian investors.
Currency fluctuation, political turmoil, and human rights issues also arguably raise the general risk ante here. Though APB seems to invest in quality assets at reasonable entry prices resulting in somewhat subdued beta, its portfolio has not been immune to volatility. Peak to trough, APB's NAV has shed about 32% since highs seen last year.
Still, Asia Pacific Fund's 10% discount to NAV and Value Partners' expertise in navigating this region seem to negate some of the more general investment risks. However, as is the case with much of the CEF universe, the odds may be rather low that the discount narrows in a meaningful way. It may take more time and meaningful outperformance for the market to price APB closer to NAV, if it ever happens at all.
Of the 19 Asian CEFs listed on CEFconnect.com, I found not one of them has a discount of less than 9 percent on a recent screen. I believe this represents the generally bearish perspective that investors maintain toward Asian growth and geopolitical issues. Also, the fund's liquidity is rather sparse. With only a $93 million market cap, a usual day sees about 10,000 shares traded. The bid/ask spread was about 10 cents on a day I watched the fund trade.
In sum, while investing alongside Mr. Li and Value Partners in this fund is probably not the worst idea for an income investor at the moment, I'm having trouble envisioning superior total return and/or faster dividend growth from the APB portfolio compared to domestic dividend counterparts over the long run. The uncertainty regarding the dividend payment is also problematic for the dividend or dividend growth inspired purist. Still, for the equity-income investor who thinks the valuation spread between Asian and domestic dividend stocks will narrow over time, or is otherwise predisposed to diversifying internationally, the Asia Pacific Fund has many attributes that continue to make it a worthy consideration.
Disclosure: I/we have no positions in any stocks mentioned, and no plans to initiate any positions within the next 72 hours.
I wrote this article myself, and it expresses my own opinions. I am not receiving compensation for it (other than from Seeking Alpha). I have no business relationship with any company whose stock is mentioned in this article.
Additional disclosure: Disclaimer: The above should not be considered or construed as individualized or specific investment advice. Do your own research and consult a professional, if necessary, before making investment decisions