The iShares Nasdaq Biotechnology ETF (NASDAQ:IBB), which tracks the Nasdaq Biotechnology Index (NASDAQ:NBI), has been in free fall since the beginning of the year and is now consolidating at around the $280 per share level. Despite that the fundamentals of the biotech sector still look strong, recent comments from Republican U.S. Presidential candidate Donald Trump in Farmington, N.H., that Medicare, a huge buyer of prescription drugs, could "save $300 billion" a year if it negotiated discounts, has rattled the sector. Since there will be even more stump speeches and debates from the presidential candidates from both parties from now until the main election in November, we are expecting more volatility in the sector with a bias to the upside.
Separate Facts and Rhetoric - A federal law, the Medicare Prescription Drug, Improvement, and Modernization Act or Medicare Modernization Act (MMA) of 2003, bars the Department of Health and Human Services from getting involved in talks over prices with drug companies while individual and private drug plans, such as CVS Health (NYSE:CVS) that provide the coverage for Medicare, can negotiate. According to Mr. Charles E. Grassley, a principal author of the 2003 Medicare law, "Private competition works, … the government has very little experience and a dismal track record figuring out what to pay for drugs."
Democratic Candidates' Plans - Democratic U.S. Presidential candidates have been feeling increasing pressure to develop answers for the problem of high-cost prescription drugs. In October, Hillary Clinton proposed capping out-of-pocket drug expenses at $250 a month, reducing the exclusivity period to 7 years from its current 12 years, and requiring most drug makers to spend a defined portion of their profits on research and development. The Clinton plan wouldn't allow Medicare to negotiate prices of all drugs, but is limited to biologics and high-cost drugs, in line with the Obama budget proposal released earlier last year. Her rival, Senator Bernie Sanders, a Democratic Socialist, wants people to be able to buy low-cost drugs from Canada and to allow Medicare to negotiate prices with drug companies without limits.
Critics of the Clinton plan argue that shorting the exclusivity period will force the biopharma companies to jack up drug prices in order to recoup billions of dollars in drug development costs within 7 years, instead of spreading it out over 12 years. Due to the complexity of biologics, a product can only be made that is similar, but not identical, to the original drug. Depending upon its size and complexity, the price of biosimilars could just come in between 10% to 20% less than the cost of the branded manufacturer's drug. Hence, it would not be possible for low-cost drugs to be offered to American consumers by shortening the exclusivity period and allowing biosimilars to compete in the market.
More Risks of Developing New Drugs - Drug price controls dampen incentives to innovate as drug development costs soar. The Tufts Center for the Study of Drug Development at Tufts University released a report last November showing that developing a new prescription medicine that gains marketing approval, a process often lasting longer than a decade, is estimated to cost about $2.6 billion. The total cost could run up as high as $2.9 billion, if the cost of post-approval R&D, including studies to test new indications, new formulations, new dosage strengths and regimens, and to monitor safety and long-term side effects in patients required by the U.S. Food and Drug Administration (FDA) as a condition of approval, is included.
Some experts believe that the Tufts numbers are far too conservative. The actual cost of new drug discovery and developments could reach $4 billion plus if the extraordinarily low success rates are taken into account. According to Nature, the clinical development success rates of investigational drugs are dismal, as only 1 in 10 drugs that enter clinical phases are pushed through to FDA approval. Although the issue is so complex as it is, there won't be low-cost drugs, just only rhetoric, unless U.S. taxpayers begin subsidizing the costs of new drug development.
Drug Companies are Leaving - The drug companies have been leaving the U.S. as the campaign rhetoric becomes louder. In late November, Dublin-based Allergan (NYSE:AGN) said it was buying Pfizer (NYSE:PFE) in a $160 billion deal, although the combined company will be known as Pfizer Plc. U.S. President Barack Obama has called this type of deal, or inversion, unpatriotic. Pfizer's Chief Executive Officer Ian Read thinks differently as he put it, "the deal would help put the company on a more competitive footing." "The fact that Pfizer is leaving our country with a tremendous loss of jobs is disgusting," Trump said back then.
Two weeks ago, another Dublin-based biopharmaceutical company, Shire (NASDAQ:SHPG) said it was acquiring an Illinois company, Baxalta Inc. (NYSE:BXLT), in a $32 billion deal to create the world's largest rare-disease drugmaker.
Since September 21, when Mrs. Clinton went on a Twitter frenzy and sent out a tweet about "outrageous" price gouging by a pharmaceutical CEO, the share price of IBB has plunged over 22%. About 42.75% of the holdings in the IBB index are the five big cap biotech companies, Celgene (NASDAQ:CELG), Amgen (NASDAQ:AMGN), Biogen (NASDAQ:BIIB), Gilead Sciences (NASDAQ:GILD) and Regeneron Pharmaceuticals (NASDAQ:REGN), with a combined market cap of over $438 billion.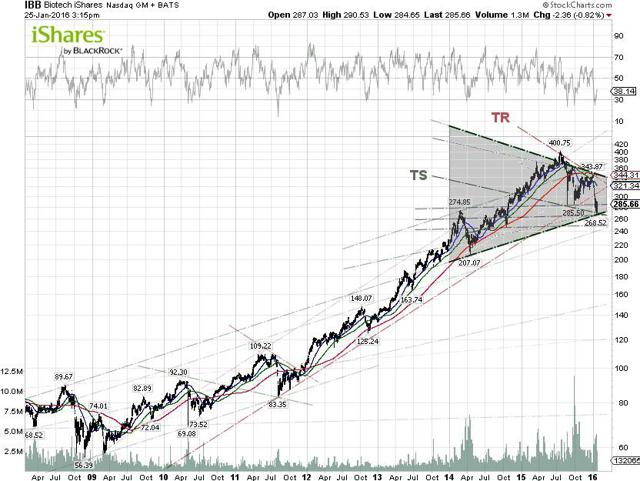 From our technical analysis, the share price of IBB is trading near the bottom of a symmetrical triangle. In the near term, IBB could pull back to retest the October 2014 low at $247.80 per share if the trendline support breaks down, as a political cloud now hangs over the biopharmaceutical sector. The sector has also been targeted by short-sellers, including Hayman Capital Management, run by hedge fund manager Kyle Bass. Biopharmaceutical and biotechnology companies say Kyle Bass abuses the patent review process by short-selling pharmaceutical shares that drop when Bass' Hayman Group files a patent review challenge.
According to a Forbes report in October, the Hayman Group has filed 33 patent challenges, winning one and losing four. In late November, the Hayman Group lost another case against Celgene when the U.S. Patent and Trademark Office Patent Trial and Appeal Board denied institution of Inter Partes Review (IPR) proceedings for Celgene's drug, Revlimid.
Although political and others risks have increased, in our view, the risk reward is still in favor of the investors in the biotech sector.
Disclosure: I am/we are long AGN, BIIB, CELG, REGN, SHPG.
I wrote this article myself, and it expresses my own opinions. I am not receiving compensation for it. I have no business relationship with any company whose stock is mentioned in this article.