Background
Back on 19 October 2015, I wrote an article about Starwood Property Trust (NYSE:STWD) entitled "Starwood Property Trust Needs To Step It Up." It was a controversial article, because at that time Starwood was trading at its usual premium to book value and everybody was lauding the (very real) brilliance of legendary CEO Barry Sternlicht. However, my conclusion was that the stock was trading at unsupportable levels. Specifically, I concluded:
"Until it returns to form in general, Starwood will likely trade in sympathy with others in the industry. In my view, the stock is not a buy until that happens, though it is worth holding for the dividend at the possible risk of more capital loss. There are better choices in the sector."
Well, below is Starwood's stock chart since the day of that article.

Clearly, Starwood Property Trust held up brilliantly for far longer than many other REITs in the teeth of the perfect storm created by a weakening economy and mystifyingly hawkish Fed. However, reality always sets in, even if only belatedly, and Starwood has largely lost the premium to book value that defied the rest of the industry and which I said in my article was unwarranted.
| Date | Closing Stock Price | Most Recent Book Value | Premium |
| --- | --- | --- | --- |
| 19 Oct. 2015 | $20.25 | $17.43 | 16.2% |
| 26 Jan. 2016 | $18.61 | $17.29 | 7.6% |
Source: 26 January 2016 Starwood Property Trust press release. The first book value was as of 30 September 2015, the second (lower) one is the estimate provided by the company for 31 December 2015.
The more recent figure does not tell the whole story. STWD closed as low as $17.41 on 21 January 2016, which means that the entire premium that it held based on the 30 September 2015 book value was wiped out. Only because the book value has fallen -- hardly a positive for shareholders -- did the stock retain any premium at all.
The point is that non-economic factors appeared to be playing a role in supporting Starwood's stock price. When other mREITs are trading at discounts to book value of 30%, why Starwood should trade at a large premium was a mystery. However, it did so for a long time.
Starwood's Latest News
Starwood clearly is feeling the heat. Nobody wants to see their stock price drop, and especially one that prided itself on its large premium to book value. Whatever the reasons, Starwood just put out the odd "Preliminary Results" press release linked above a month ahead of its scheduled earnings release.
In the press release, Starwood touts the fact that its book value apparently has dropped since the end of the third quarter. The implication from that is that it's a miracle that the book value didn't drop more. Hardly an encouraging sign.
Furthermore, the company raises its guidance for fiscal 2015 from $2.13-$2.17 to $2.17-$2.19 per diluted share. Basically, Starwood implies that the company slightly beat its previous estimates for the quarter without actually coming right out and saying so. That leaves little mystery for when the actual earnings report comes out, so if the stock price bumps higher on this news now, Starwood is unlikely to do so when the full report is released on 25 February 2016 and simply confirms what it already had strongly suggested.
Another interesting piece of news in the press release is that the Board of Directors increased by $50 million the amount of its share repurchase program. Not only that, the Board extended the program for another year. Normally, a share repurchase increase is bullish. In this case, it suggest to me that the company is still not finding good deals and thus sees repurchasing its own stock as the best alternative for its cash flow for another year. The current share repurchase program certainly has not supported the share price in the way that many investors would like. What Starwood investors need is better deals, not more share repurchases.
The Fed is the Major Problem for Starwood
To be fair to Starwood, which as in my previous article I still feel needs to "step it up," Starwood's issues are not specific to it alone. The Fed has managed to sabotage a multi-year Bull market and crater REIT valuations via its controversial decision to raise interest rates at its December 2015 meeting.
Setting aside the question of whether the Fed made the right decision at that meeting based on the information available to it at the time, data released since that meeting has confirmed the suspicion in many of us that the Fed acted needlessly and precipitously.
Let's take a look at some recent economic data, and then consider the implications for the Fed and Starwood.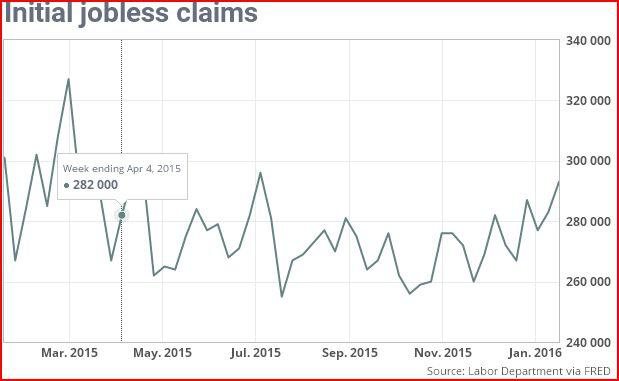 Recent developments in initial jobless claims suggest that steady improvements in the labor market are starting to disappear. "Further improvements in the labor market" is the reason most often given by Chair Janet Yellen when justifying higher rates. With claims at a seven-month high, the bottom may be in for this cycle. Only time will tell.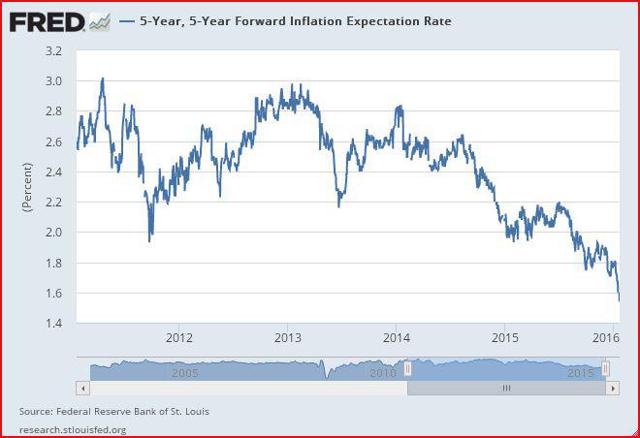 Inflation expectations also have fallen off the table recently. It is easy to pooh-pooh the inflation half of the Fed's dual mandate because the Fed seems to give inflation lip service right before completely ignoring it. However, with the jobs rationale for rate increases weakening, the inflation situation will assume greater importance. It does not suggest any need for higher rates.
The chances of a recession are rising every month. In the chart below, the shaded areas are recessions. Note that the unemployment rate -- a lagging indicator -- always looks brightest right before the storm. The current rate is right around where it bottomed in the late 1980s before the recession of the early 1990s.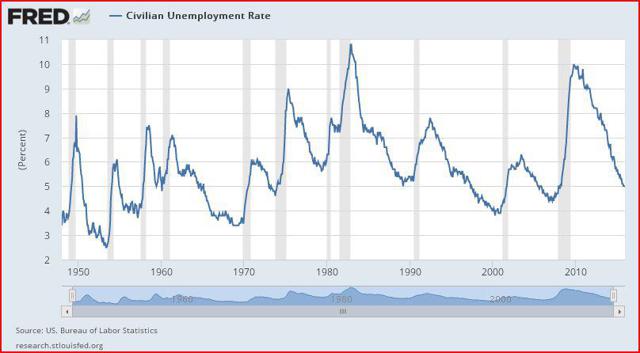 As so often in the past right before recessions, the Civilian Unemployment Rate looks sparkling by recent historical standards. A 5% rate is certainly better for workers than a 10% rate. The rate could drop further from here, too, as it has hit 4% now and then. However, each month draws closer, the time when official unemployment will suddenly snap back higher without warning. It has done so during every single recession in the post-war era. There's no need to even bring up the terrible labor force participation rate which suggests that the economy has been fragile all along; even by the most pro-rate-hike indicator available, the Civilian Unemployment Rate, the case for rate hikes is looking increasingly fragile.
The point is that the Fed appears lost, and this is affecting stocks like Starwood. The turbulent stock market is reflecting the inherent dissonance of raising rates into a weakening economy, as suggested by the Atlanta Fed's own projections of slower growth. This uncertainty about policy is what has crushed Starwood's stock price, as nobody really has any idea whether the Fed will continue its Ahab-esque determination to get those rates higher regardless of the consequences. The market hates uncertainty more than anything. Until the economic and rate situation becomes clearer, there is no reason to believe that rate-sensitive stocks will rebound. While nobody wants a recession, that is what it may take to erase that uncertainty due to all the Fed dithering.
Starwood's one-year chart shown below is revealing.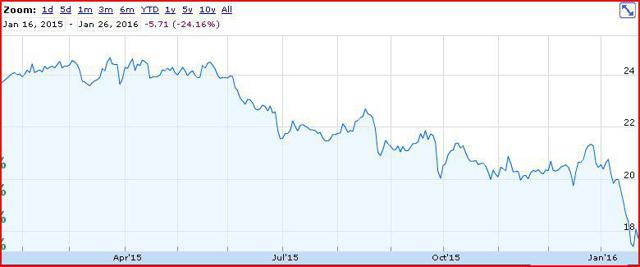 Starwood has been in a downtrend for the better part of a year, after peaking in the Spring of 2015. It seems apparent that Starwood, along with many other REITs, was pummeled by the accelerating anxiety during 2015 about prospective rate hikes. There is no reason to believe that fear has disappeared yet.
Starwood's stock price definitely looks oversold on a short-term basis at current levels. However, the underlying problem is the same as with all REITs in the current environment -- uncertainty about the paths of rates and the economic cycle. There was a bump up in Starwood's stock price around the time of the December 2015 Fed rate decision because, unwelcome as it may have been for some, at least the rate hike provided some degree of certainty. However, that confidence has vanished in the cold, harsh light of January, and Starwood's share price has plummeted.
The bottom line is that, except for playing short-term rebounds, investing in Starwood continues to be grounded less in economic reality than in hopes that the economic environment suddenly will turn favorable to REITs again. Unfortunately, there is no sign yet of that happening.
Conclusion
As I predicted in my previous article about Starwood, its premium has all but vanished. There remains too much uncertainty in the market for new catalysts that will push REIT stock prices higher and restore healthy premiums -- or at least reduce discounts to book value. While Starwood is a much better value than it was several months ago due to its decreased premium, it needs a catalyst to move higher again. Share buybacks and slight beats of previous earnings projections are unlikely to do that on a sustainable basis.
When Starwood again is able to find better uses for its cash than stock buybacks, then it will become much more interesting on the long side. Starwood may be in a bottoming process, but it is too soon yet to say that it is ready to break its long-term downtrend and reward its long-suffering shareholders. It may be time to nibble, but the full-course dinner remains in the kitchen.
Disclosure: I/we have no positions in any stocks mentioned, and no plans to initiate any positions within the next 72 hours.
I wrote this article myself, and it expresses my own opinions. I am not receiving compensation for it (other than from Seeking Alpha). I have no business relationship with any company whose stock is mentioned in this article.