Introduction
Electronic Arts (NASDAQ:EA) is a leading developer and publisher of video games on a variety of gaming platforms. The revenues of the company primarily come from selling games and intragame microtransactions.
To better understand such stocks, the long-term performance should be examined as product development takes a while. For example, the FIFA and Need for Speed series are released once a year and the conception of them hasn't been changed yet. The Electronic Entertainment Expo is another factor to take into consideration. Every year in Los Angeles game developers and publishers show trailers and demonstrate game play of the upcoming titles, whereby video game analysts and fans express their opinion on whether the products will be successful.
Diagram 1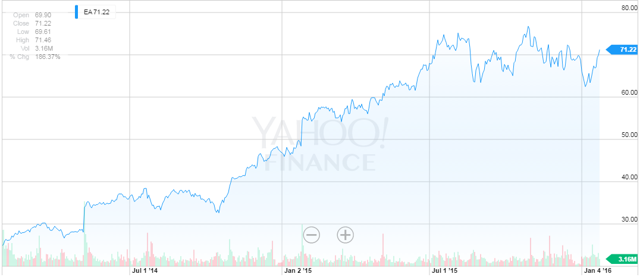 Source: Yahoo Finance
What's brought my attention is that EA is being traded now close to its historical highs. At the moment the company's net income growth, ROA and ROE surpass the industry averages. The P/E ratio is palpably lower as well. But, considering the P/B and P/S ratios the company is overvalued.
Diagram 2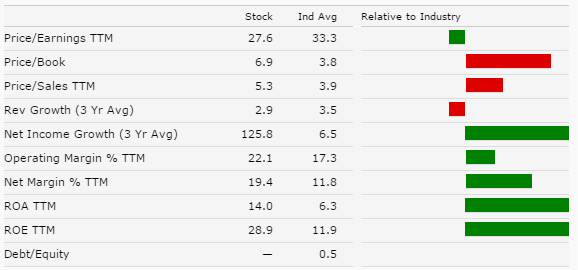 Source: Morningstar
Generally, the stock has been experiencing a steady growth for a couple of years due to a constantly expanding industry. However, good financials bring up a contentious question: why EA is still not paying a dividend with over $2.5 billion in liquidity and no serious long-term debt? It can easily afford ~65-70 cents a year with forecasted EPS $3.10 in 2016 and $3.50 in 2017.
New subscription service
EA started 2016 by launching a new subscription-based service Origin Access for PC. The gist of the service is to provide unlimited access to new games and offer discounts on additional products for only $4.99 per month. There are several reasons why this is a good move.
First, year after year digitally distributed content is getting more popular with its share in total sales constantly increasing. Over the last five years the share of digitally distributed content grew by 32%. In the future the share of retail video games is expected to shrink drastically. Instead of paying up to $50 per game or up to $20 for insignificant DLC, customers can pay only $5 per dozens of games. EA Origin has over 50 million registered users. Even one-tenth of this number brings $300 million a year. That's impressive.
Diagram 3
Breakdown of U.S video game sales from 2009 to 2014, by delivery format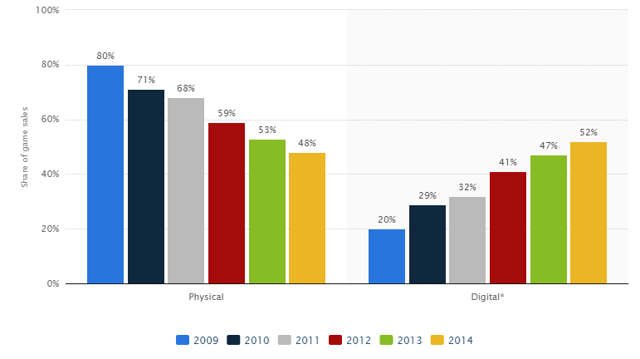 Source: Statista
Secondly, Netflix's (NASDAQ:NFLX) and Spotify's success shows that online subscriptions are a working business model.
Thirdly, EA offers lowest price on the market, as opposed to GeForce Now and Playstation Now which offer $7,99 (50+ games available) and $19.99 (100+ games available), respectively. However, without regular updates and discounts the price advantage will not make a difference.
Key products in 2016
Being a major developer and publisher of PC/Console games, every year EA launches top-grossing games. In 2015 four products made it to the top 10 best-selling games of the year. The sales of Star Wars: Battlefront were mostly driven by the release of another Star Wars movie and the game is regarded as a supplement of sorts. Last year also was marked by record sales of Madden NFL and below-expected sales of FIFA and Need for Speed.
Moreover, it will be very challenging to hit the sales numbers of the previous year. Among key products that EA is expected to release this year are Mass Effect 4, Mirror's Edge Catalyst, FIFA 17 and Madden NFL 17.
Mass Effect 4
Despite the seeming success of this franchise, the sales are modest with 10 million units sold. Considering equal ratings of all three parts, the sales of the fourth part should not exceed 4 million units.
Diagram 4

Source: Vgchartz
FIFA 17
Every year, just before the holiday season, the company releases a better and improved version of the franchise with some new additional features. According to the estimates of Forbes, FIFA unit sales have tripled from 6.4 million units sold in 2010 to roughly 18.7 million units sold in 2014. In 2015 EA couldn't sell more than 16 million units. However, the thing here is that the sales of FIFA are cyclical as the sales increase in those years coinciding with FIFA World Cup or UEFA EURO Cup. One of these two events happens every alternate year. For example, in 2014, Brazil hosted the World Cup and France will be hosting the Euro Cup in 2016. Between these two events, FIFA sales have been seen to increase during those years when there is a World Cup event. However, the bitter point is that the main competitor in soccer games Konami bought the right to release UEFA EURO 2016 as a free DLC. With that being said, the sales will unlikely surpass the numbers of 2014.
Mirror's Edge Catalyst
The sales of the first part were around 2.5 million units, so the prequel will not be a breakthrough as well.
NFL Madden 17
While some people complain about the Madden franchise and often claim each new entry is a mere roster update, there's a reason why EA releases a new game in the series every year. That reason, of course, is that each installment in the series sees massive sales. That's the case yet again, as it was one of the top selling video games of EA in 2015. Another portion of success was surprisingly brought by the iOS version which currently is in the top-grossing mobile games in the U.S. Madden NFL will likely replicate the success the previous year.
Mobile content
At the moment the mobile games market is growing with an unprecedented pace (CAGR -19%) and expected to expand from $12.5 billion in 2012 to $30 billion in 2016.
Diagram 5

Source: B-mag
The EA mobile games are generally ported versions of PC/Console versions. Among them are Sims, FIFA, NFS, UFC, Madden, etc.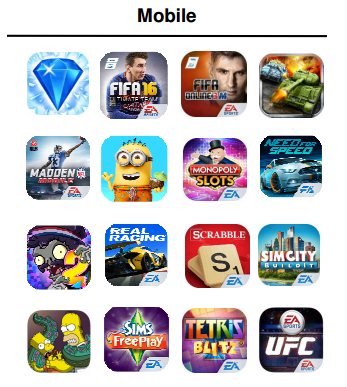 In 2016 the company is going to update FIFA, Minions Paradise, Star Wars and UFC.

Generally, the company has good revenues from mobile games. In Q2 of FY 2016 EA earned $112 million, which is 10% of total revenues (non-GAAP). In Q2 the free-to-download component was up 2%, or 9% at constant currency. The EA games were most downloaded in 2015. However, there are problems with monetization - EA was ranked 10th by revenues from mobile games. But it's only a matter of time, considering the number of downloads ($2 billion).
Conclusion
Considering that Electronic Arts has beat on expectations over the past four quarters they will likely demonstrate a solid Q3 FY2016, but Q4 FY 2016 and FY 2017 will be challenging as the company's sales numbers of major franchises may not be so high. The key drivers should be margin increases from the digital segment and mobile business (if EA manages to monetize it better than it's now).
Disclosure: I/we have no positions in any stocks mentioned, and no plans to initiate any positions within the next 72 hours.
I wrote this article myself, and it expresses my own opinions. I am not receiving compensation for it (other than from Seeking Alpha). I have no business relationship with any company whose stock is mentioned in this article.