Just a few weeks ago, I wrote an article on AT&T (NYSE:T) where I was a bit skeptical about the company's prospects. I covered revenues, debt ratio and dividend payout concerns. As anticipated, I caught flack for it. Now that the dust has settled and the earnings have been released, it is time to do a fact check.
Dividend Payouts & Debt Ratio
Please do not get me wrong. I do not derive satisfaction from seeing AT&T miss its own guidance. For Q3 2015 however, I noted:
For the first nine months of 2015, the dividend payout was 82.5% of earnings which was an increase from the 69% payout in the first nine months of 2014 ... I need to mention that management said free cash flow was $5.5 billion this quarter, so there are no immediate liquidity concerns. Management is forecasting a 70% dividend payout this year. How? Only time will tell.
Lo and behold, when earnings were released this week, the dividend payout was $1.89 last year on an earnings base of $2.37, which computes to a dividend payout ratio of 79.7%. So how could management have been so wrong with the 70% guidance it offered just three months prior?
For AT&T to have achieved the 70% payout ratio it was predicting, it needed earnings of $2.70 a share. If you do the math, that means that AT&T was off by 12.2% with its internal estimates of what its profits were going to be ($2.37/the $2.70 needed to achieve 70% based on the actual payout of $1.89). Free cash flow also saw a precipitous drop from $5.5 billion in Q3 2015 to $3.1 billion in Q4 2015. So how did things go so bad? In my opinion, there were two drivers for the miss:
Strong domestic postpaid competition as I predicted and far greater than management expected.
Smaller-than-expected international growth to offset the domestic losses. This second point will undoubtedly draw the ire of many once again. International growth was impressive if you look at the raw numbers, but one needs to logically conclude once again that management expected far more since its internal revenue prediction was off by over 12%.
Via SA News Editor Jason Aycock's report on the earnings, while speaking about AT&T's results, CEO Randall Stephenson stated:
Over the next few years we want to get our debt levels back to where we're comfortable" before talking about a share buyback of any magnitude, Stephenson said, though Stephens noted a key priority: "We're gonna pay our dividends."
So it seems like AT&T is going to concentrate on its debt and continuing paying a dividend. But what will the dividend be? Will the rate be reduced? Not likely. Will it be held steady? Most likely. I find it hard for AT&T to justify raising its dividend since it is now, by its own CEO's admission, entering a mode of debt control. I take this as an inference that even the company is aware that it took on too much debt. The debt rating agencies have a responsibility to be proactive. In the 2008 economic market meltdown, they were blamed for their slow responses in issuing debt downgrades. If the lessons of the past have indeed been learned, then AT&T debt should at a minimum be placed on the credit watch for a downgrade.
The debt ratio methodology despite being restated by AT&T still exhibits an ominous trend. With cash flow decreasing and the extremely unlikely scenario of AT&T reducing its dividend, there is little wiggle room left for management to lower its debt ratio. Given this scenario, one needs to ask themselves if there is any chance of its debt being placed under review for a possible debt downgrade. Once again I am placing myself out there for criticism, but someone needs to ask the question. At what point is the debt ratio issue going to start raising flags?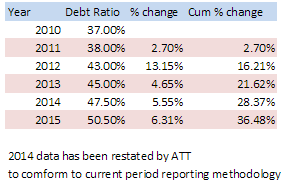 Taking it one step further, in 2005, the debt ratio was 35.9%. In 2003, the debt ratio was at a 2000s' low of 32%. Clearly, AT&T has leveraged its future at a far greater level than investors are accustomed to. This should be unnerving to investors.
Revenues
Revenues were up a strong 22.3% to $42.11 billion. Despite this strong increase, revenues still fell short of expectations of most analysts. Also highlighted was the much weaker than expected gross addition of 526,000 postpaid wireless subscribers. That figure was down 38.4% year over year and exhibits the strong headwinds that AT&T faces in the domestic wireless business.
Business Solutions wireless postpaid net adds witnessed a 37.6% year-over-year reduction. Consumer Mobility net adds witnessed a 39.6% year-over-year reduction. Both were the weakest of the major three carriers, and exhibit that something needs to be addressed to reverse the slowdown. The most logical decision (if AT&T is concerned about this trend) is to lower prices to try to attract more customers. So the company now finds itself in the trap of needing to lower prices (hence revenues) just to stay competitive. The business environment for this segment will only get stronger and will only create additional margin pressure in 2016.
Company Guidance
After the earnings release, AT&T offered the following guidance:
T's Adjusted earnings per share growth is expected be in the mid-single digit range or higher. Consolidated margins are likely to remain stable. Capital expenditure will be around $22 billion. Free cash flow growth with a dividend payout ratio is expected in the 70% range. So once again the company is expecting a dividend payout ratio of 70%.
The $2.5 billion in synergies touted by AT&T for the DIRECTV acquisition in 2015 has been modified. AT&T's CEO is now predicting $1.5 billion in synergies this coming year. And the beat goes on.
Conclusion
My initial article - There Is Only One Reason Left To Buy AT&T, The Dividend - is more valid now than ever. Once again for 2016 the company has forecast a 70% dividend payout. And once again I do not see that being realistic. All the synergies that were touted in the DIRECTV acquisition sounded good in 2015. Reality however is a fickle beast. Something somewhere did not match AT&T's own internal predictions, and the growth of the international business related to DIRECTV is the most likely culprit. Only time will ultimately tell whether it was domestic postpaid competition, slower-than-expected revenue growth from DIRECTV or a combination of these and other factors. Price appreciation should not be expected and market underperformance by AT&T stock is likely.
Disclaimer: My articles are merely my personal opinion. They are not a guarantee of future performance. When investing one needs to realize that there is always the risk that you may lose some or most of your investment. Always do your own personal due diligence and never invest in securities that expose you to greater risk tolerance than you are willing to accept.
Disclosure: I/we have no positions in any stocks mentioned, and no plans to initiate any positions within the next 72 hours.
I wrote this article myself, and it expresses my own opinions. I am not receiving compensation for it (other than from Seeking Alpha). I have no business relationship with any company whose stock is mentioned in this article.