Exxon Mobil's (NYSE:XOM) share price is dropping alongside oil prices, but not as much as it should if it were to track earnings for the company. As oil prices sit below $30, many investors are looking for the bottom to buy. There are several trains of thought running through the investment world at the moment:
Oil is going to recover as production drops off a metaphorical cliff, causing prices to skyrocket. If this doesn't happen, eventually turmoil in the middle east will cut off production and cause prices to skyrocket.
Oil prices will drop below $20/bbl, and widespread defaults will start kicking in before prices begin a long, slow climb back above $40-$50/bbl
Oil prices will sit in a range of $20-$60/bbl while production is turned on and off during price swings.
Oil as an energy source is dying and will not recover.
Slow Demand Growth
To say that oil as a power supply is dying has no basis in fact. Demand is still growing, albeit slower than we may be accustomed to, and slower demand will result in an extended duration to work through the current supply glut. But, it will take decades to remove oil from the equation entirely.
Lower Profits Across the Industry
In that time of slower demand growth and eventual demand destruction, the oil price will find a new range that is likely below most investors expectations. Capital investment that has been removed from the system will limit oversupply in the future, but the intensity and size of shale oil fields mean that oil can be less of a "gamblers" game. There is far less uncertainty drilling within an existing shale basin than drilling for offshore elephant wells, and this means that there is much less risk in drilling. There is a reason that Shell recently abandoned its efforts to find oil in the Arctic.
Exxon Mobil Already Has a Cyclical Recovery Priced In
Investors who are expecting the standard cyclical recovery and corresponding share price appreciation will be surprised going forward. While the oil price sits below $30/bbl, Exxon Mobil is hardly priced at $30/bbl. Not only that but, as fellow author Gary Bourgeault pointed out, industry-wide refining margins are dropping which have kept Exxon Mobil's earnings aloft to date. Dropping refining margins is also another sign of slower demand and consumption that could hit the industry this year.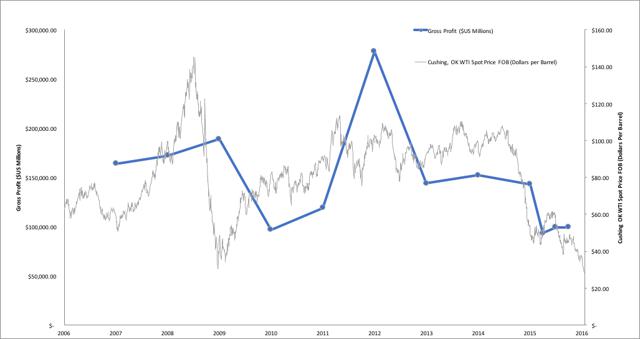 Source: IEA and Exxon Mobil annual/quarterly filings.
We can see that Exxon Mobil's earnings closely track WTI, apart from a bumper profit in 2012. With the oil price languishing since the September quarterly results, we can expect earnings to be hit even further this quarter, possibly dropping well below an annualized gross profit of $100 billion. To show that Exxon Mobil already has an oil recovery priced in, we can look at gross profits compared to the share price. Note that I have annualized quarterly filings for 2015.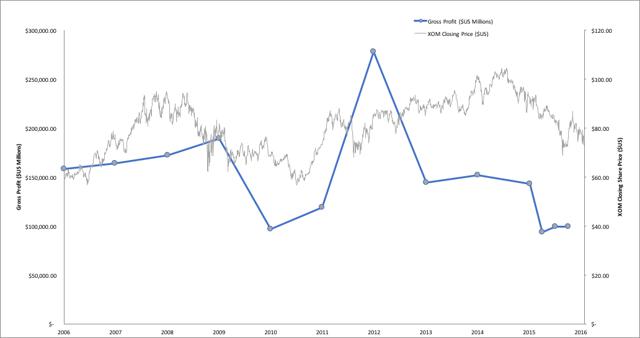 Source (Yahoo Finance and Exxon Mobil annual/quarterly filings)
Value Investing Approach
If you are a value investor, you believe that the share price will track earnings in the long run. We can see that Exxon Mobil's gross profit nearly tracks WTI, and we know that WTI is at decade-low prices. Despite that we do not see the low prices in Exxon Mobil's share price that the earnings and oil price should reflect. The share price for Exxon has been separating from earnings over the last two years and reflects investors sentiments of a recovery. If you follow the argument that we will not see oil prices over $100 for a long time (if at all), and that sub $60 oil is the long-term likelihood; then we should see Exxon Mobil's share price fall to track earnings (and WTI). Logically, we could see Exxon drop into the $60s, and even as low as the $50s when it becomes apparent that without a major upset in supply, oil prices will remain low.
Conclusion
Exxon's profits and share price have lost their correlation, showing that an oil price recovery is already baked into the valuation. With a cyclical recovery already priced into the Exxon Mobil share price, it is not trading at bargain prices and does not represent a chance for outsized returns. Exxon provides a safer exposure than most companies to an oil price rise, however, with the likelihood of oil prices remaining below $60/bbl in the long run, we will see the value of the recovery priced into the share price reduced. While Exxon Mobil does provide a limited downside when compared with smaller or more leveraged companies, it does not offer a great risk/return.
Disclaimer: Many of the assumptions are opinion based or inferred based on available information. This article should not be considered financial advice or an accurate picture of the company's circumstances for investment purposes.
Disclosure: I/we have no positions in any stocks mentioned, and no plans to initiate any positions within the next 72 hours.
I wrote this article myself, and it expresses my own opinions. I am not receiving compensation for it (other than from Seeking Alpha). I have no business relationship with any company whose stock is mentioned in this article.