For a while now my complaint about the energy exploration and production firms was the general casual behavior to declining oil prices. Every company cut capex to the point of limiting growth, but no company placed a floor price on where it would actually cut production. Until the goal becomes to reduce production, the first necessary step for a balance in the oil market hadn't taken place until possibly now.
After the close on Tuesday, Continental Resources (NYSE:CLR) blinked in a big way to reduce oil output with prices around $30 per barrel. For a stock down below $20 after trading above $80 a little over a year ago, the move might finally usher in a stability in oil prices if others follow. The question though is whether this move will do anything for the stock.
Cutting Spending Deep
Continental Resources announced that the oil exploration firm would make a massive 66% cut capital expenditures in order to actually cut production in a significant way in 2016. The move is a drastic shift from the classic move undertaken by Hess (NYSE:HES) that reduced capital spending by 40% without cutting previous production guidance.
As recently as early November, Continental Resources discussed how $2.7 billion in capital spending in 2015 was leading to roughly 25% production growth. One could easily argue an insane production growth rate considering oil started last year in the doldrums.

Source: Continental Resources guidance
At the time, Continental forecast that capex of at least $1.5 billion in 2016 was needed to maintain production of 200,000 boe/d. The company suggested that $50 oil prices were needed for cash flow neutrality.
Apparently a lot has changed for good and bad. The bad part is that oil has collapsed recently to $20 below the November target for cash flow neutral. The good news is that Continental believes that cutting 2016 capex to only $920 million will lead to cash flow neutral at $37 per barrel of oil.
Actual Production Cuts
The intriguing part of the story is that Continental spent the Q3 earnings report in November discussing how production growth helped reach 228,300 boe/d. The growth rate clearly stalled sequentially from Q2, yet the oil producer wasn't in any hurry to cut production though reduce production was targeted for Q4.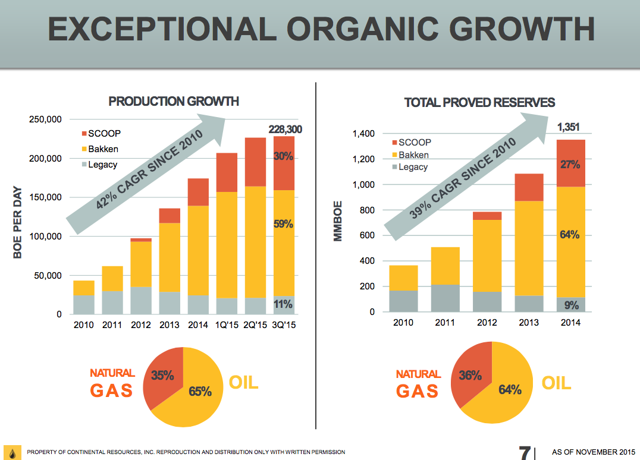 Source: Continental Resources Q3'15 presentation
The ultimate problem though was as late as August, the company only planned up to 23% production growth for the year. A quarter later and with energy prices still weak, Continental was actually pushing the growth rate higher.
Even now, 2015 production actually exceeded guidance from the November levels. The company hit an average production rate for 2015 of 221,700 boe/d. The goal now is for a 10% reduction in 2016.
The key is that Continental is now forecasting production declines beginning in Q1 that will snowball as the year progresses. The company provided the following guidance for this year.
Q1'16 = 210,000 to 220,000 boe/d
Q4'16 = 180,000 to 190,000 boe/d
FY'16 = 200,000 boe/d
In essence, Continental forecast ending 2016 with daily production rates at least 40,000 boe/d lower than where it ended last Q3. At 60% oil, this amounts to at least 24,000 boe/d of reduced oil production.
The amount isn't initially significant, but it will eventually add up to millions of barrels of oil off the markets this year.
Takeaway
The key is whether Continental actually follows this plan and doesn't improve drilling efficiencies so much that the company ends up with more supply than forecast. If so, Continental is closer to cash flow neutral and supporting the energy markets by not dumping product at lower prices. Not to mention, the position of CEO Harold Hamm in the shale industry could have an influential impact on the other producers.
At the same time, the company is now lowering the cash flow neutral point to $37 per barrel. At that level, one would expect Continental to ramp up spending as oil reaches $40 per barrel. The company plans to end the year with a large inventory of drilled buy uncompleted wells. The Bakken alone will have 195 gross wells waiting on completions allowing for a quick ramp up of production.
Such a scenario doesn't appear ideal for Continental by pumping oil for meager cash flows, but the news is very bullish for financials, airlines, and retail stocks that need stability at lower prices in the energy markets to thrive. Prices too low are bad for business, but stable low prices providing cash flows for energy firms will reduce the crisis fears.
Disclaimer: The information contained herein is for informational purposes only. Nothing in this article should be taken as a solicitation to purchase or sell securities. Before buying or selling any stock you should do your own research and reach your own conclusion or consult a financial advisor. Investing includes risks, including loss of principal.
Disclosure: I/we have no positions in any stocks mentioned, and no plans to initiate any positions within the next 72 hours.
I wrote this article myself, and it expresses my own opinions. I am not receiving compensation for it (other than from Seeking Alpha). I have no business relationship with any company whose stock is mentioned in this article.