There is no doubt that Chesapeake Energy (NYSE:CHK) has serious solvency issues. Standard & Poor's recently downgraded Chesapeake Energy to CCC+ from B with a negative outlook. S&P stated that "based on our [crude oil and natural gas] price assumptions, we expect only limited improvement in the near-term and that Chesapeake will face both a challenging operating environment and weak capital markets as about $2 billion of debt comes due in 2017." I wholeheartedly agree with S&P's assumptions. Considering that natural gas and crude oil prices are at multi-year lows and coupled with Chesapeake's enormous debt, long-term prospects do not look hopeful. It is quite likely that Chesapeake will default on its debt in the long term and require restructuring with substantial haircuts for bond investors.
So why should you purchase a Chesapeake Energy bond if they are in such a horrible financial position? The current pricing of Chesapeake's 3.25% bonds maturing March 15, 2016 is pricing in long-term solvency issues, which are separate from its short-term liquidity concerns. According to the Morningstar credit note dated 1/14/16, Chesapeake still has $4 Billion (abbreviated as "B") available on its undrawn credit facility maturing 2019. Combined with cash from operations and proposed asset sales, Chesapeake will have more than sufficient liquidity to pay all debts maturing on March 15, 2016.
Issue Date: 03/18/2013
Maturity: 03/15/2016
Par value: 100
Coupon Payment: 3.25% Semi-Annual
Current Price: $95.95 (as of 1/26/16; does not include Accrued Interest and commission)
Yield at Maturity = 37.44%
CUSIP = 165167CJ4

Financial Analysis:
As of 09/30/15, Chesapeake had current assets of $3.58B, which included cash on hand of $1.76B. Chesapeake also had current liabilities of $4.56B, which includes current debts of $893 million (abbreviated as "MM"). Regarding the $893MM in debt due within a year, this consists of the March 2016 bonds ($500MM) and the 2.75% contingent convertible senior notes due 2035 ($396MM). The 2.75% notes are current because holders have the ability to require Chesapeake to repurchase the bonds (see indication of current maturities below). This indicates that Chesapeake Energy has a deficit of $1B of current liabilities, which are not supported by current assets.

Chesapeake had a negative EBT (Earnings Before Taxes) of -$5.576B for the period ending 9/30/15. Adjusting for non-cash impairment of oil and gas properties of $5.4B and non-cash Depreciation of $488MM, Chesapeake had EBT (Earnings Before Taxes) of $328MM (-$5.576B + $5.4B + $0.488B). This EBT was obtained under an average crude oil price of $41.25 per bbl, per their 10-Q. Assuming an average crude oil price of $30 per bbl between 09/30/15 and 03/31/16, it is reasonable to think that Chesapeake will have $492MM in EBT over these two quarters (adjusting for non-cash Asset Impairments and Depreciation).
This means that about half of Chesapeake's $1B current liability deficit should be covered by cash flow from current operations. The remaining $508MM deficit will be covered by borrowings on their $4B senior secured revolving credit facility. As an added measure, Chesapeake has committed to asset sales, but this may be difficult in this distressed market.
Indication of Current Maturities in 10Q for 09/30/15: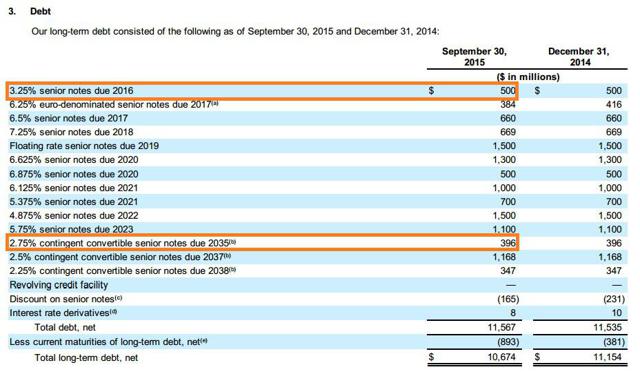 Risks Related to Subsequent Events:
While highly unlikely, there is a remote possibility that the $4B senior secured revolving credit facility could be affected by the current S&P downgrade to CCC+. This is highly unlikely because the credit facility "is secured by much, but not all, of the company's proved oil and gas reserves." This means that the $4B senior secured revolving credit facility is first in line and there is much less risk to them, especially considering that they would be obtaining Chesapeake's assets at "fire sale" prices. Additionally, there is currently a certain level of optimism in the market regarding crude oil prices, which should work to Chesapeake's advantage in the unlikely event that it is required to seek another source to address short-term liquidity concerns.
Conclusion:
While Chesapeake Energy has long-term solvency issues and is at serious risk of default, Chesapeake Energy appears to have short-term liquidity concerns under control to address liabilities due between now and March 15, 2016. The current pricing of Chesapeake's 3.25% bonds, maturing March 15, 2016, present a great opportunity to boost your portfolio in the distressed debt market with a 37% YTM. With $4B available through its senior secured revolving credit facility, we feel that there is sufficient liquidity for Chesapeake to service its current debt and liabilities.
Disclosure: I am/we are long CHK 03/15/16 BOND "165167CJ4".
I wrote this article myself, and it expresses my own opinions. I am not receiving compensation for it (other than from Seeking Alpha). I have no business relationship with any company whose stock is mentioned in this article.
Additional disclosure: There is risk of loss in any investment and past performance is no guarantee of future results.