JP Energy Partners (NYSE:JPEP) has just declared its distribution corresponding to Q4 2014. The company will keep the payout steady at $0.3250 per unit, or $1.30 per unit annually. At current prices, this comes out to a distribution yield of over 30%. While I was not surprised JP Energy did not lower its distribution, the market seem to be caught off guard, sending shares higher by 10% as of this writing.
Why was the distribution not cut?
Simply put, no one should be surprised that JP Energy was able to maintain its distribution. As I noted in a recent piece, the 2016 guidance calls for the company fully covering its distribution, though with a bit of help from its general partner, ArcLight Energy Partners. JP Energy noted that it expects to see adjusted EBITDA of $50 million-$56 million and Distributable Cash Flow "DCF" of $39 million-$45 million in 2016, both major improvements from 2015 levels. This guidance was also not affected by lower oil prices.
Furthermore, from the partnership agreement, JP Energy is limited in its ability to lower its distribution if its DCF covers the "minimum quarterly distribution," which is set at $1.30 per unit per year. Though, the partnership agreement does give it some discretion in the matter. For example, one of the ways a cut could be justified is for the company to set up a cash reserve to lower debt or fund capex or if the agreement were to be amended.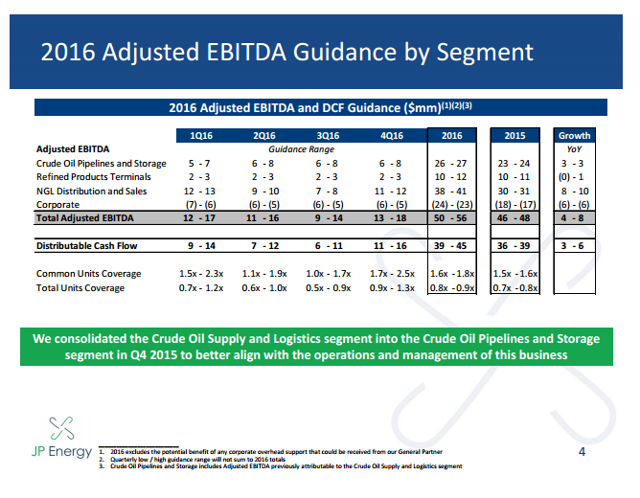 Price suggests market is pricing in a cut
While JP Energy maintained its distribution and has the ability to pay it fully in 2016, I think the company should seriously consider cutting it anyways. The market for anything related to energy is brutal, with a small company like JP Energy getting hit harder than it should. The 30% yield is likely scaring possible investors as they see it as a "red flag."
Furthermore, the distribution could be cut to raise money for capital spending, allowing JP Energy to be almost entirely self-funding. The capital budget for 2016 is slated for $25 million-35 million. A 50% cut would save the company ~$22 million per year, and would fund ~75% of the budget, while greatly limiting the need to access the debt or equity markets.
If a 50% cut were to occur, the yield would drop to 15%, but coverage would improve to nearly 2.0x. Furthermore, debt-EBITDA should stay well below 4.0x and actually closer to 3.5x.
Conclusion
That JP Energy kept the distribution intact is undoubtedly good news. Despite lower oil prices, JP Energy's cash flows remain robust. Though, as noted above, I think a cut should be considered as the distribution is no longer supporting the per unit price.
Disclaimer: The opinions in this article are for informational purposes only and should not be construed as a recommendation to buy or sell the stocks mentioned. Please do your own due diligence before making any investment decision.
Disclosure: I am/we are long JPEP.
I wrote this article myself, and it expresses my own opinions. I am not receiving compensation for it (other than from Seeking Alpha). I have no business relationship with any company whose stock is mentioned in this article.