Over the past month, some of the largest PC and technology manufacturers, Intel (NASDAQ:INTC), Hewlett-Packard (NYSE:HPQ), and Dell (NASDAQ:DELL), have reported both quarterly and yearly reports. In the wake of the explosion of Apple (NASDAQ:AAPL) into the computer sector, these companies that rely extensively on Microsoft (NASDAQ:MSFT) have fallen on harder times. All three of these companies have put forth new strategies to maintain market share and build future growth and profitability.
The times are drastically different than they were only a few years ago, and in order to achieve long-term success, these companies will need strong financials and a market that sees their futures as bright and sustainable. Of these three companies, INTC shows a clear buy over its competitors on a lower valuation, higher cash position, and dividend yield.
The Past Year's Stock Performance: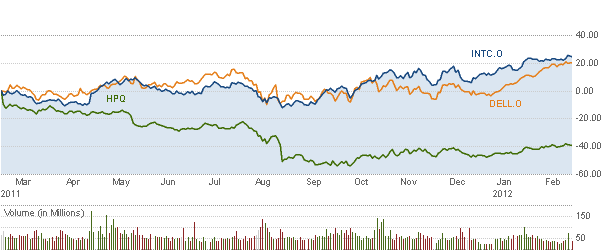 Source: CNBC
Forward Price/Earnings: The PE ratios below do not tell the whole story, because these values do not account for growth. Though INTC has the highest forward PE ratio, it also has the highest growth prospect.
INTC: 10.37
HPQ: 6.54
DELL: 8.93
PEG Ratio: The comparative PEG ratios of these three companies illustrate that INTC is priced according to an accurate PEG ratio. Of the three, it is the only company that has a PEG of less than 1, and that is usually the threshold for a company being "cheap" or "expensive."
INTC: .98
HPQ: 1.55
DELL: 1.72
Cash-Debt: The cash holdings of INTC make it more attractive from both a potential for growth standpoint as well as a dividend standpoint. Having the highest cash on hand, INTC is in a more stable financial position than both HPQ and DELL.
INTC: $7.51 Billion
HPQ: -$22.56 Billion
DELL: $5.77 Billion
Dividend: INTC dividend is very strong, and points to the company rewarding shareholders for their investments. A 3.10% yield is very strong in the tech sector.
INTC: 3.10%
HPQ: 1.60%
DELL: 0%
Previous Earnings Results: The earnings below illustrate that INTC had a strong quarter and that the company saw increases in revenue, operating income, net-income, and EPS. Though gross margin decreased, CEO Intel CEO Paul Otellini states that "he expects China to continue to drive Intel's sales, noting on a conference call with analysts that the country's is now the world's largest PC market." The earnings below illustrate why INTC has the highest PEG ratio of the grouping.
INTC:



Source: INTC Quarterly Report
HPQ: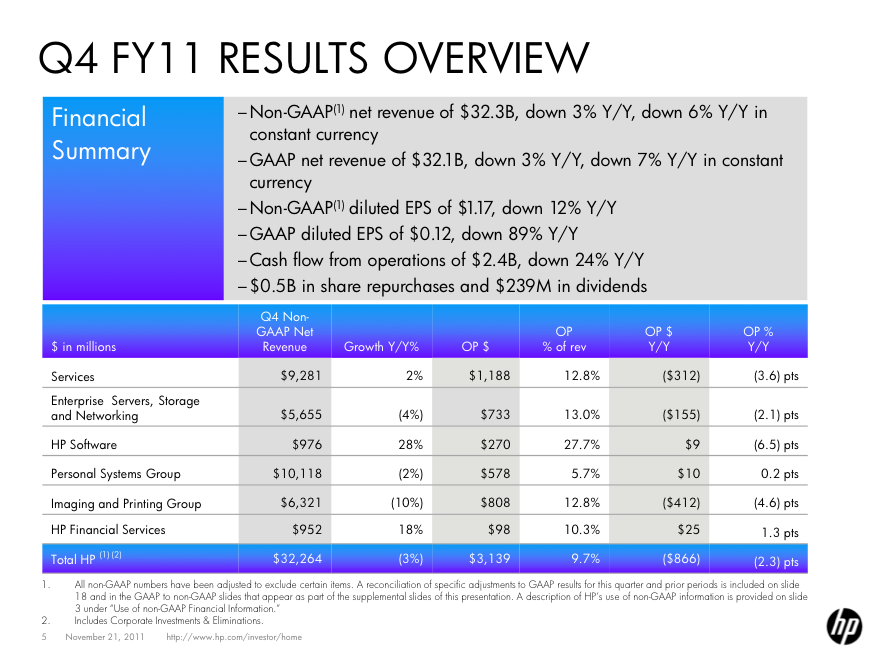 Source: HPQ Quarterly Report
DELL: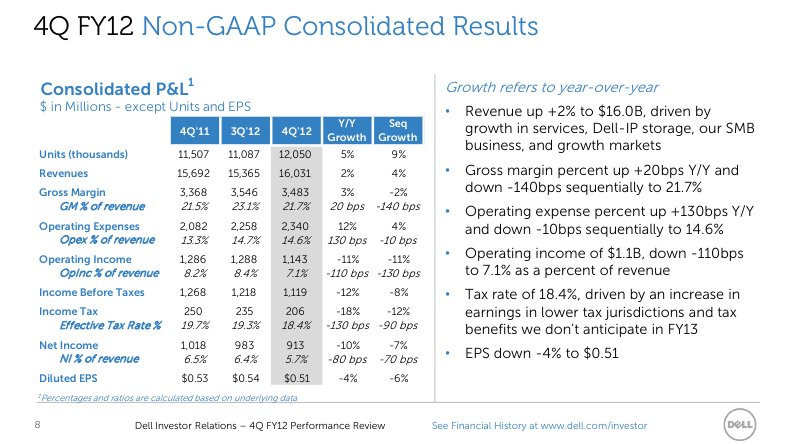 Source: DELL Quarterly Report
The Past Year's Stock Performance: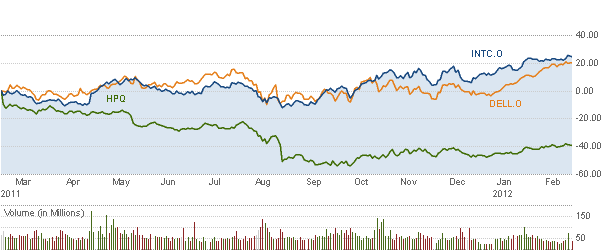 Conclusion: From the data above, it is clear that INTC rises above both DELL and HPQ in nearly every financial metric. In addition to its valuation, INTC offers a stronger and more stable dividend. Investors should take note of these valuations before putting forth an investment in any of these companies.
Disclosure: I have no positions in any stocks mentioned, and no plans to initiate any positions within the next 72 hours.