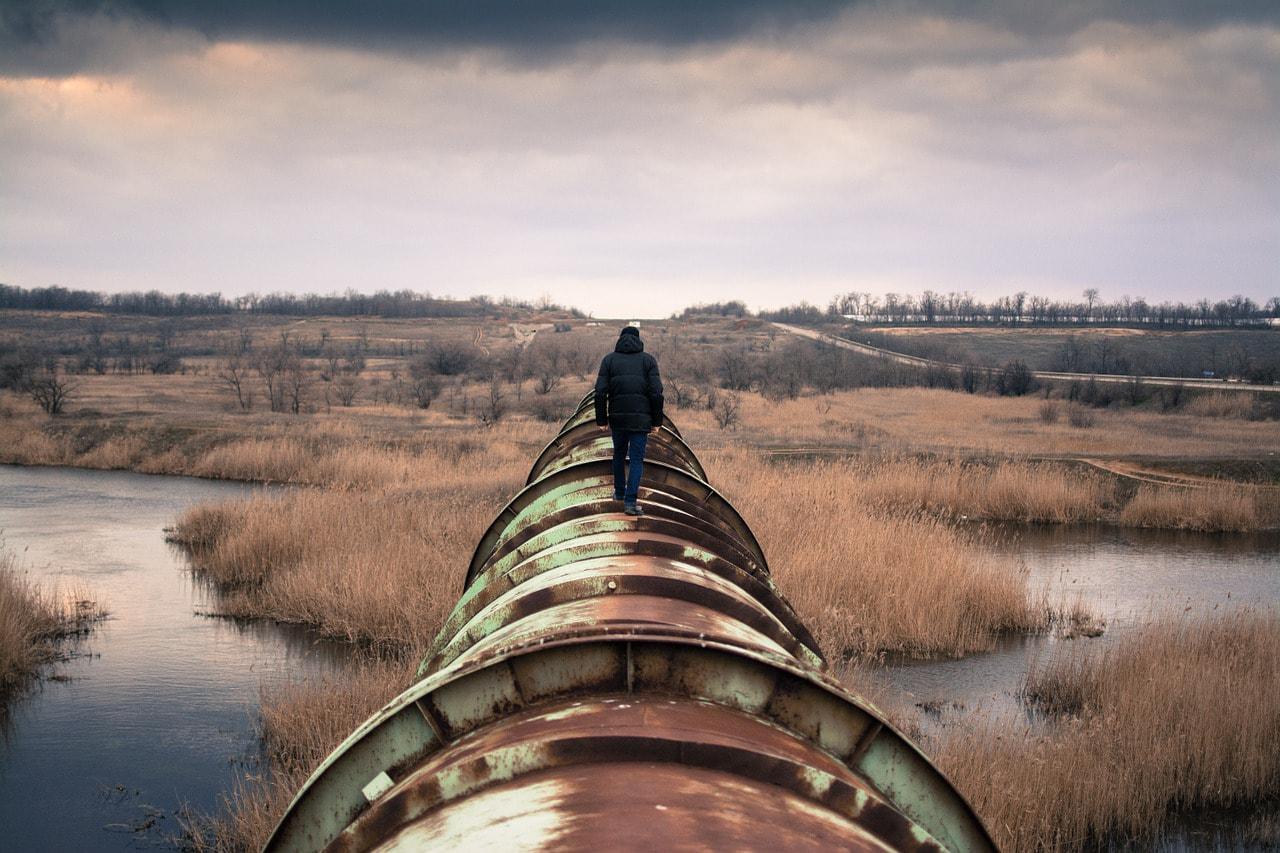 Over the past year the price of oil has done nothing but basically go straight down. This event has created a great deal of turmoil in both the broader commodity markets and energy related equity markets. During a lot of the oil market correction it was widely believed that pipeline companies were somewhat immune to the volatility being felt in the broader oil market and that these companies outsized dividends would help shield investors from all of the pain being felt in a lot of the independent and integrated names.
Unfortunately, as the oil market continued to unravel toward the end of November the market started to become increasingly worried about some of these stocks and their ability to finance not just their dividends, but also their debt. One of the biggest victims of this fear was Kinder Morgan (NYSE:KMI). Shares of the company over the last 3 months have fallen 65%, with 18.50% of that coming in just this past month. To add to the pain Moody's put the stock on a potential downgrade watch back in December forcing the board to slash its dividend by 75% in order to maintain its positive debt rating and cash flow. With shares now trading at around $13 per share down from their highs of $45, the big question investors are asking themselves is if now is the time to begin taking a longer term, value oriented look at Kinder Morgan?
Debt Story
The bottom line on the debt story is that there is just a lot of it out there. In total Kinder Morgan has $41.6 billion in total longer term debt outstanding. I think one of the biggest challenges that management faces in the coming years is finding ways to service this debt while still creating shareholder value. Richard Kinder (Kinder Morgan's Founder/Chairman) originally wanted to simply increase the quarterly dividend by 10% annually through a means of equity offerings as a means to reward shareholders, but given the amount of debt, current oil price, and general market uncertainty this approach obviously failed.
I feel like up until late the debt story of this company was not being told, and it needs to be. Like it or not, the creditors in this company are going to drive the stock price. The reason I say that is that management has maintained the position that they want to keep the company's Investment Grade rating on all of their debt. Unfortunately all three credit agencies (Moody's, S&P, and Fitch) all have the debt rated as BBB-. This is the lowest possible grade that debt can receive before moving into High Yield (junk status). Because of that, the company's flexibility in trying to appease equity holders over that of its creditors simply is not going to happen, at least until they can get better control of their debt situation.
That is the bad news for equity holders. The good news is that the debt has a long life span to almost 12 years. See the chart below for a breakout of the interest and maturity payments due over the next 4 years.
| | | | |
| --- | --- | --- | --- |
| Year | Maturity | Est. Interest | Total Payment |
| 2016 | $1.67 B | $2 B | $3.67 B |
| 2017 | $3.04 B | $2 B | $5.04 B |
| 2018 | $2.31 B | $2 B | $4.31 B |
| 2019 | $2.80 B | $2 B | $3.80 B |
Any way you look at it that's a lot of debt to pay down. For a company that generates around $14.5 billion in revenue and EBIDTA of $6.43 billion, it is easy to see that for the foreseeable future the creditors are in charge of this stock. The one positive and option that Kinder Morgan does have is that it has a $3.5 billion credit revolver at its disposal that it could use if it really got in a jam.
Free Cash Flow & CapEx
Now, as much as the debt story might make you complete shelve the idea of owning shares in Kinder Morgan. I think it is important to also look at the potential growth and free cash flow generation that this company could create in the coming years. Kinder Morgan currently is on pace to generate $5 billion in cash flow this year. This represents an increase of 8% over what it did last year in 2015. This is primarily due to 86% of Kinder Morgan's business being fee based on longer term contracts.
Additionally, from a growth standpoint the company has $21.3 billion in expansion projects over the next 4 years which should help cash flows continue to increase and service the debt and increase the company's book value.

On the conference call that followed the company's dividend cut back in December management discussed that they planned to generate over $5 billion in DCF for 2016. Of that $5 billion they planned to spend $150 million on preferred dividends, $1.1 billion of it on the new $0.52 dividend, and $3.8 billion to fund the majority of its $4.2 billion in CapEx for the year. Keep in mind that prior to the dividend cut the company was spending $4.4 billion instead of $1.1 billion on dividends each year and then trying to also finance its CapEx spend of $4.2 billion, simply not sustainable.
Management expects its DCF to grow between 6% - 10% annually for the next five years. If that does indeed hold to be true in the next five years investors could expect Kinder Morgan's DCF to be close to $7.5 billion. That would be a 50% increase from the current $5 billion that the company is anticipating for 2016.
With so much focus on DCF the company is encouraging investors and the street to begin valuing the stock on its DCF growth verses that of more traditional metrics like P/E ratios or EPS growth. Management is currently forecasting $2.21 per share of DCF for 2016, which would generate a multiple of 5.88 based on the latest closing price of $13 per share. The average market DCF multiple is closer to 10 which would put fair value of the stock in the $21 range. That is a 61.5% increase from its current price of $13 per share.
Using that same logic and assuming that the company will not issue more stock in the next five years (which is a big if), but given the company's new found method of funding CapEx with cash flow it is reasonable to think that it is possible. If DCF is actually able to grow to $7.5 billion in the next five years and applying a 10x multiple fair value for the stock could be in the range of $36.50 per share or $3.65 in DCF per share. That would represent a 180% increase in value from current market prices.
Dividend
I will be the first to say that I was happy that the company cut its dividend and feel that the current payout is a much more realist and manageable payout. Currently the $0.52 per share annual dividend is yielding 4%. This is just another compelling reason to begin getting long Kinder Morgan at these prices. This new payout rate allows the company to responsibly grow its backlog, manage CapEx, and service debt in a much more realistic way. I have no doubt that management will look at continuing to raise the dividend, but I don't believe that they will do it unless cash flow can adequately afford any raise that may come. I think a responsible increase would be increasing it in the 3% - 5% range annually. This would put the current $0.52 per share rate in five years at $0.64 per share, or 5% based on the current share price.
I know for income investors that were used to outsized payouts coming from this stock this is a huge set back, but I think Kinder Morgan is going through a bit of a transformation in its ideal target investor, and is moving more toward being a value/growth stock instead of its traditional income oriented investor. Honestly, I don't think that is all that bad. Kinder Morgan's business is rapidly growing and growth is almost always capital intensive, so it really does not make sense for the company to be paying out such a large dividend while also trying to grow its business.
Kinder Morgan compared to its peers is very much undervalued, especially if we are using DCF as the metric of comparability to its peers. Over the next five years if Kinder Morgan is indeed able to grow its DCF at the pace it projects while servicing its debt load it could have significant upside in the next five years. Factoring in the current yield of 4% and its more responsible stance in how it plans to manage its balance sheet I think Kinder Morgan looks to be an excellent value at its current price.
Disclosure: I am/we are long KMI.
I wrote this article myself, and it expresses my own opinions. I am not receiving compensation for it (other than from Seeking Alpha). I have no business relationship with any company whose stock is mentioned in this article.