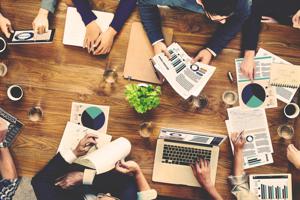 The teeming financial advisor-oriented media is about to change forever. One might think that this highly populated space - some might suggest overpopulated - is in need of no new additions.
But that is not so at all. Because while advisors are bombarded with information from all corners of the professional media - who tell you what they think you want to know - they lack ready access to a unique form of wisdom that defines our times: the wisdom of their fellow advisors.
In an age in which social media has become dominant, digital platforms offer the opportunity to mine "the wisdom of crowds" for insights. While the traditional advisor media is busy talking at advisors, where can advisors talk amongst themselves?
Seeking Alpha will now provide that forum. The famed social platform for investor insights has already demonstrated the edge it offers by providing a meeting place for equity analysts. A study by the highly respected and peer-reviewed "Review of Financial Studies" (RFS) found that crowd-sourced Seeking Alpha contributors beat the Street (i.e., professional sell-side analysts) by predicting stock returns and earnings surprises over all time periods studied.
The academic journal arrestingly concluded that "social-media outlets specializing in financial markets may eventually mirror the development of other 'bottom-up knowledge generators' such as Wikipedia and the way they have changed how information is produced, evaluated, and disseminated."
In other words, just as social media has upended traditional media in the equities space, so too does Seeking Alpha's new Advisor Center promise a revolution in advisor insight. The new forum's motto puts the matter succinctly: "for advisors, by advisors."
One means by which Seeking Alpha will accomplish this revolution is through its sheer size. Seeking Alpha is much larger than the current crop of financial advisor sites, and right off the bat, before any actions are taken to build out the new Advisor Center, the site's 5.5 million registered users already include 155,000 self-identified advisors, of whom nearly a thousand are already contributing to the site's content out of a contributor pool exceeding 12,000.
Nor does it hurt that financial advisors will cohabit a site whose base audience of analysts and investors have an average household net worth of close to $2 million, and whose financial investments total north of $1 million on average. In short order, Seeking Alpha will add features including "Advisors I Follow" and "Find An Advisor." The tools are designed to enhance advisor networking but are likely to have the added benefit of increasing the advisor's visibility to prospective investors as well.
Surely many of the site's current participants (95.5% of whom say they are saving for retirement) will want to closely follow the financial advisors whose perspectives they most admire. Even, perhaps especially, professional traders active on the site would welcome the professional oversight of a competent FA.
As one former Goldman Sachs research analyst (and current Seeking Alpha contributor) confided to this author (I paraphrase): "I know how to pick winning stocks, but never had a knack for knowing how to manage a portfolio, which involves a different kind of discipline." That's precisely the kind of discipline that FAs offer their clients.
Finally, in an age in which remuneration for web content is typically zero, Seeking Alpha is offering financial advisor contributors a share in revenue for content they provide exclusively to the site. The highly social model is meant to encourage contributors who can build a large following. To that end, Seeking Alpha will pay advisors $35 plus $10 for every 1,000 page views.
Seeking Alpha will not pay for non-exclusive content but will offer advisors posting elsewhere wide distribution to its enormous readership through an RSS feed from the advisor's blog. For advisors weary of maintaining their own blog, posting all their content on Seeking Alpha could be a shrewd way to maximize their audience and minimize the bother since they can direct clients and prospects to a home page that Seeking Alpha maintains for them.
We expect to put up advisor registration and advisor contribution links in the coming weeks, so please check back at the site or send an e-mail to gil@seekingalpha.com.
But whether as a contributor or a reader - and preferably both - Seeking Alpha will now offer advisors the web's largest and most active forum for and by advisors on the topics that interest them most: building their business, advancing their careers and staying abreast of technological and regulatory changes, managing client portfolios and planning their retirement, and more.
Until now, advisors depended on journalists to provide their take on that information. Starting now, they can deepen their knowledge in all these areas through the unique wisdom of advisors.
Disclosure: I/we have no positions in any stocks mentioned, and no plans to initiate any positions within the next 72 hours.
I wrote this article myself, and it expresses my own opinions. I am not receiving compensation for it (other than from Seeking Alpha). I have no business relationship with any company whose stock is mentioned in this article.