As I am sure everyone is aware, nothing goes up in a straight line, not even a rocket, and with the tremendous blast off the market has experienced since the start of 2012, we could see a period of consolidation near term.
The Dow (NYSEARCA:DIA) has reached its highest level since 2008, touching the 13,000 mark Tuesday, and all three indices are at multi-year highs after a record breaking performance. This combination of extreme bullish sentiment and overdone momentum has only occurred three times in the last 15 years on March of 2000, October 2007 and May of 2011, according to Walter Zimmermann of United-ICAP. I think we will have a pullback soon as well. Transportation stocks are a red flag. Dow theorists are speculating the four-month market rally is nearing its end due to transport's performance.
The Dow transport index is considered a key confirmation point in Dow Theory. The Dow transport index has rolled over in February and reached a triple-top that could signal an extended sell-off is in the making. Higher energy prices have pressured the transports, which had fallen 3.7% since Feb. 3 before rallying Thursday.
Nevertheless, strong U.S. jobs reports coupled with the momentum of a quarter long rally could ignite the immense amount of cash held by retail investors on the sidelines to pour into the market, causing a tidal flow of buying, pushing stocks higher in the long run. Bernanke's Fed policy of extending low rates for the next two years has made the stock market the most attractive place to find yield, if not the only place. Although Greece's troubles haven't been put to bed and they will be a topic of discussion in the coming week when they will attempt to finally resolve their issues with creditors, many are saying that a hard default by Greece would not have much of an effect on global markets anyway.
That being said, I have culled five stocks from the S&P 500 that meet a strict set of fundamental criteria that have provided winners for me in the past. The stocks must be S&P 500 large caps or better, have above industry average profit margins, below industry average forward P/E ratios, returns on equity of greater than or equal to 20%, have S&P STAR Ratings of 4 or better and dividend yields greater than or equal to 2.5. Only five stocks made the cut. Please review the following three tables with summary, fundamental and earnings information follow by a chart and brief analysis of each company.
Summary Statistics (Click to enlarge images)

Fundamental Statistics

Earnings and Dividend Statistics

Automatic Data Processing, Inc. (NASDAQ:ADP)
Automatic Data Processing is up 17% over the last quarter, rising from $47 to $54 per share. ADP is a market leader executing solidly on its key business metrics. ADP's business model is focused on enhancing market leadership by continued investment in product innovation. ADP management has reiterated 2012 guidance despite the fact that continued low interest rates will further pressure margins and earnings throughout the remainder of the fiscal year. ADP has a strong management team and is the market leader in their industry. With recent international acquisitions, ADP is well positioned to overcome market pressures and perform well.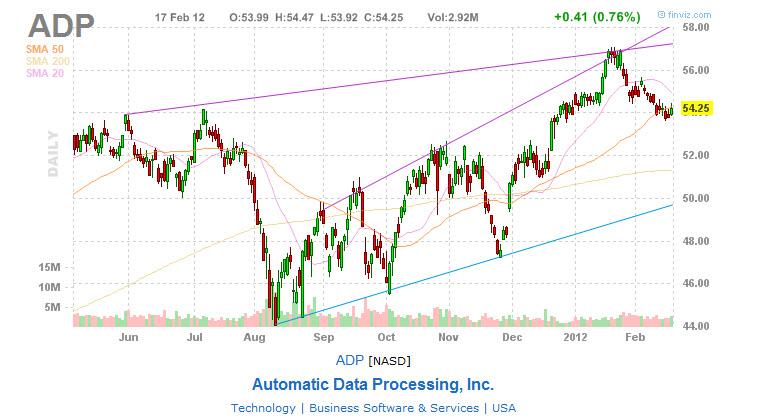 Microsoft Corporation (NASDAQ:MSFT)
Microsoft has broken out of its long-term trading range recently. Microsoft has a P/E ratio of 10 but may demand a ratio of 15 if its recent foray into the cloud and phone markets comes to fruition. With a massive cash hoard and cash cow product lines in place to reduce risk, this could be an ideal time to start a position. Major product catalysts on the horizon for Microsoft which may drive P/E expansion are Windows 8, Office 365 and Nokia (NYSE:NOK) WP7 phones. Microsoft may have finally pulled it off and shirked its "dead money" status. I'm a believer.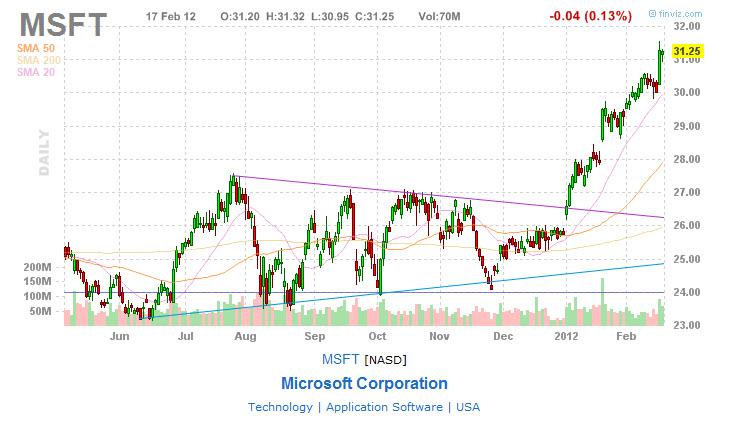 Vale (NYSE:VALE)
Vale had a strong performance in 2011 reflected by all-time high figures for operating revenues (U.S.$60.4 billion), operating income (U.S. $30.1 billion), operating margin (48.5%), cash generation (U.S. $35.3 billion) and net earnings (U.S. $22.9 billion). Shipments of iron ore and pellets peaked, while nickel and copper sales posted their best year since 2008. Despite recent iron ore pricing weakness and supply chain complications, Vale announced an upcoming dividend distribution of $6 billion. Moreover, steel production demands may improve with the recent performance of the auto industry responsible for 66% of steel demand. Based on current EPS projections, I see at least 20% upside in this stock if the global markets cooperate over the next 12 months.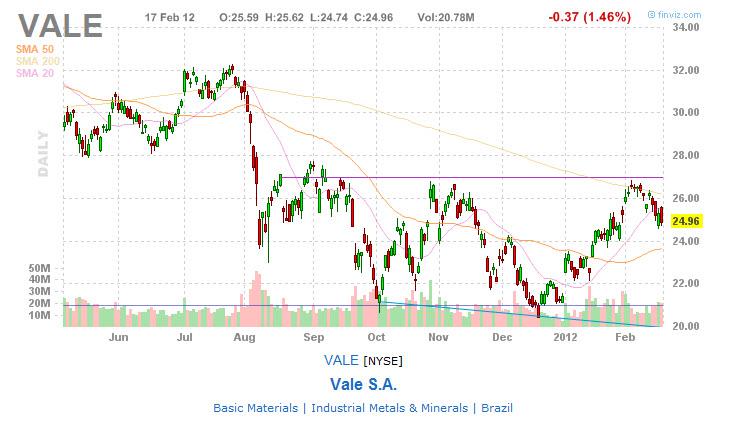 Posco (NYSE:PKX)
Posco's future is highly dependent on China. As China goes, so goes Posco. The Chinese government recently decided to lower reserve requirements paving the way for future growth. China is a key destination for many Asian exporters, and Saturday's policy statement was expected to boost lending and help shore up economic growth.
Mark Williams, chief Asia economist at Capital Economics states:
"The PBOC may still be concerned about inflation, but the last thing it wants is to be blamed for keeping policy too tight and causing growth to slow unnecessarily in a leadership-transition year when China still faces the threats of a global slowdown and a property-sector downturn at home."
PKX has been weak based on the lasting macroeconomic issues as of late, but with China taking the necessary steps to coddle economic growth, I see PKX regaining past glory and currently provides an excellent buying opportunity for investors.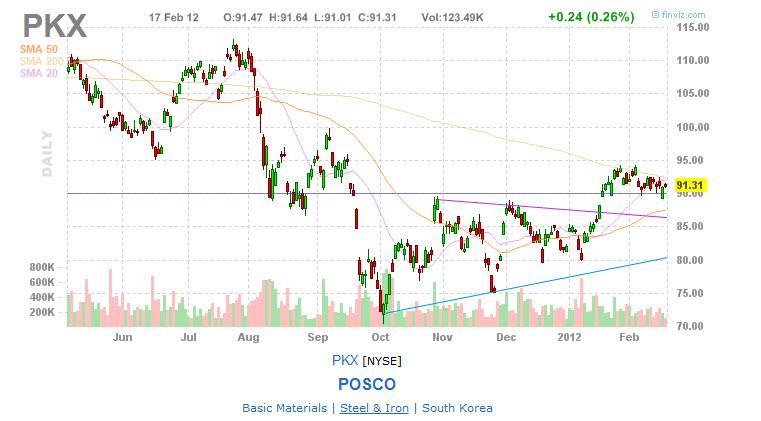 General Mills, Inc. (NYSE:GIS)
General Mills is a solid blue chip company. General Mills has a strong balance sheet. As a market leader in its industry, General Mills plans to significantly enhance earnings growth going forward by launching 50 new products in the second half of fiscal 2012. Ad spending will be boosted as well. Couple these developments with lower commodity costs and you have a recipe for profits. General Mills has a strong management team I believe will execute the launch of these products. The organic growth in sales and profits from these endeavors will demand a higher multiple and share price.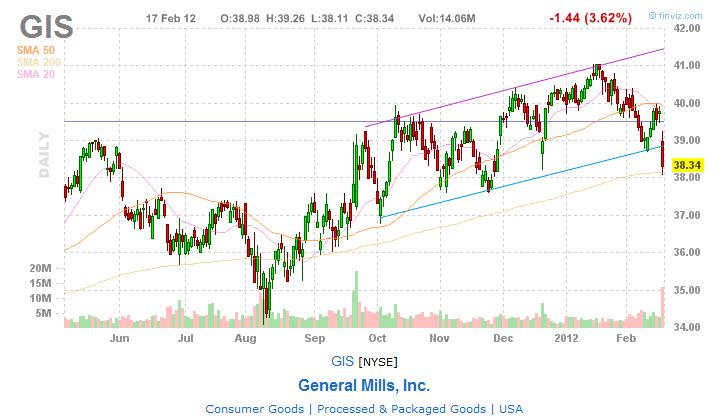 Conclusion
The market is due for a correction near term technically. Nevertheless, I see the market churning higher by year's end with these stocks leading the way. Put these five stocks on your watch list; perform your own due diligence and decide for yourself whether to start a position or not based on your own investment criteria and risk tolerance. This article is for information purposes only.
Disclosure: I have no positions in any stocks mentioned, but may initiate a long position in MSFT, VALE, GIS, PKX, ADP over the next 72 hours.