Shake Shack (NYSE:SHAK) has come a long way from its start as a solitary hot dog cart in Madison Square Park. In 2004 it opened its first permanent kiosk in the Park and today has grown to 74 stores throughout the world.
As we near the one-year anniversary of the company's listing on the New York Stock Exchange the shares can be found trading around 27% lower than that opening day close price on January 30 2015. Not great for those that bought in that day, though not nearly as bad as anyone unlucky enough to have bought in at its 52-week high of $96.75. Those unlucky souls would be down a scary 65.5% today.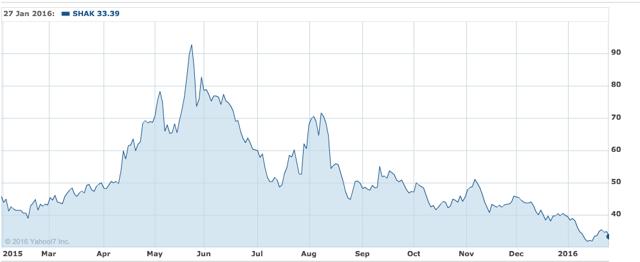 Source: Yahoo Finance
The recent sell-off that has taken it within $3.39 of its 52-week low stems from the success of McDonald's (NYSE:MCD) most recent quarter, where it beat analyst expectations. Also, its U.S. comparable sales increased by 5.7% in the latest quarter marking its best quarter in around four years and helping full year comparable sales grow by 50 basis points.
This may have spooked investors who fear Shake Shack may have lost some market share to McDonald's. In an age where health and well-being takes a stronger and stronger focus, you might expect Shake Shack to be stealing market share away from McDonald's, and not the other way around. After all Shake Shack prides itself on its antibiotic-free burgers and low fat food, whereas McDonald's, as much as it tries to offer healthy alternatives, has unhealthy foods at its core.
So is this an overreaction or should we be worried? Well, with the low oil price causing gasoline prices to be at incredibly low levels, consumers are reportedly spending approximately 20% of these savings on eating out. This to us is an indication that there is plenty of spending to go around, and the McDonald's results shouldn't be an immediate concern for Shake Shack investors. In our opinion we still feel that a consumer is much more likely to switch from McDonald's to Shake Shack than the other way around. Eating healthily feels good and the positive effects felt should go some way to helping deter consumers from going back to junk food, so to speak.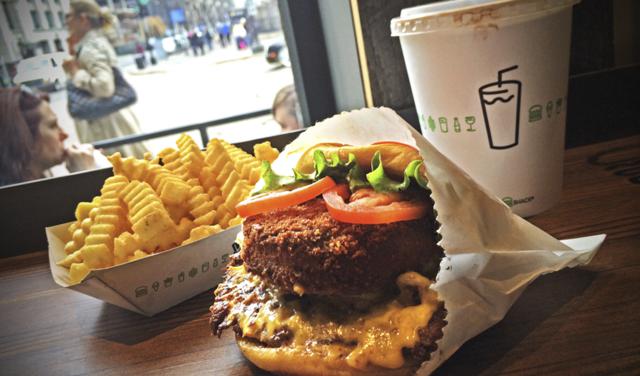 Source: Reservations for Damon Richard
We were pleased with a recent bit of press its vegetarian option the 'shroom burger received recently, with it being referred to as being as good as a meat burger. In a meat-dominated industry having a vegetarian option that is on a par with the regular offerings is a real game-changer for us. 5% of Americans were reportedly vegetarians in 2014, and that figure is expected to have increased since then.
In its last quarter the company reported a comparable stores sales increase of 8%. This shows just how much demand there is for the Shake Shack's offerings. This fills us with a lot of confidence when we consider the long-term plans the company has to reach 450 stores domestically from the 43 it had operating at the end of the most recent quarter.
It may be a long road to 450 stores though, considering it plans to open 14 stores next year, but we firmly believe it can achieve it despite operating in such a competitive industry. One store that is opening soon is its first foray into the Los Angeles market. It should be opening in West Hollywood within the next two months, and then has openings planned in Glendale and downtown L.A. We believe that success here will be viewed very highly by the market, and could bring the bulls back on board.
Internationally things could grow much, much quicker. It also comes with low levels of risk for the company which makes it very attractive. The company licenses locations around the world for a licensee to operate in, and receives a percentage of sales on an ongoing basis. We feel the business has great international prospects and could exhibit similar levels of popularity all over the world.
It is for this reason we are long with Shake Shack. There may be considerable ups and downs along the way, but at this price the shares just seem too good to turn down. The store network should grow by tenfold in the next decade, and internationally expansion is just beginning.
According to Nasdaq the consensus twelve-month price target for Shake Shack is $45.00, which equates to a massive return of 33% from the last close price of $33.39. Whether or not it gets there within this time period is a matter of debate, but for us we have a much longer term view on the stock. We believe this is still an early chapter in the company's story, and expect much greater returns over the next few years.
Disclosure: I am/we are long SHAK.
I wrote this article myself, and it expresses my own opinions. I am not receiving compensation for it (other than from Seeking Alpha). I have no business relationship with any company whose stock is mentioned in this article.