The economic miracle in the Middle Kingdom is finally slowing down. This time has been long awaited, well documented, and feared for some time now. It started last year when housing prices really started falling across the country, now unfinished projects abound even in first tier cities like Beijing. This slowdown has left Chinese real estate developers with extra inventory, lots of cash, and a pressing need for new growth strategies.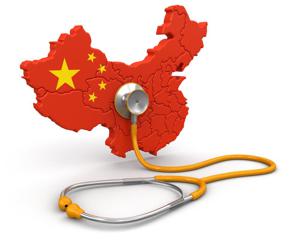 One such company, Tai Hot Investment Company, a subsidiary of Tai Hang Real Estate Development Co, has a radical new strategy for the Chinese market and it includes Alliance Healthcare Services, Inc. (NASDAQ: AIQ). Tai Hot has been in negotiations concerning the purchase of 51.5% of AIQ's outstanding shares from AIQ executives and Oaktree Capital Management. After a recent visit to Allied headquarters by Tai Hot executives, the two parties seem to have reached a final agreement on the purchase and the parties have given themselves until February 29, 2016 to complete the share purchase.
AIQ's Recent Challenges
AIQ is a provider of healthcare services, specializing in radiology and radiation oncology. The company over the past three years has been facing some strong headwinds, with revenues down 7.6% from 2012-2014. However, 2014 saw the company realize its only positive net income during the period, around $10.6 million. This turn around was inspired by effective cost-cutting strategies that cut between $14 and $33 million in miscellaneous expenses in 2013 and 2012, respectively.
In terms of revenue and profitability, the company has been able to maintain a gross profit margin near 46% while the company has experienced lower revenues over the past few years. But falling revenues have led to negative cash flow while the company has maintained a gearing ratio near 1.3. From the company's financial statements, it is clear that AIQ needs a new growth strategy, and the strategic share purchase by Tai Hot looks to be just what the doctor ordered.
China's Looming Cancer Crisis
Tai Hot's intention to buy a controlling stake in AIQ has provided the company with an excellent opportunity in the face of growing competition in the US and stifling growth. Tai Hot plans to leverage Alliance's years of experience in managing cancer therapy centers by creating new oncology centers throughout China, refurbishing Tai Hot's existing projects and leveraging their extensive partnerships throughout China.
This acquisition represents one of the best things to happen to AIQ in some time, and will open a massive new market, giving the company a much needed source of new revenue starting within the next year or two. China's aging population has been of growing concern to the governing elite and China watchers everywhere. The country's current healthcare system just isn't equipped to handle the vast number of cases they will face in the near future.
To further understand the opportunity for AIQ we must consider China's love affair with smoking, where it has been estimated that roughly two-thirds of young men smoke and the country could see as many as 3 million smoking deaths a year by 2050 as a result. We can't forget the decades of pollution that the population has been exposed to as well. Then when we add the other known carcinogens that the country has been consuming at eye-popping rates, it's no secret that the country has a massive need for cancer treatment services. And this need is urgent.
The Opportunity
Currently, AIQ is one of the few American healthcare companies that is under M&A negotiations with a Chinese firm, although Tai Hot is keen to diversify its holdings and has other purchases planned in the sector. For investors in the healthcare service industry, 2016 looks to be a good year as strategic partnerships and M&A activity in this area should be plentiful.
For AIQ, the opportunity rests in how low the stock is trading compared to its historical averages. As I mentioned previously, the company has been under pressure from increasing competition in the sector, falling operating margins, and over leverage. These factors have been a large reason for the significant drop in stock price over the past few years.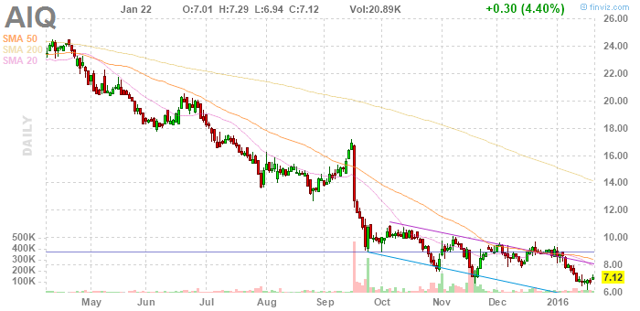 (Source: Finviz.com)
In addition to the injection of cash from the proposed acquisition, it has been rumored that Tai Hot has also negotiated a deal with AIQ's creditors to reduce the company's level of debt, as well as potentially lowering the interest due. The new major stakeholder seems keen to bring financial health and prosperity to the company.
These fundamental changes to AIQ's core business suggest that this stock is set to take off in the near future as analysts and traders price the company's future earnings potential into the stock. If the stock purchase happens, AIQ could regain the $20-24 range it was in last year, tripling its current price. There's no guarantee that Tai Hot will finish the deal, or that the structure of the final deal won't change. But there is a strong possibility that Tai Hot and AIQ will come to some kind of strategic agreement. And any such agreement with Tai Hot seems likely to deliver struggling AIQ a second breath and years of future growth.
Disclosure: I/we have no positions in any stocks mentioned, and no plans to initiate any positions within the next 72 hours.
I wrote this article myself, and it expresses my own opinions. I am not receiving compensation for it (other than from Seeking Alpha). I have no business relationship with any company whose stock is mentioned in this article.
Editor's Note: This article covers one or more stocks trading at less than $1 per share and/or with less than a $100 million market cap. Please be aware of the risks associated with these stocks.