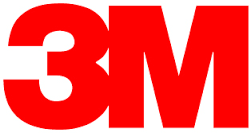 Industrial conglomerate 3M (NYSE:MMM) has been one of my favorite large cap bearish positions for some time. The company's complete lack of growth combined with a very strong dollar headwind has produced a compelling reason to be short the stock in the last year or so. That position has worked out nicely as 3M had a rough 2015 with shares falling from ~$160 to ~$140. But 2016 has started with a bang as Q4 earnings were strong indeed and shares flew higher as a result. With 3M beaten down following a rough 2015 and Q4 earnings sparking some excitement, is it finally time to move on from my bearishness?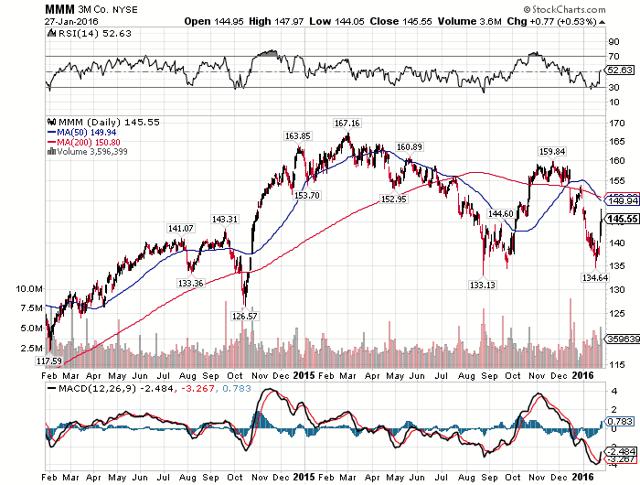 3M, like most any other multinational, posted negative revenue growth in Q4. The reason is simple; the strong dollar continues to pound revenue results at companies that get at least some of their revenue from outside the US. And as you'd expect, the more revenue that comes from abroad, the worse it is. Sales during Q4 declined 5.4% as net acquisitions added 1.5% but the good news ended there. Organic sales were down 1.1% - something MMM has continued to struggle with - and the strong dollar removed another 5.8% from the company's sales total. This is what I've been saying for about a year now; MMM's growth would be anemic or nonexistent in a favorable dollar environment. When the strong dollar is included, MMM has zero hope of achieving even flat sales numbers anytime soon. The company's organic growth continues to disappoint and when the dollar is such a huge headwind, that's a big problem.
And not only is the big picture ugly for 3M, but it doesn't even have any small victories to celebrate. Every single major segment in the business produced negative revenue growth during Q4. That is rough and it speaks to the broad-based issues with volume that 3M has had for some time. This, combined with the strong dollar, will continue to produce weakness in 3M's ability to grow earnings. Bulls will certainly point to organic sales numbers coming in positive but organic numbers don't matter; the only thing that matters is what is reported and those numbers are awful for 3M.
3M was kind enough to release some guidance for 2016 and what it said was that was organic local currency sales are expected to come in at 1% to 3% and that EPS should be $8.10 to $8.45. I find those numbers interesting in the context of what analysts have forecast for 3M this year. They've got 3M at basically flat sales for 2016 but in light of the Fed being the only major central bank in the world that is tightening at the moment, I think that assumption is too bullish. Forex reduced 3M's sales by 6.8% for 2015 and that kind of reduction is certainly possible in 2016 as well. The Fed has just begun its cycle of tightening and as other major central banks are promising more QE, the upcycle for the dollar is surely just getting underway. But even if I'm wrong about a big move in the dollar, it is certainly possible that we see at least a muted move up as the Fed makes good on its promises and that is very bad news for 3M. With organic local currency sales growth of 2%, I think 3M would ultimately see total sales growth of negative 3% or thereabout once a moderate amount of sales growth is added for net acquisitions. That is a lot worse than flat so I think the bias for sales estimates in 2016 for 3M is clearly to the downside, not the other way around.
On the capital return front, 3M's 3% yield is certainly nice. However, the recent sell-off in the broader market has left many more stocks that didn't used to yield 3% with such a payout so the appeal of 3M's yield has diminished somewhat. That being said, many investors will find a 3% yield very attractive and I get that so I'm not trying to downplay its importance, just saying that investors buying the stock solely for the yield have more options now than they did a few months ago.
In terms of buybacks, 3M made $5.2 billion of share repurchases in 2015 and while I love a good buyback, the results for 3M aren't exactly spectacular. Last year I profiled 3M's buyback efforts and the results were disappointing. Yes, 3M spends a lot of money buying back stock but it also issues a lot of stock as well, greatly diminishing the impact of the capital spent. Indeed, the weighted average diluted share count in Q4 2014 compared to Q4 2015 dropped by 25.5 million, a reduction of 3.9%. That's a nice decline but 25.5 million shares would only be worth $3.7 billion today. The difference is in the amount of new shares issued as compensation and in loss of value of the stock. The point is that 3M spends a lot on buybacks but its effectiveness is hampered by the company's serial dilution practices and that isn't going to change.
3M's guidance for 2016 doesn't sync up with what analysts are expecting and that leaves the door open for some negative earnings surprises in 2016. In particular, I'm not worried as much about the business' ability to hit 2% organic sales growth, I'm worried that analysts are failing to take into account the strong dollar's impact. We've seen the kind of damage forex translations can do to a multinationals' income statement and given where we are in the Fed's cycle, I think it will only get worse before it gets better. And with 3M's organic growth so weak in recent quarters, I think even expecting it to hit 2% in 2016 is a lot to ask. The buyback will help boost EPS but dilution will waste a lot of capital once again in 2016. With the stock having rolled over already an in a clear downtrend, I think shorting 3M here on the post-earnings spike is the way to go. There are far too many headwinds for growth and far too much optimism that those headwinds aren't a big deal and thus, I think the stock is going lower still in 2016 as reality sets in.
Disclosure: I/we have no positions in any stocks mentioned, but may initiate a short position in MMM over the next 72 hours.
I wrote this article myself, and it expresses my own opinions. I am not receiving compensation for it (other than from Seeking Alpha). I have no business relationship with any company whose stock is mentioned in this article.