In the past, I've written articles on Linn Energy (NASDAQ:LINE) / LinnCo (NASDAQ:LNCO), Breitburn Energy Partners (NASDAQ:BBEP), Mid-Con Energy (NASDAQ:MCEP), and Memorial Production Partners (NASDAQ:MEMP) in an attempt to figure out whether or not they made for sensible investment prospects. However, I never did conduct an analysis to see what the break-even for each of these companies is from a cash flow perspective so I figured that now might be an appropriate time to do just that. In what follows, I used the most recently-available guidance data provided by the management teams at each of these four businesses to look at their break-even points for each year between 2016 and 2019.
Disclosure
The analysis included in this piece relating each individual company is not meant to imply that any one entity can or will survive under the breakeven prices discovered. Given credit facility redeterminations, loan covenants, etc..., it's possible that matters could get very bad for each business in question if the breakeven target for oil is met or even exceeded. For a better understanding of my thoughts on these companies, please look at my most recent pieces on Linn, Breitburn, Mid-Con, and Memorial Production Partners.
Linn Energy
In the table below, you can see what the situation looks like for Linn from a breakeven standpoint over the next four years under three different scenarios; one where natural gas averages $2.00 per Mcf, one where it averages $2.50 per Mcf, and another where natural gas averages $3.00 per Mcf. Although natural gas could average above or below these levels, I feel this is probably a realistic expectation for the next few years.

According to my analysis, it appears as though it doesn't really matter what oil prices average on a per-barrel basis this year but, in order for the company to breakeven next year, prices have to range from between $42.47 per barrel and $43.21 per barrel. Although this is meaningfully higher than current prices, it's highly probable that we should see this level of price, if not higher, this time next year. As hedges continue to roll off, 2018 will demand much higher oil prices while 2019 may require prices to hit as high as $73.27 per barrel if management cannot cut down on costs.
Breitburn
To some extent, Breitburn is both better off and worse off from a breakeven standpoint than Linn is. In the table below, you can see that Breitburn would require, under our scenarios, a minimum price of $7.03 per barrel this year to, perhaps, $9.58 per barrel if natural gas prices average only $2.00 per Mcf if it were to see a breakeven point. Of course, like Linn, the situation does worsen as time progresses.

In 2017, for instance, Breitburn would need to see oil prices range between $47.76 per barrel and $50.51 per barrel to breakeven. Due to differences in hedging and cost structure, Breitburn's breakeven is higher here than Linn's but, starting in 2018 and spreading into 2019, the company's superior cost structure, when compared to its peer's, means that its breakeven point is lower than Linn's when natural gas prices are at both $2.00 per Mcf and $2.50.
Mid-Con
Like Linn, Mid-Con also breaks even during 2016 no matter what oil prices are but, also like its peer, this doesn't extend into 2017 or beyond. In the table below, you can see that the company needs a price of between $30.50 and $31.21 per barrel in 2017 in order to be cash flow neutral. In both 2017 and 2018, this range increases to between $42.81 per barrel and $43.19, where it will stay in perpetuity if management can keep the company's cost structure unchanged.

Interestingly, this implies that the business has the lowest breakeven point of any of its peers that I'm looking at in this piece. Although some of Mid-Con's cost items are fairly high, especially lease operating costs, the business benefits from an extremely low interest expense, which should average about $7.65 million per year moving forward. This stands in stark contrast to both Linn and Breitburn, each of whom have hefty debt loads on hand.
Memorial Production
The last company I'm looking at is Memorial Production. This business deserves a little special commentary because, despite this major energy downturn, management was able to engage in some M&A activities late last year. Even though many players in this space are currently attempting to preserve capital and/or buy back debt, Memorial Production spent $101 million to buy the rest of a property it previously owned a modest majority interest in. This is reflected in the table below, which shows two different scenarios.

The first is one in which we count in the estimated $15 million in operating cash flow that management thinks it will generate from the property in 2016. Realistically, changes in energy prices should impact this cash flow forecast but, because not enough data has been released by management, it's impossible to predict how much that cash flow will vary. For this reason, the category labeled, "Memorial With" assumes that $15 million in excess cash flow is added onto the company's projected cash flow model that I came up with. "Memorial Without", on the other hand, does not take into consideration any cash flow from this recently-acquired property.
Based on the results of my findings, Memorial doesn't need any price per barrel to breakeven in 2016 but this could change a bit if we don't factor in cash flow that has been forecasted for this new property. Whether or not this is the case doesn't matter all that much because, through 2018, the company is the lowest-cost producer in the mix. However, as hedges do roll off somewhat in 2019, its cost structure will rise and it could require oil prices of between $47.22 per barrel and $57.91 in order to breakeven.
The big picture
Now that we have an understanding of how each company should look from a breakeven standpoint, I figured it would be a good idea to put all four entities on the same set of graphs. In the graph below, you can see the needed breakeven prices for each business for 2016 through 2019 assuming that natural gas averages $2.00 per Mcf.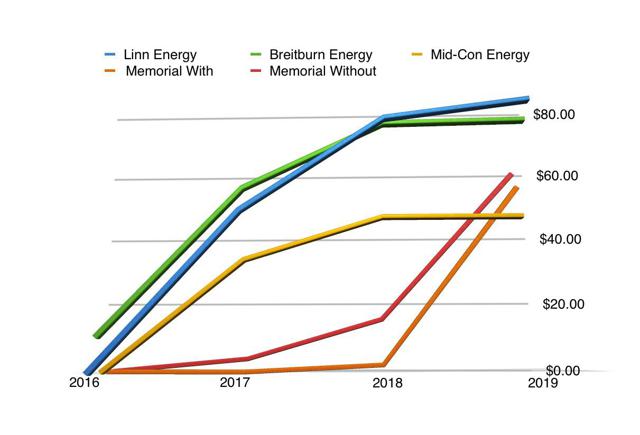 In the next graph, you can see the breakdown for each business given natural gas prices of $2.50 per Mcf.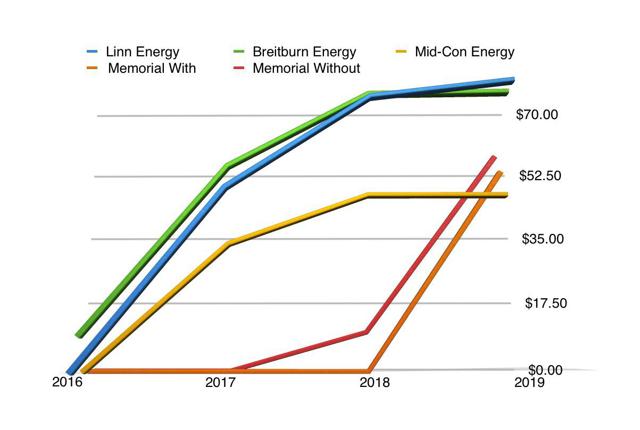 Finally, we arrive at $3.00 per Mcf in the last graph.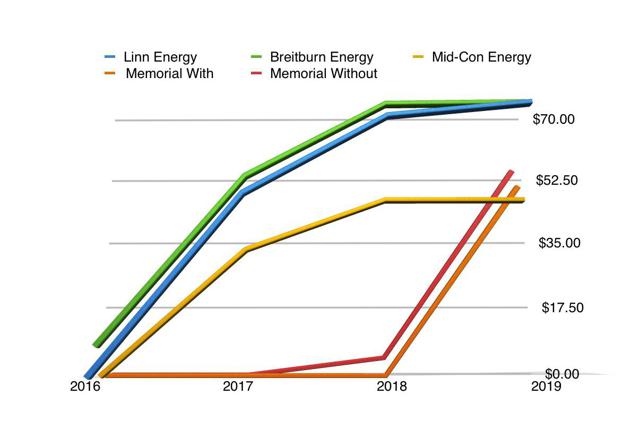 Takeaway
Based on the data provided, it seems that, if financing issues don't cause any liquidity or solvency concerns, all four E&P operators are just fine this year from a cash flow standpoint and are very unlikely to lose money. In 2017, this begins to change and we can see that, especially in the case of Linn, we will need materially higher energy prices just for these businesses to see cash flow breakeven in the future.
Disclosure: I am/we are long LINE, BBEP.
I wrote this article myself, and it expresses my own opinions. I am not receiving compensation for it (other than from Seeking Alpha). I have no business relationship with any company whose stock is mentioned in this article.
Editor's Note: This article covers one or more stocks trading at less than $1 per share and/or with less than a $100 million market cap. Please be aware of the risks associated with these stocks.