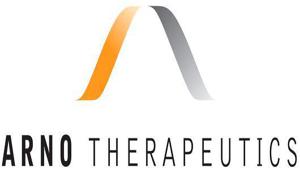 Background:
Arno Therapeutics (OTCQB:ARNI) licensed Onapristone from Invivis Pharmaceuticals in 2012 and Onapristone originally developed by Schering AG, now a unit of Bayer (BAYN:XETRA). Onapristone mechanism of action is believed to be by inhibiting the progesterone receptor (PR). It is theorized to be a way to inhibit growth of activated progesterone receptor (APR) driven breast, endometrial, and gynecological tumors. Phase II trials in breast cancer have been conducted and stopped due to liver toxicity by Schering AG. The phase 2 study consisted of 19 with 10 patients whom had partial responses and 2 had durable static disease (greater than 6 months). This drug was being developed for contraceptive purposes and so elevated liver enzymes are not an acceptable side effect in this population so the drug was abandoned, however, ARNI saw the opportunity to improve on this idea and created an extended release version that has not shown liver function abnormalities along with partnering with Leica Biosystems to develop a companion diagnostic for APR+ patients.
October 27, 2014 (Onapristone Phase 1 Results):
Phase 1 trial evaluating safety of Onapristone in PR+ tumors
Patients have been heavily treated before
Total 48 patients (6 cohorts at varying doses)
Results from 43 patients as of October 27,2014
28 patients with gynecological
5/26 of these patients have stable disease for greater than 16 weeks
19 Breast cancer patients
2/16 have stable disease for greater than 16 weeks
This phase I consisted of 10 mg,20 mg,30 mg,40 mg, and 50 mg extended release and also 100mg immediate release tablets
Recommended dose 50mg twice per day
Misunderstood Results:
Based on these results people clearly thought the results were disappointing as the stock dropped significantly to new lows. However the main purpose of study was to evaluate toxicity. No liver toxicity related to drug were noted , but 3 patients experienced grade 3 liver function abnormalities, which were deemed by independent safety review committee as not drug related. In terms of anti-tumor activity these results do not really say much without knowing the cohort makeup of gynecological and breast cancer. The number of patients that are APR+ is critical to know how effective the drug was since it is theorized that these patients will benefit most. Studies by ARNI show that ~40-45% of endometrial cancers and about ~25% of breast are APR+. This patient population was also heavily treated and had on average 3 prior chemotherapy treatments and 1 hormone therapy. While it is important to know the makeup of the cohorts and the anti-tumor activity that was not the intent of the Phase 1.
Past Failures, What did ARNI Learn?:
A previous study of a PR antagonist by the name of Mifepristone was investigated in a similar fashion to ARNI's Onapristone. The study involved 10 endometrial adenocarcinoma and 2 Low-Grade Endometrial Stromal Sarcoma (LGEES) patients. Patients were PR+ were required to have a Zubrod performance status of ≤2 the equivalent of an ECOG of 0-2. These scores run from 0-5 with 0 being fully active and able to carry on pre-disease activities without restriction and 5 being death. The study was to be a Simon 2 stage protocol with the first stage requiring objective response from at least 2 patients. The trial failed and did not continue to stage II. This trial looks very similar to ARNI's Phase II trial of Onapristone in Endometrioid Adenocarcinoma and that's because it is almost identical. Also of great significance these patients were heavily pretreated and because pretreatments are known to have an effect on future treatments ARNI is screening patients who have had zero prior hormone treatment and 0-1 chemotherapy treatments.
Preclinical work:
So what did ARNI learn from this trial failure of a similar drug in a similar patient population?
The answer is a lot, the mechanism of action was not fully understood for Mifepristone and while in preclinical studies it was shown to inhibit in the following endometrial cell lines it is important to note that some of these cell lines were found to be PR-:
EM42(PR+)
KLE (PR-)
RL95-2(PR+)
HEC-1-A (PR+)(PR-/APR-)
Ishikawa (PR-/APR-)
ARNI investigated the HEC-1-A and Ishikawa cell lines for signs of APR+ cells and found the HEC-1-A and Ishikawa cell lines are both PR Neg/APR- providing more evidence of the mechanism of action. Secondly it is documented that there are 3 types of antiprogestin, type I, type II, and type III. While all of these are antagonist of the PR there are important differences between them. Type 1 reduces induction of DNA binding activity of PR and type II does not. Of the Type I antiprogestin tested only 1 existed, ZK98299 (Onapristone) and the others were type II (RU486 (Mifepristone), ZK98734, and ZK112993.
Breast cell lines:
CAMA-1 (PR+/APR+)
T-47D (PR+/APR+)
EVSA-T (PR+/APR-)
HCC-1954 (PR+/APR-)
MCF-7 (PR+/APR-)
BT-474 (PR+/APR-)
MDA-MB-231 (PR-/APR-)
ZR-75-1 (PR-/APR-)
Endometrial cell lines:
Ishikawa (PR-/APR-)
HEC-1-A (PR-/APR-)
In these 8 cell lines Onapristone turned APR+ cells to APR- after a period of 6 hours.
Previous Breast Cancer trials:
Onapristone has been shown in a previous phase II study to show an objective response of 56%, which is quite impressive. For comparison there have been studies using the 2 other types of antiprogestin, Type II (Mifepristone) and Type III (Loniprisan). In the first study 28 untreated metastatic breast carcinoma patients that had PR+ tumors were give Mifepristone. The results of this study were quite dismal with only 3 partial responses observed for a total response rate of 10.7%. The next study evaluated Lonaprisan as a second-therapy for PR+ breast cancer. In this study of 68 patients, 34were given 25mg Lonaprisan and 34 were given 100 mg Lonaprisan and evaluated until month 6 or progressive disease. 6 of 29 patients in the 25mg cohort had stable disease and 2 of 29 had stable disease in the 100mg cohort. Onapristone was also evaluated as a second-therapy for breast cancer. This population had a total of 53% of the 101 evaluable patients were ER- PR- or had unknown receptor status. The results of this study were 1 complete response, 9 partial responses, and 39 stable disease.
Why did these trials have such poor results?
The answer to this question is really what makes ARNI such a compelling opportunity. ARNI has found that although some tumors are PR+ only some of these tumors are growing due to being activated. This is why ARNI is working with Leica Biosystems to develop a screening mechanism for the APR. The second reason is due to the fact these are not type I antiprogestin and do not inhibit DNA transcription.
Subtle signs of success:
Executive bonus payouts for 2014 were 90% of max and so what is the significance of this?
The board of directors determines these bonuses and most of these board members are investors in the company. If these investors are pleased with progress it is yet another metric that things are going very well here at ARNO.
Summary/Future Catalysts:
20,408,616 shares outstanding as of January 22, 2016
Results from Phase 2a of Onapristone in endometrial APR+ should be available in Q3 2015
Castration resistant trial phase I-II primary results due June. 2015
If proof of concept of APR+ in Phase 2 proves accurate company will most likely be bought out
Market potential: ARNI's key drug is Onapristone, which is already proven to be effective in terms of breast cancer treatment and the Phase II trials continue to point in a positive direction for both endometrial cancer and CRPC treatments. Below is market potential for all three types of cancer.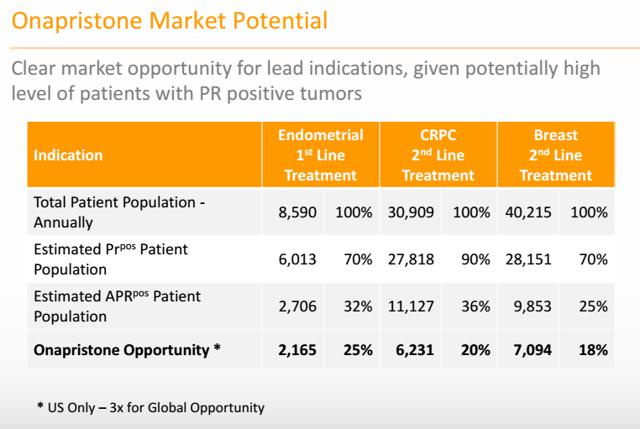 Company ran out of funds Oct. 2015, but did insider fundraising for the amount of $2.1M to get through the rest of the fiscal year 2015. This was documented in their 10-Q quarterly report ending June 30th.
"Cash resources as of June 30, 2015 were approximately $2.4 million, compared to approximately $7.9 million as of December 31, 2014. Based on its resources at June 30, 2015 and the current plan of expenditure on continuing development of the Company's current product candidates, the Company believes that it has sufficient capital to fund its operations through the third quarter of 2015. However, the Company will need substantial additional financing in order to fund its operations beyond such period and thereafter until it can achieve profitability, if ever. The Company's continued operations will depend on its ability to raise additional funds through various potential sources, such as equity and debt financing, or to license its product candidates to another pharmaceutical or biotechnology company. The Company will continue to fund operations from cash on hand and through sources of capital similar to those previously described. The Company cannot assure that it will be able to secure such additional financing, or if available, that it will be sufficient to meet its needs."
The company hit their target of October 1st running out of money and did a private fundraising to get them enough operating expenses through the fiscal year 2015. This was a $2.1M investment from a variety of people, many of which are on the board of directors.
On October 21, 2015, Arno Therapeutics, Inc. (the "Company") entered into a Convertible Note Purchase Agreement (the "Purchase Agreement") with certain accredited investors pursuant to which it sold an aggregate principal amount of $2,100,000 of its Unsecured Convertible Promissory Notes (the "Notes") for an aggregate original issue price of $2,100,000…
"The purchasers of the Notes included several officers and directors of the Company, or entities affiliated with officers and directors of the Company, as follows: an entity affiliated with Arie S. Belldegrun, M.D., the Company's Chairman of the Board (purchased a Note in the principal amount of $500,000); Commercial Street Capital, LLC ($500,000), an entity with which Steven B. Ruchefsky, a director of the Company, is affiliated; entities affiliated with Pontifax ($500,000), of which Tomer Kariv, a director of the Company, is affiliated; a trust for the benefit of David M. Tanen ($125,000), a director of the Company; and Alexander Zukiwski, M.D. ($50,000), the Company's Chief Executive Officer and a director. All such officers and directors made such investment on the same terms as all other purchasers under the Purchase Agreement" (Globe News Wire).

At a $2.1M round of fundraising for Q4 approximately 90 days they were to run out of money January 1st 2016, which puts their burn rate at about $23k/day. This is compared to their balance sheet which indicates an average burn rate for the year of 2015 of $28k/day. They have decreased spending in Q3 and Q4 helping to maximize the use of their limited funds. If we look at their Y/Y numbers we see this trend of decreasing spending while still going forward with their Phase 2A trials with their key drug onapristone for endometrial, breast, and castration resistant prostate cancer (CRPC).
2016 News: Since funds ran out at the beginning of 2016 company needed additional financing to continue their Phase 2A trials until results are released. It was released that ARNI completed a $7.4M common stock financing, which included the $2.1M round of investing from members on the board. The terms dealt with an average share price of $0.35 per share and the company was trading below this during the round of financing, but since has skyrocketed 70% of this amount.
Additional Board of directors
Along with the capital raises the company also appointed Jay Moorin and Stuart Holden to the board and the SAB Chair respectively. Mr. Moorin is a managing partner in a company ProQuest Management LLC which is in charge of about $1B in four venture capital healthcare funds. Holden is a MD at the UCLA David Geffen School of Medicine and Medical Director at Prostate Cancer Foundation, which is key since ARNI's drug Onapristone is targeting CRPC.
Potential Risks:
ARNI has been forced to do several rounds of financing due to the cost and timeframe of their Phase 2A trials. If their data is not released in their expected time frame investors may be hesitant to participate in another round of financing. Patients of Endometrioid cancer is a small subset of all cancer patients and then those that have APR+ tumors is even a smaller subset so patient accrual could be both costly and time consuming. Due to the amount of testing ARNI goes through with their potential drugs they are constantly operating at a negative net cash flow due to their lack of ability to generate revenue. A risk that may shy investors away is the possibility of shareholder dilution if the company issues equity securities in an attempt to finance more trials. With patient accrual on the increase and running tests for multiple types of cancer that requires additional staffing, which will increase operating costs for the foreseeable future.
Volume has picked up immensely with the recent filings and publishing of their fundraising deals. When the results for the Phase 2A trial get released expect this company to hit over $1 in 2016. I see ARNI's future being in a buyout from OPKO Health (NYSE:OPK) or with the addition of Jay Moorin on the board of directors for ARNI, who has a considerable stake in ProQuest, a venture capital company in the Healthcare field, could also be interested in assisting in an ARNI buyout. This company is a long term play with a potential buyout by 2018 with their plan of NDA and MAA filings in 1H 2017.
Disclosure: I am/we are long ARNI.
I wrote this article myself, and it expresses my own opinions. I am not receiving compensation for it (other than from Seeking Alpha). I have no business relationship with any company whose stock is mentioned in this article.
Editor's Note: This article covers one or more stocks trading at less than $1 per share and/or with less than a $100 million market cap. Please be aware of the risks associated with these stocks.