Note: Seasoned readers can skip the overview and jump straight to the earnings commentary, then lightly peruse the remaining analytics. New readers may wish to read the overview first and can also find a more detailed company overview after the specific Q4-15 commentary.
Overview
Navios Midstream Partners LP (NYSE:NAP) is a shipping holding company specializing in crude tanker vessels with long-term charter contracts. NAP was established in November 2014 as a spin-off from Navios Maritime Acquisition (NYSE:NNA), which itself was created by Navios Maritime Holdings (NYSE:NM). NNA operates as the general partner, who maintains a continual 2% stake and is eligible for incentive distributions ("IDRs") if the payout reaches certain thresholds.
NAP was structured to accept tanker vessels with long-term time charters attached, essentially a funding vehicle for the broader NNA operation. NAP pays a large sum of money upfront for these vessels and then earns money from the charter contracts over the life of the vessel. This enables NAP to fund generous dividend payments as long as charter contracts can be established in favorable market conditions. NAP has faced numerous headwinds over the past year as high-yield issues and brand specific "Navios" credibility concerns have kept the equity from reaching its fair potential. The dirt-cheap price of the equity has also limited NAP from pursuing growth options since issuing more debt is their only efficient method and the balance sheet already has a decent amount of leverage.
My most recent public analysis on NAP was published around 3 weeks ago when NAP was under $7. I also sent trade updates and purchased shares at $6.91 and $6.95. NAP currently sits at $9.82 with 20.7M units outstanding, for a total market capitalization of roughly $200M. NAP reported their Q4-15 results this morning, which included record EBITDA of $19.4M, operating surplus of $12.9M, and a strong 1.48x coverage ratio.
Strong Contract Coverage
For investors who are new to NAP, this link to their Q4-15 presentation will further expand upon the bull case. The following slide, selected from that presentation, overviews their rock-solid charters, which extend well into 2018 for the entire fleet.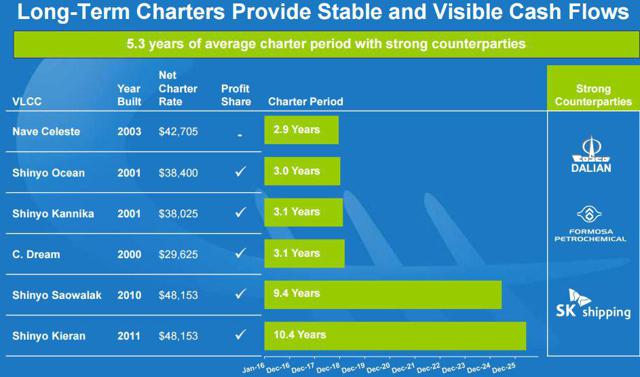 Their strongest charters are also the longest running. Additionally, the VLCC market has been surging and even with the recent volatility, several long-term charters have been signed in the mid-$40k/day range, even for 15+ year old vessels. The current 3-year charter rate for modern VLCCs is reported by TradeWinds News to sit at $44k/day, with 1-year charters surging as high as $58k. NAP will continue to benefit from surging rates through their exposure to profit sharing.
Q4-15 Results and Strategy
In my Q4-15 earnings preview, posted last Sunday as an exclusive for Value Investor's Edge members, I discussed three important metrics and focus points for today's results:
What was the coverage ratio for Q4-15? Expecting 1.4x to 1.5x.
With NAP operating their first quarter with all 6 VLCCs on the water plus extremely strong spot rates for these tanker vessels, I anticipated a strong coverage ratio for NAP. Coverage ratio is the most important ratio for a high-yield stock as it roughly shows how 'safe' the dividend is based on current market conditions. With NAP reporting a 1.48x coverage ratio in Q4-15, they would have been capable of paying a dividend nearly 50% large, or roughly a yield of 25%. This is an extremely high yield for such a stable company.
What were the cash expenses per day? Expecting $16-$17k/day.
I wanted to pin down NAP's cash expenses in order to construct the most accurate model for future cash flow. Based on their limited history, I wasn't sure where this number would line up based on a mixture of operating expenses, G&A, interest costs, and other fees. NAP's G&A and the majority of the operating expenses are fixed, but there is still some fluctuation for one-off events like dry docks and surveys. NAP's interest expenses also may fluctuate depending on the amount of offset from their cash on hand vs. debt draw.
For Q4-15, NAP's all-in cash expenses were $18,672/day, which was higher than I was expecting and hoping for. Even with these higher expenses (mostly due to higher interest and also pre-employment surveys), NAP still earned a strong 1.48x coverage ratio, so I'm not too disappointed. Adjusting for the one-off expenses, NAP's standard run-rate appears to be close to $17,500. To be balanced, I will now utilize $18,000/day for my future cash flow models.
What is their growth and return of capital plan in this market?
Along with the majority of other MLP firms, NAP has been slammed by this weak market that is punishing both high-yield offerings and energy sector plays. Despite the surging VLCC market, which if anything is negatively correlated to oil, and despite NAP's strong contract coverage, NAP has dipped as low as the $6s in recent weeks. In this market, it would be destructive for NAP to pursue growth through new unit issuance, so the only options for growth are to lever up and deploy the cash to additional drop-down vessels or to a major repurchase program.
After reviewing the Q4-15 results and the Q4-15 earnings call, it appears management is content to keep the payout flat and wait out the current market turbulence. This is a perfectly fine solution as I don't wish to see management make any erratic decisions and I am perfectly happy with the current 17% yield. The yield gets safer every day as leverage decreases, cash on hand increases, and the VLCC market continues to stay strong.
Fleet Valuations
The latest VesselsValue.com report confirms a total fleet valuation of $277M, which of course is the "charter-free" valuation. NAP has full charter coverage through 2018 on their entire fleet, so this is naturally worth a bit more to a risk-averse investor. Last time crude tanker rates were this high (2007-2008), a similar fleet was worth well over $500M, which further reflects investor pessimism on this sector.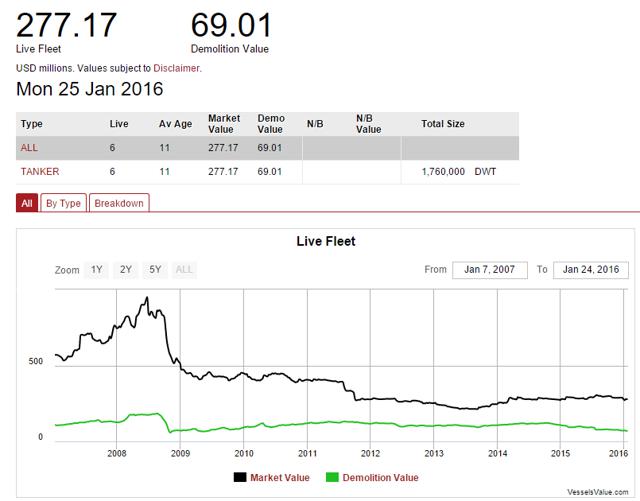 A more in-depth view of the fleet shows the specific valuations for each vessel.

Charter Valuations vs. Charter-Free
The biggest disconnect between charter and charter-free assets is the Shinyo Ocean, which sports an extremely profitable charter through January 2019 ($38,400/day). The Ocean has profit sharing of 50% above $43,500/day through January 2017. This vessel alone will produce an absolute minimum revenue of $42M and EBITDA of close to $30M over the next three years. Think this asset is actually worth only $33M? Me neither.
The Shinyo Saowalak has a $48,153/day charter for just under a decade. That's $120M at least in EBITDA. This vessel will only be 14 years old in 2025, so using current 14-yr values of $33M, it takes a miserable discount rate of roughly 18% for the current valuation of $67M to make sense. I typically utilize a range of 12-15% for these types of calculations, and that's pretty conservative in itself.
Balance Sheet
As of the latest Q4-15 figures, NAP had $149M in net debt versus the aforementioned fleet valuation of $277M, for rough debt-to-assets ("D/A") of 54%. Typically, 60% D/A is a comfortable maximum, but for a firm like NAP, pushing 70% to 80% charter-free is acceptable as long as the counterparties are strong. This gives them significant potential debt flexibility, enough to fund at least two additional drop down vessels if they so desire.
With $277M in vessel values, $149M in net debt, and 20.7M units, NAP's current net-asset-value ("NAV") is close to $6.18/unit. Realistically, the NAV per share is in the low teens after factoring in charter values at a 12-15% discount rate.
Cash Flow Projections
I have attached an updated cash flow model, which projects base cash flow rates at 98% utilization and various profit sharing scenarios. The cash profit models are based on the previously discussed expense rate of $18,000/day.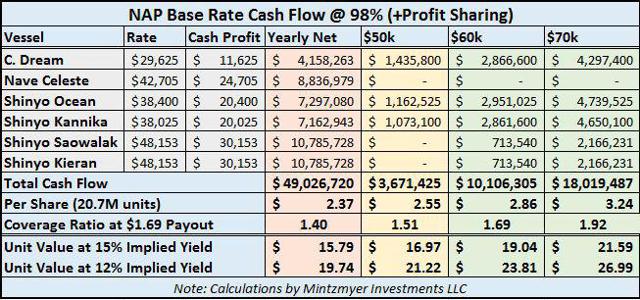 The primary difference in coverage ratios is because NAP conservatively sets aside funds in a "replacement and maintenance capex reserve." My calculation only shows raw operating cash flow.
Summary
NAP is well positioned in this market and currently offers investors a strong yield with very minimal near-term risk. Equity price volatility has been strong, and there is no guarantee these price swings will subside, but long-term investors are likely to do very well in this name. I am long NAP, and my personal price target is $17.50.
Additional Research
If you would like continual updates on this name and many other deep value opportunities, please consider a membership to Value Investor's Edge. Members are currently benefiting from an exclusive earnings preview series and live updates during all relevant earnings reports.
Disclosure: I am/we are long NAP, NNA.
I wrote this article myself, and it expresses my own opinions. I am not receiving compensation for it (other than from Seeking Alpha). I have no business relationship with any company whose stock is mentioned in this article.