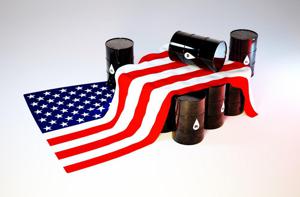 Back in July 2014, when oil was trading at about $90/barrel, U.S. producers delivered over 271 million barrels of the stuff to the market, earning about $24.4 billion.
In October 2015, with oil averaging about $47/barrel, U.S. producers delivered 289 million barrels of it to market, and brought in just $13.6 billion.
When the figures come in for this month, there may be some slippage in the amount of oil delivered, but the dollars obtained from that oil will have taken yet-another enormous plunge, probably to below $9 billion.
What is happening to the U.S. economy today is just what happened to it in the early 1980s. Oil production today is only a little higher than it was then - production during 1981 averaged 260 million barrels/month. But the loss to the economy in going from $90/barrel oil to $30/barrel oil is much, much greater, in nominal terms, than it was when the prices were lower.
Today's oil is mainly being produced with borrowed money. That's why production increased even while the price fell. They say that if you owe the bank enough money you own the bank, and that's largely true in this case. The companies that lent producers money are on the hook for so much capital some may become insolvent if they close their credit windows. That's why they haven't done so.
Similar things happened in the 1980s. Banks like Texas Commerce and Allied Bancshares were eventually sold out to big New York banks. I wonder how many of today's bad energy loans are being held by companies like JP Morgan Chase (NYSE:JPM) and Bank of America (NYSE:BAC), as opposed to smaller Texas banks like Prosperity Bancshares (NYSE:PB)? Over the next few months we will find out.
The knock-on effects of taking so much money out of the economy are tremendous. The oil crash of the early 1980s coincided with a recession, even though we were then, as we are now, an oil importer. While there are huge benefits to paying less at the pump, and only 17 U.S. states produce oil, gains in the short run are more than offset by the losses being incurred in the oilpatch. Coastal trading cities like Atlanta and San Francisco, however, recovering quickly from the early 80s recession, while Houston and Dallas suffered throughout the decade.
The problem all flows downstream. Less money from oil means less paid for refined products at Philips66 (NYSE:PSX). The margins may be the same, they may even be better, but the top line turns light. On the retail level, Costco (NASDAQ:COST) stock has fallen out of bed, in part, because lower gas prices mean less revenue coming in than before. The margins are the same but the top-line is light. Also, Texans aren't buying as many big screen TVs.
In policy terms what has happened illustrates the folly of fighting adversaries with their own economic weapons. Russia produces oil, we produce oil, so we both go over the cliff together, like Holmes and Moriarty over Reichenbach Falls. Meanwhile the windmills and solar panels we've erected continue to produce electricity and that required capacity is taken out of the market entirely. That represents true energy independence.
I was wrong early in this month when I wrote that the U.S. is "winning," because parts of the U.S. are playing the wrong game. The year 1981 was the start of a recession. Those parts of the economy are crashing and cashing out, and abundance is a real problem.
The parts of the economy I follow are doing fine. Facebook (NASDAQ:FB) is doing fine. Amazon.Com (NASDAQ:AMZN) will be fine. But so long as the U.S. remains addicted to oil and natural gas it will be subject to the whims, and the boom-bust cycles, of the oil and gas economy.
The solution to this recession should be obvious. First Solar (NASDAQ:FSLR), which has held up well in this bear market, is part of it. The renewable energy side of General Electric (NYSE:GE), which is down about 10% this year, is part of it. Consider buying a Chevy (NYSE:GM) Bolt. Double-down on insulation (NYSE:PPG) - efficiency remains the cheapest form of renewable energy.
The answer to oil math is to stop playing the game. Let's not have our children going through this kind of thing.
Disclosure: I am/we are long AMZN, COST, GE.
I wrote this article myself, and it expresses my own opinions. I am not receiving compensation for it (other than from Seeking Alpha). I have no business relationship with any company whose stock is mentioned in this article.