US-based multinational companies have gotten beaten up through all of 2015 and much of 2014, and the theme is always the same: The high-flying US Dollar is weighing down on international profits. From the look of most stocks' price action, however, it appears that investors are wisely focusing on operational data instead.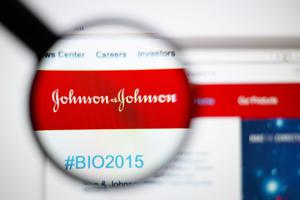 That has, more-or-less, been the case for Johnson & Johnson (NYSE:JNJ). Even looking past the massive currency headwinds, I think J&J had a fairly lukewarm year. Even still, the market really liked this conference call, and did so for a couple reasons: Rosy guidance and FDA approval of several key drugs. Have a look at the chart.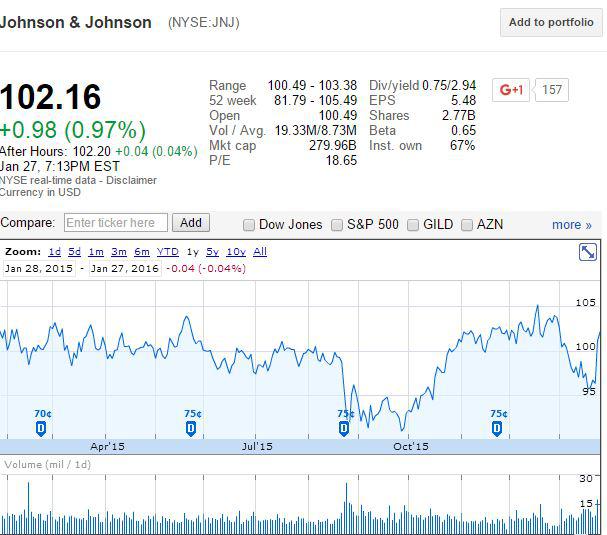 Courtesy of Johnson & Johnson.
Shares of J&J are up nearly 5% on the company's reported earnings and guidance, but even here I believe J&J is worth of being looked at. This article examines the results of J&J's quarter, and why investors liked it so much. This article also looks at J&J's valuation, and its ability to continue raising dividends.
Results
J&J had a pretty lukewarm 2015, in my opinion. Full year sales were down 5.7% and EPS declined 3.0%. When you control for currency, however, the situation looks a bit different: Sales increased 1.8% and earnings went up 5.8%. Excluding divestitures and the loss from new Hep C drug competition, revenue increased 7.8% on the year.
As a company, J&J is comprised of three pieces: Consumer healthcare, medical devices and pharmaceuticals. Operationally, consumer revenue increased 2.7% on strong sales of Tylenol and Motrin. That figure rises to 3.8% when divestitures of some non-leading brands are factored in. Medical devices was relatively weak, with operational revenue declining 1.4%. However, revenues increased by 2.5% when we exclude divestitures, so not all is bad here.
Even still, pharmaceuticals was the real star in 2015. Operational revenue increased 1.2%, with strong growth from popular new drugs: XARELTO, ZYTIGA, INVOKANA and IMBRUVICA. And here's the good news investors really liked; the FDA gave approval to three new patents last quarter. One is a drug for multiple myeloma and one for anti-retroviral. These new drugs should really boost growth going in the coming years.
Forward guidance was another big positive. Management expects operational revenue growth of 5.5% in 2016, and 5%-8% EPS growth, with 3.7%-6.1%. EPS growth considering forecasted currency changes.
Here's the real kicker. If the US Dollar stays where it's at this year, then J&J will 'lap' its old comparisons, and year-on-year results will start to look a lot better. Frankly, I think that is exactly what's going to happen. While the US Dollar is on a tear, it can't keep going up this much for this long. For purposes of year-on-year comparisons, the velocity of currency matters more than its exact location.
That's ultimately why I share this market's optimism on J&J. I also believe that the recently-approved drugs will have a positive impact on revenue for years, and that should allow the company to continue its long record of high-single digit dividend growth. I expect the pharmaceutical division to be the company's greatest driver of growth for the foreseeable future.
Valuation
Despite the recent spike in price, I believe J&J is still a buy here. According to data from FAST Graphs, J&J has averaged a price to earnings valuation of 15.6 times over the last ten years. Today J&J trades at 15.3 times full-year 2015 earnings. I think that some 15 times earnings is a very good price for a world-class company and dividend aristocrat.
Over the last few years J&J has managed about 7% compounded dividend growth. Considering the company's near-term growth prospects, I see every reason for that dividend growth trend to continue. Trailing twelve-month free cash flow is about $15 billion, and dividends are only 53% of that at $8 billion. Given the company's growth prospects and strong, existing free cash flow, I expect another generous dividend hike in 2016, especially if the Dollar stops rising.
Conclusion
J&J is up considerably since its conference call last week. Still, I think this company is worth buying right here. Guidance for 2016 called for robust growth, and management is not in the habit of over-promising. Dividend investors will get a company trading at about its average valuation, a 3% yield, plus a long runway of dividend growth in the high single-digits.
Disclosure: I am/we are long JNJ.
I wrote this article myself, and it expresses my own opinions. I am not receiving compensation for it (other than from Seeking Alpha). I have no business relationship with any company whose stock is mentioned in this article.