ConocoPhillips (NYSE:COP), the world's leading independent oil and gas producer, is gearing up to report its fourth quarter and full year results next week, and it's not going to be pretty. Moreover, if oil prices fail to recover meaningfully, then 2016 could be even worse.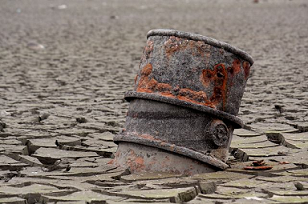 Stock image
For the third quarter, ConocoPhillips swung from an adjusted profit of $1.6 billion in 2014 to a loss of $466 million in 2015, thanks to 49.2% drop in realized prices. For the three months ending September, ConocoPhillips said that the average industry price for WTI and Brent clocked in at $46.37 per barrel and $50.26 per barrel respectively. Since then, the price environment has exacerbated, with WTI and Brent averaging $42 and $43.41 in the fourth quarter, showing a drop of 9%-14% sequentially.
But more importantly, oil prices have been hovering in the low-$30s to high-$20s range for the last three weeks. That's more than 25% lower as compared to the fourth quarter average.
The current downturn was driven by record US shale production, strong output from Kuwait, and refusal from Saudi Arabia and Russia, the two major OPEC and non-OPEC producers, to slash output. But recent weakness has largely come on the back of heightened concerns regarding slowdown in China, whose economy expanded at its slowest pace over the last 25 years in 2015, and increase in oil exports from Iran following the end of Western sanctions. These factors may continue to exert downward pressure on oil prices which may not cross $40 a barrel barrier in the first half of this year.
The silver lining is that the cheap prices will solve the problem related to excess supply. But, in a worst case scenario, if the market forces fail to react quickly, or quickly enough, and oil continues to linger around $30 to $40 a barrel in 2016, then that's going to prolong the industry's woes. Nearly every large cap exploration and production company is struggling with declining operating cash flows which haven't been enough to cover capital spending, let alone dividends. ConocoPhillips is one of the top dividend payers in this space. The company offers a juicy yield of 8.65%, significantly higher than the industry's average of less than 3%, according to data from Thomson Reuters. Moreover, the company has repeatedly said that their "top priority" is to maintain dividend.
Maintaining the existing level of payouts is going to be tough if oil prices remain range bound between $30 and $40 a barrel throughout 2016. Remember, the company is already burning cash. In the first nine months of this year, it generated $5.98 billion of net cash from operating activities but ended up spending $7.91 billion as capital expenditure and investments and $2.74 billion on dividends.
The company has planned to slash this year's capital budget by 25% from 2015 to $7.7 billion, but if it maintains the dividend, then it will end up spending $10.4 billion of cash. With lower oil prices, the company's operating cash flows will fall further, leading to another large deficit in 2016.
ConocoPhillips, however, can further reduce 2016 capital budget by 18% from its previous guidance to sustaining level of $6.3 billion. But if it maintains the dividend, then its cash outflows will still come clock in around $9 billion. This will also translate into a large deficit. Either way, the company will continue to rely on asset sale and borrowings to fund the cash shortfall.
ConocoPhillips is already working on a $2.3 billion divestiture program and intends to sell an additional $1 billion to $2 billion of assets in 2017. But that plan came in early December when WTI oil was 33% above the current level. Without any improvement in prices, particularly in the second half of 2016, ConocoPhillips might be forced to expedite the divestiture program by closing the sales at the earliest. But selling assets in a sub-$40 a barrel oil price environment, when virtually every oil producer in the world is struggling with mounting losses, is going to be a touch task. ConocoPhillips, however, already has a solid balance sheet that can easily absorb additional borrowings. But if the company taps into the debt market, then it will face a risk of losing its single-A credit rating.
In short, there won't be an easy way out for ConocoPhillips. The company will be forced to make tough choices. I believe the company will exhaust all options -- including cutting the capital budget to less than the sustaining level, earmarking additional assets for divestiture and increase borrowing -- before it slashes the dividend. As mentioned earlier, the company has said that its number one priority is to maintain the dividend, but the downturn can still force ConocoPhillips to focus more on preserving its financial health rather than payouts.
Disclosure: I/we have no positions in any stocks mentioned, and no plans to initiate any positions within the next 72 hours.
I wrote this article myself, and it expresses my own opinions. I am not receiving compensation for it (other than from Seeking Alpha). I have no business relationship with any company whose stock is mentioned in this article.