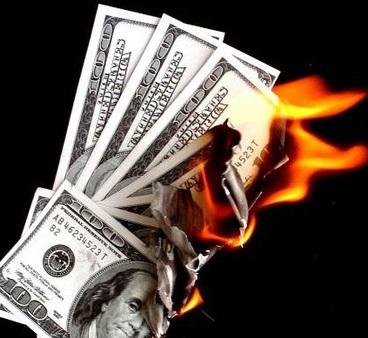 In the Summer of 2009, Morningstar's personal finance director, Christine Benz, wrote a scathing exposé on mutual fund performance, titled "Did You Do as Well as Your Fund?"
The primary fund of interest was CGM Focus (MUTF:CGMFX). This fund is a non-diversified collection of companies of any size, typically stocks (the fund reserves the right to invest in debt and fixed income securities), and uses a "flexible investment style" that "seeks to take advantage of opportunities as they arise."
In other words, the fund attempts to time the market, and as a consequence has very high portfolio turnover. Seeking Alpha pegs the fund at a 266% turnover ratio with an expense ratio of 2.26%. The fund currently has 25 total holdings.
What Christine set out to do was understand the dichotomy between two data sets: fund-reported Total Return and real Investor Return. What she found was that the real return of investors pale in comparison to the reported total return of funds themselves. Real investor returns take into account the fact that not all of its investors bought shares at the beginning of a period and held them until the end - this means that while a fund could have a fantastic YTD return, if most of the gains were in Q1 and the investor bought into the fund in April, they may see a much lower return. This can also act in the reverse case where a poor Q1 could see an investor with a later entry point significantly outperforming the YTD return. Calculating the Investor Return helps compensate for these deficiencies in advertised data sets.
Higher Volatility, Lower Return
Since the fund's inception in 1997, CGMFX has outperformed the Dow Jones Industrial Average (NYSEARCA:DIA), the S&P 500 (NYSEARCA:SPY) and the NASDAQ (NASDAQ:QQQ).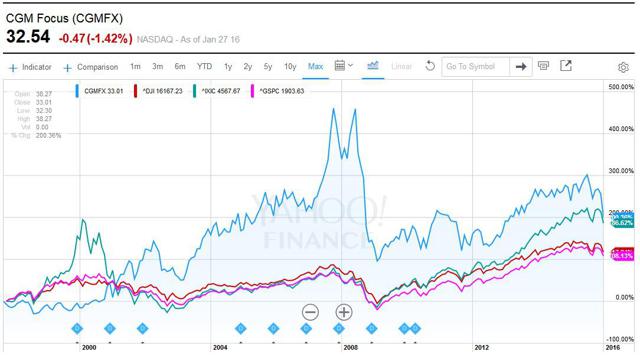 In the 10-year period Christine analyzed ending in 2009, the results were much more spectacular for the fund.
What Christine found was that volatile funds tend to have the most pronounced discrepancies between total returns and investor returns, leading to the hypothesis that volatile funds entice investors on the upswing, but scare them into withdrawing during rough patches. The end result is that investors end up buying high and selling low. This is likely exacerbated because a fund such as this that is designed around market timing is more likely to attract the "trader" among us instead of the buy-and-hold, passive investor. This is clearly depicted in the chart below.
CGM Focus
Period
Investor Return
Total Return
1-Year
-49.19%
-46.15%
3-Year Annualized
-23.98%
-3.75%
5-Year Annualized
-18.34%
8.83%
10-Year Annualized
-16.82%
17.84%
The trailing 10-year return suggests that a $10,000 investment a decade ago at a CAGR of 17.84% would now be worth $51,633.00. However, the trailing 10-year Investor Return over that span suggests a CAGR of -16.82%, shrinking that same $10,000 investment to $1,585.58.
Think about that for a moment. The investor cost themselves $50,047.42 simply by acting instead of doing nothing.
Other, less volatile funds were analyzed:
Fairholme (MUTF:FAIRX)
Period
Investor Return
Total Return
1-Year
-9.99%
-9.56%
3-Year Annualized
-3.43%
0.95%
5-Year Annualized
-1.68%
8.56%
10-Year Annualized
N/A
N/A
The Fairholme Fund seeks to achieve long-term growth of capital by investing in a focused portfolio of equity and fixed-income securities. A $10,000 investment during the five years analyzed would have compounded at 8.56% and blossomed into $15,078.19. Not too shabby. However, the Investor Return shows that the typical investor lost money over the five year period, with a $10,000 investment compounding at -1.68% for a final value of $9,187.75.
Schneider Value (MUTF:SCMLX)
Period
Investor Return
Total Return
1-Year
-35.72%
-28.50%
3-Year Annualized
-21.97%
-13.99%
5-Year Annualized
-18.76%
-3.95%
10-Year Annualized
N/A
N/A
The Schneider Value Fund seeks to invest primarily in stocks that have a market capitalization of $1 billion or greater which are believed to be undervalued. Investing $10,000 over the 5 year period analyzed suggests a CAGR of -3.95%, resulting in an ending value of $8,174.98. For the typical investor, that same $10,000 compounded at -18.76% all the way down to $3,538.75.
And The Moral Of The Story Is...
In each example, one thing is very clear: the investor that does absolutely nothing absolutely obliterates the typical investor's CAGR. Why? Because the typical investor over-manages their money, gets scared and pulls out when times are tough, then buys back in at a higher price when things are going well again. It is one of the clearest examples of 'Buy High, Sell Low' that I've ever seen. And it scales with volatility - the worse the volatility, the worse the results - it is human nature at work.
Dow Jones Industrial Average
Date
Open
Close
Change
1/4/2016
17,405.48
17,148.94
-256.54
1/5/2016
17,147.50
17,158.66
11.16
1/6/2016
17,154.83
16,906.51
-248.32
1/7/2016
16,888.36
16,514.10
-374.26
1/8/2016
16,519.17
16,346.45
-172.72
1/11/2016
16,358.71
16,398.57
39.86
1/12/2016
16,419.11
16,516.22
97.11
1/13/2016
16,526.63
16,151.41
-375.22
1/14/2016
16,159.01
16,379.05
220.04
1/15/2016
16,354.33
15,988.08
-366.25
1/19/2016
16,009.45
16,016.02
6.57
1/20/2016
15,989.45
15,766.74
-222.71
1/21/2016
15,768.87
15,882.68
113.81
1/22/2016
15,921.10
16,093.51
172.41
1/25/2016
16,086.46
15,885.22
-201.24
1/26/2016
15,893.16
16,167.23
274.07
1/27/2016
16,168.74
15,944.46
-224.28
Since the market's opening day of 2016, the DOW closed up or down more than three figures 13 out of 17 days. Volatility is extreme, and if history is an indicator, the typical investor is in full 'Buy High, Sell Low' mode. If you are finding yourself behaving this way, you are more than likely going to get killed long-term with terrible compounded growth rates. Step back and analyze your behavior throughout this market decline. Does this sound like you? If it does, this may be time to seriously pause for thought and consider your actions and the historical implications for your livelihood.
And before you say, "Hey, TSM! The market clearly can be timed if you're smart enough. The CGM Focus fund outperformed all three major market indices since inception, you said it yourself!" ...
... That may be true, but "What have you done for me lately?" comes to mind. How has the fund performed in the last 10 years?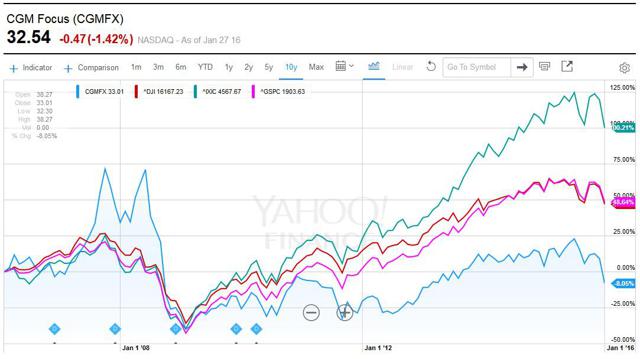 The results are decidedly... less impressive.
There are two time-tested ways that I know of to make money in the stock market:
Regular, calculated contributions creating many entry points over very long periods of time in a diversified collection of high quality assets while reinvesting the dividends.
Buying baskets of deeply valued high quality assets and holding them for very long periods of time while reinvesting the dividends.
These techniques are best known as "Dollar Cost Averaging" and "Value Investing," respectively.
Anything else is gambling. If I am going to gamble, I'll go to the roulette tables where I can get 46.37% odds of an instant 100% return by betting on black. Those odds for success are much higher than my odds timing the market. Do you consider the roulette wheel an ideal investment vehicle? If you do not, you may want to examine your trading methods.
Disclosure: I am/we are long SPY, DIA, QQQ.
I wrote this article myself, and it expresses my own opinions. I am not receiving compensation for it (other than from Seeking Alpha). I have no business relationship with any company whose stock is mentioned in this article.
Additional disclosure: All information found herein, including any ideas, opinions, views, predictions, commentaries, forecasts, suggestions or stock picks, expressed or implied, are for informational, entertainment or educational purposes only and should not be construed as personal investment advice. I am not a licensed investment adviser.