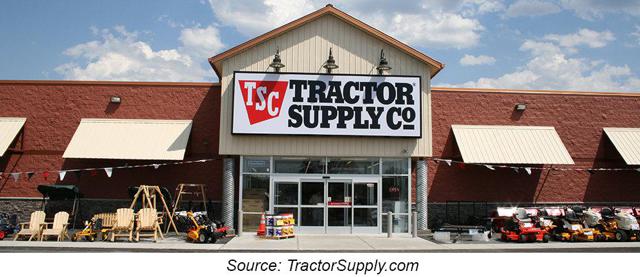 The start to 2016 has been challenging. Many stocks nosedived to 52-week lows. But, Tractor Supply Company (NASDAQ:TSCO) has maintained a respectable trading range through this turbulent period. It did not revisit its August 24th low of $75.00 despite a strong sell-off in mid-January. This is a respectable performance considering the speculation that a warm start to the winter season would hurt the niche retailer.
But, unlike a clothing retailer whose winter inventory hangs idle during warm temperatures, much of Tractor Supply's inventory is not weather-related. Rather, it is work-related. Thus, warm weather during a winter season simply offers time to continue working on a list of endless tasks such as mending fence, equipment maintenance or animal care. Thus, while a warm start to a winter season can slow Tractor Supply, it does not hobble the retailer.
Tractor Supply reported fourth quarter results on January 27th. Yes, weather had an impact. In fact, it broke the company's record of 30 quarters of same-store sales growth. But, Tractor Supply still met analysts' average expectations on revenue and EPS. Year-over-year, sales grew 3.9% and earnings per share grew 1.2%. Although same-store sales growth experienced a decrease, same-store transaction counts grew 0.6% which also extended the company's track record to 39 quarters.
Tractor Supply managed the quarter well. But, the company has set longer-term goals to reach by 2018. Sales are projected to grow to $8.1 billion by 2018 while the store count grows to approximately 1,850 locations. To reach this goal, the sales CAGR from 2010 to 2018 would be 10.52%. In the same time frame, the store count CAGR equates to slightly over 8%. Year-end results for 2015 compared well to these metrics. Sales in 2015 increased 9% while the store count increased 7.7%. For the year, sales totaled $6.23 billion. The 9% performance of 2015 applied to 2016 through 2018 would propel annual sales to $8.07 billion.
Tractor Supply is also intent on growing its bottom line. Operating margin is expected to increase from 10.5% to 11.5%. Between sales growth, store count growth and operating margin improvement, Tractor Supply expects EPS to grow 13% to 15% annually through 2018. For 2015, diluted earnings per share increased 12.8% to $3.00.
Looking at 2016, Tractor Supply's full-year guidance shows an increased cadence. Sales are projected in a range of $6.9 billion to $7 billion. At the midpoint, this represents year-over-year growth of 11.6%. Earnings per share are projected in a range of $3.40 to $3.48. Again, using the midpoint of $3.44, this reflects year-over-year growth of 14.7%. By the end of 2016, Tractor Supply expects to have 120 more stores operational representing year-over-year growth of 8.1%.
Through this expansion and growth phase, Tractor Supply does not intend to ignore shareholders. It expects to repurchase 2% to 3% of its outstanding shares annually. In 2015, the company decreased its outstanding share count by 1.9%. Further, it increased its dividend 24.6% from $0.61 per share to $0.76 per share.
Even though the company is expanding its geographic footprint, decreasing its outstanding share count and paying a nominal dividend, the company is still operating without long-term debt obligations. The company ended 2015 with $63.8 million in cash. Inventories in 2015 were up 15.1% reflecting the increase in store count and the softness in cold-weather product sales.
Numbers are numbers. Looking at the likelihood a company will perform in the future is based on more than looking at trend lines and numbers. For Tractor Supply, sales will grow as the company expands its geographic footprint. But, the company is also focused on increasing same-store sales.
In September, the company began a pilot of its customer loyalty program, Neighbors Club, in approximately 10% of its stores. The fourth quarter was the first full quarter to determine the effectiveness of the program. Enrollment exceeded initial projections and customer attrition rates are improving. Tractor Supply is counting on the loyalty data solidifying customer relationships as well as providing opportunities for customization.
In conjunction with Tractor Supply's redesigned website in July 2015, the company is seeing an increase in traffic. Customers are checking inventory availability. They are also watching informational videos. The company continues to provide a variety of products available for drop-shipping directly from the vendor. It is expanding delivery options for heavy items. And, it is finding customers are taking advantage of the option to buy online and ship products to the store for pick-up.
Tractor Supply will also continue to explore opportunities to offer an exclusive brand of products to its customers. Exclusive brands will be balanced with national brand offerings. The company also plans to further implement systems and technology to enhance inventory and product management. Its new distribution center in Arizona is expected to be serving the Western United States and nearly 8% of its geographic footprint by mid-year in 2016.
While the company serves a niche market well, it is certainly not without risk. As evidenced in the fourth quarter, weather can impact sales. Spring has always been the most critical season for the retailer. The company is also experiencing negative impact from the decline in the oil and gas industry. Stores physically located in the "oil patch" are performing below the chain's average, The general domestic economy weighs on the retailer as well. Even with lower gas prices and the supposed subsequent availability of funds for discretionary spending, Tractor Supply still sees a cautious spender. As odd as it may sound, this can work to Tractor Supply's favor.
"But I think our perspective really is that they have basic needs and they continue to fulfill those needs."
Tractor Supply simply intends to be the most dependable supplier of the products for those needs.
Disclosure: I/we have no positions in any stocks mentioned, and no plans to initiate any positions within the next 72 hours.
I wrote this article myself, and it expresses my own opinions. I am not receiving compensation for it (other than from Seeking Alpha). I have no business relationship with any company whose stock is mentioned in this article.
Additional disclosure: I belong to an investment club that has TSCO on its watch list.