In December 2015, the ISM Non-Manufacturing Index dropped to 55.3, the lowest level since April 2014; at the same time, at 54.3, the Markit U.S. Services PMI showed the slowest rise in service sector business activity since January 2015 (the preliminary reading for this month deteriorated even further to 53.7).
Yet the vast majority of market participants — and almost every economist — proclaim that the sector continues to show strong growth and that the service economy is "in good shape," or they are quick to describe the state of the U.S. economy as "non-manufacturing booming, with manufacturing contracting." Since the output of the service sector makes up more than two-thirds of the total, and the service economy even employs 85% of all workers, weakness in the manufacturing sector can easily be ignored; in other words, the service sector is sort of independent and will continue to drive economic "expansion."
Once again, this represents some far-less-than-solid economic analysis and another example how macro-economic research sadly morphed into producing bumper-sticker headlines and issuing propaganda-style statements with no substance to back up either.
What is the service industry?
According to the North American Industry Classification System (NAICS), service providing industries include wholesale trade, retail trade, utilities, transportation & warehousing, information (which comprises publishing, broadcasting and telecommunication, among others), financial activities (which also incorporate real estate, rental and leasing), professional & business services, education & health services, leisure & hospitality (which includes arts, entertainment, recreation, sports as well as accommodation & food services) and "other" services that range from auto repair, dry-cleaning to private butlers and gardeners (but do not cover public administration).
For a better overview and according to the most recent GDP by Industry data from the Bureau of Economic Analysis, with $ 5,552 billion gross output, financial activities are by far the largest sub-category, followed by professional & business services ($ 3,531 billion), education & health services ($ 2,597 billion), retail trade ($ 1,641 billion) and wholesale trade ($ 1,568 billion). Over the last three years, leisure & hospitality (+20.1%), other services (+18.0%), financial activities (+16.8%), information (+16.2%) and professional & business services (+14.9%) displayed the biggest growth.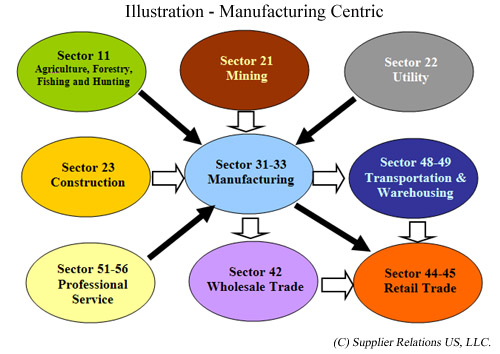 Simply looking at the list of industries, taking into account that:
Wholesale Trade is weak - Merchant Wholesalers sales peaked in July 2014 and currently decline at a 4.6% annual rate while inventories started rolling over only in September 2015 and still grow at 2.2% versus a year ago (data excluding petroleum generally don't change that picture although sales get painted at a better 0.3% annual growth and declining)
Retail trade is weak, especially considering the glorified gas savings - Core retail sales (excluding motor vehicle and parts dealers) range between 0.4% and 1.2% annual growth since August last year and monthly figures showed negative growth in six month during last year.
Transportation is weak - Rail traffic sharply declined in 2015 with total car loads down 15.6% annually in December and total traffic (including intermodal) down 8.9%; the ATA Truck Tonnage Index ended 2015 with 1.1% annual growth after starting the year with 6.6% growth. In connection to that, U.S. exports of goods and services declined at a 7.1% annual rate in December while imports shrank by 4.9% as world trade showed negative growth in 2015 for the first time since the global financial crisis and shipping freight rates collapsed to a new all-time low.
It already shows that the entire service sector may not be in such great shape, most likely a direct result of the U.S. and global manufacturing recession.
Besides, a few other survey-based data seem to confirm the weakness seen in the general ISM and PMI numbers: In November 2015, the National Association of Credit Management's CMI Index (and both sub-components, manufacturing and service) dropped to the lowest level in more than two years (52.6); in December, manufacturing kept on falling while service recovered; however, the long-term trend continues to point down. Also, the latest National Restaurant Association's RPI show the "current situation" and "expectations" at the lowest level since July 2014 (despite sales for 'eating and drinking places' rising in 2015).
Regarding the often discussed, but generally underestimated, relationship between manufacturing and services, many service categories actually developed from manufacturing activities - a consequential relation where one leads to the existence of the other. It is also important to keep in mind and distinguish between internal and external services.
For instance, accounting, legal advice or advertising are often "internal" services within a (manufacturing) company. (Looking at it from a different perspective, about one third of all employees in U.S. manufacturing firms is in business services occupations.)
At the same time, banking, telecommunication, transportation etc. are often external services. Some services started internally and got outsourced, others were and are predominantly external but closely related. These word games already show that a clear distinction between manufacturing and service is often not possible.
Business & Professional Services
Although many service categories are related to manufacturing, "business and professional services" is a classic example of the mutually dependent and dynamic connection and correlation between the secondary and tertiary sector.
This very general classification gets divided into professional, scientific and technical services, management of companies and enterprises and administrative, support, waste management and remediation services and covers everything from legal advice, accounting, architectural, engineering, research & development, advertising, office administration, clerical services and cleaning for instance. As mentioned earlier, it is the second largest category within the service industry, represents 18% of the total service industry output and with almost 20 million workers it is also the second largest employer category in the sector. Looking back over the last three decades, professional & business services showed the highest growth within the service sector (+60%).
Business services are used throughout the manufacturing process. Depending on the product and the industry, all services combined as input cost for the production of one unit (the so-called "services intensity") ranges from 25% to almost 50%. Business services alone typically range between 10% and 20% or nearly half of the total service input.
Several studies
point out and explain the rising share of services as part of manufacturing production over the last years:
Cost-cutting and improving production efficiencies - use of technology, software, R&D and data analytics (among others) are all factors that help cut cost, facilitate and make manufacturing processes more productive.
Offering service related to products (product & service bundle) - quality improvement, product differentiation, customization, deeper client relationship management and customer support drive the increased use of services. Inversely, also service industries offer manufactured goods to provide their services more efficiently.
Managing increased geographic distribution of the supply-chain - here, logistics, communication, business management (human resources, sales, inventories etc.) fall into this category.
These examples of sub-categories within the service economy clearly emphasize the deep correlation and dependence between manufacturing and large parts of the service economy. How about private consumption?
Personal consumption expenditures (PCE):
Many economists, market participants and the media literally seem to refer to the service economy as dining out and online shopping. Interestingly, over the last three years, the annual growth rate of PCE on services rose from 2.74% in January 2013 to 5.24% in September 2014 but dropped from there to 3.95% in November 2015 (the last available data). At the same time growth for expenses on health services expanded from 1.59% (annualized) in Q1 2013 to 5.34% in Q3 2015 (even reaching a 6.24% rate in Q1 2015) with most of the increase happening over the last two years. Historically, these numbers are well within the long-term trend but the direction of each individual trend translates into a picture that shows a slightly different service economy as health expenses are not the ones that should drive spending while growth rates for other expenses deteriorate.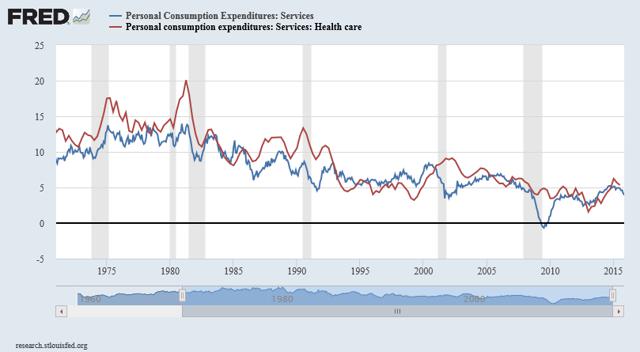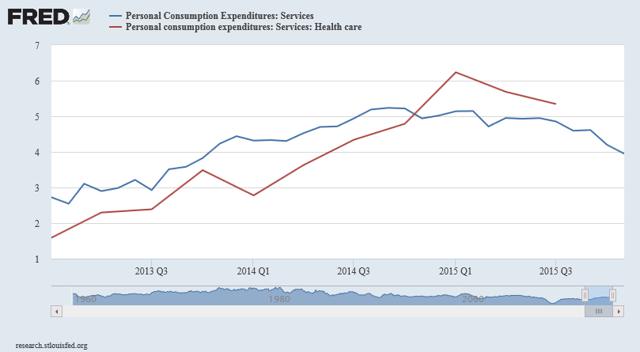 The "wealth economy" gets frequently cited as feeding the "service economy" (which is another example of viewing the economy in a model way as there is no such thing as a "wealth economy", "service economy" or "manufacturing economy" that stands isolated with everything happening around being remote and contained!) but looking at personal consumption expenditures, the "wealth effect" (aka paper profits on housing and investments) seems to wear off quickly.
Summary and implications for financial markets
Do economists and the Fed seriously believe that manufacturing doesn't matter for the service sector? Obviously they do - the same way as they believe that the collapse in oil-prices and the bleeding energy sector do not affect the rest of the economy and the same way as they believe that the weakness of the global economy is only the result of a slowing Chinese economy or even better, the crash in Chinese stocks. Treating the service sector as isolated and immune to the rest of the economy is very dangerous and wrong when in reality manufacturing and services are highly correlated, connected and even dependent on each other.
After the stock market's worst start of a calendar year in history, participants (humans and machines) continue to demonstrate short memory and practice "short-termism" at its best - from treating every price tick in crude oil or currencies as a long-term trend, jumping on "better than expected" or "better than feared" economic data or earnings, mincing every word coming out of China or global central banks to acting as if the retest of the September 2015 was the ultimate low as all bad news is finally "priced in." In the meantime, macro-economic trends in the U.S. continue to deteriorate and many areas of the economy (manufacturing is only one of it) already look bleak. To a large part, the correction (in the stock market) this month is a direct reflection of this picture in combination with the Fed having raised interest rates in December. The longer the central bank remains in a state of illusion and hangs onto the current policy path of (gradually or not) raising interest rates, the weakness in fundamentals will increasingly come to light and stock prices will again come under pressure while investors will pile into government bonds.
Disclosure: I/we have no positions in any stocks mentioned, and no plans to initiate any positions within the next 72 hours. I wrote this article myself, and it expresses my own opinions. I am not receiving compensation for it (other than from Seeking Alpha). I have no business relationship with any company whose stock is mentioned in this article.